Q&A with MLB.com's Jim Callis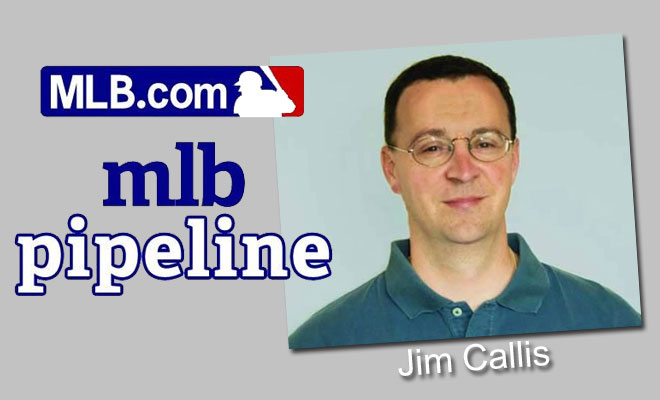 With the college baseball season just getting underway and professional players reporting to Spring Training, baseball is finally back. With the MLB First-Year Player Draft in less than four months, teams are already scouting high school and college ball players across the country.
There is no one better to talk to about the MLB Draft and MLB prospects than MLB.com's Jim Callis, who has been covering the draft and prospects since 1988.
Read my recent interview with Callis about June's draft and the Milwaukee Brewers' farm system here:
Dan Zielinski III: I know this year's draft class has some high-end pitching at the top, but how do you think the 2016 draft class compares to the draft classes in recent years?
Jim Callis: I think it's okay. The big draft that jumped out to everyone was the 2011 draft. I think all the other drafts you can lump for the most part together. They never seem like they are as deep as people want. There never seems like there are as many college position players that people want, even though they seem to surface later.
I think this year's draft class it's okay. You have some pitchers you dream on. You have some good but not great college position players. I don't think it's dreadfully thin, but I don't see it being outstanding in any specific way.
DZ: Do you believe high school left-hander Jason Groome is the clear-cut favorite to be drafted No. 1 overall by Philadelphia as of today?
JC: It depends how you look at it. If it were me, I'd take Jason Groome No. 1 right now. I'm not so sure he's the clear-cut favorite for the Phillies to take No. 1 because I could see taking the college lefty in Flordia's A.J. Puk over the high school lefty. Teams are always a little skittish to take a high school arm at the very top of the draft.
To me Groome is clearly the No. 1 prospect. He has size, he's got stuff, he's got control and he's left-handed, which is a bonus. He pitched well on the summer showcase circuit last year.
DZ: No high school right-hander has ever gone No. 1 overall in the draft, does Riley Pint have a legitimate chance of being the No. 1 overall pick despite some concerns with his consistency in his mechanics?
JC: I think it would be a stretch. Not that he isn't talented. There was a report that someone tweeted saying he hit 102 mph in a bullpen session the other day. He's got great stuff. I just think for a high school right-hander to go No. 1 he'd need to be pretty perfect.
DZ: In the last 10 years, only 59 college outfielders have been selected in the first two rounds, you have Louisville's Corey Ray being selected third overall by Atlanta in your mock draft for the top 10 picks, what sets him apart prior to the start of the season from Florida outfielder Buddy Reed?
JC: I think with the debate between Ray and Reed, it comes down to taste. I think the safer pick is Corey Ray because of hit bat. He has bat speed, he makes contact, he hits for average and power and is a plus runner. There is some question if he is really a centerfielder at the next level or would you want him more at right field. We will see, but I think he has the higher floor.
I think Buddy Reed has the higher ceiling. I think the question with Reed is his hitting compared to Ray. If he has a good spring with the bat, I think he would be the pick over Corey Ray.
DZ: Teams tend to not select corner outfielders in at least the early part of the first-round because they are looking for premium positions, but Mercer's Kyle Lewis is ranked No. 8 on MLB.com's preseason draft prospects list, could he be an exception and be a top 10 pick?
JC: Kyle Lewis has more power than Ray or Reed. He might not be as athletic and is more of a right fielder. But, with the way teams are looking for power, if he goes out and has a big spring and is maybe a little more athletic than people think, he is right up there with Ray and Reed. It's hard to find his kind of power. I think that makes up for it.
DZ: Shortstop Delvin Perez from the International Baseball Academy is ranked No. 10 on MLB.com's preseason top prospect list, what are your thoughts on Perez?
JC: It is not out of the question that he could be the first position player drafted. He's an interesting guy. Probably the best prospect to come out of Puerto Rico since Carlos Correa. He checks off all the defensive boxes. He has a good arm, good hands, speed, and makes difficult plays. I think he's a little more raw at the plate. He's 6-foot-3 and is going to get stronger. I'm not saying he's going to blossom like Carlos Correa, but he's not just going to be a slap hitting shortstop. He's a real interesting guy.
DZ: With the college and high school baseball seasons just getting underway, what players are you going to be watching closely?
JC: Honestly all the draft guys catch my eye. If Buddy Reed has a good spring I think he could make a push for the No. 1 pick. Pitcher Alec Hansen out of Oklahoma really interests me. I think he has better pure stuff than A.J. Puk. But, there are some questions. He has had some nicks and took the summer off and was shut down in the fall. Alec Hansen is a guy who could be the No. 1 overall pick.
Vanderbilt pitcher Jordan Sheffield intrigues me. He might have the best chance out of any player in this draft to have three legitimate pitches. But, he's still kind of raw. He hasn't started a lot at Vanderbilt.
High school wise, Josh Lowe interests me. I think he's a legitimate first round pick as a third baseman or right-handed pitcher. I will be curious to see which way he ends up going. Those are four guys who intrigue me coming into the year.
DZ: The Milwaukee Brewers have been extremely active since last season's trade deadline as they try to rebuild their farm system, where do you rank the Brewers' farm system among all the other teams?
JC: They have done a real nice job of rebuilding their farm system. If you go back to Doug Melvin's final trade with sending Carlos Gomez and Mike Fiers to the Houston Astros. All four of those guys who they got in that trade could end up helping them. David Stearns has made some smaller moves, but has added some interesting guys.
I don't think there is any question that if you look at the draft that they had last year and you look at the trades they've made, I think they have the most improved farm system over the course of the last year. To me it's a definite top 10-farm system. It's going to take time to rebuild with that division being tough, but I think the Brewers are on the right track.
DZ: If and when the Brewers decide to trade catcher Jonathan Lucroy, what time of prospect package should the Brewers expect to get in return?
JC: I think it depends. Sometimes you see teams give up more in a trade because they really want a guy. I think with Lucroy it will really depend if he gets back to where he was in 2014. He was banged up last year and his offensive and defensive numbers weren't as good. I think from a Brewers prospective, he might not bring back as much in trade as people think because he is going to be 30 years old this season, which is old for a catcher. There is not a track record of catchers being productive age 32 or 33.
I think you probably want to trade him sooner rather than later, but it's a tough call. At the same time you want him to establish some of his trade value. I don't think you'd get two high end prospects for him, but maybe you get one high end guy and a couple of mid level prospects. If you do a good job scouting, maybe you get a better return than you might think.
You can find more MLB Draft coverage here.