Ryan Boldt learns from former MLB player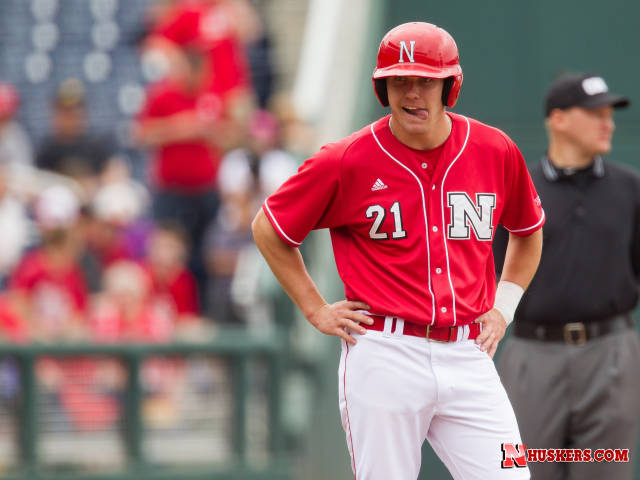 Ryan Boldt was one of the top high school position players in the 2013 MLB First-Year Player Draft, but his chances of being a first round pick disappeared, when he missed the majority of his senior season with a torn meniscus.
However, looking back on it, Boldt said his injury might have been a blessing in disguise.
"I don't know how it would've worked out with the draft out of high school had I been healthy," Boldt said. "I knew it was going to take a special opportunity to forgo the opportunity to come to Nebraska. Ultimately, I love my decision and I've had no regrets coming to Nebraska."
Boldt ended up being drafted by the Boston Red Sox in the 22nd round of the 2013 MLB Draft, but bypassed the opportunity and attended Nebraska instead.
"Mostly the coaching staff with coach Darin Erstad," Boldt said on his reason to attend Nebraska. "To be able to play for a major league outfielder who played in the bigs for so many years is great. It is nice to pick his brain and figure out the ins and outs of the game in what you wouldn't just learn from watching and playing it."
As a freshman with the Huskies, Boldt made an immediate impact and was named a freshman All-American. Boldt hit .311 with two home runs, 31 RBIs and 74 hits in 238 at-bats.
"I think it was being comfortable," Boldt said on his freshman season. "Baseball is baseball. Obviously the game speeds up a bit from the transition from high school to college, but I saw a lot of good players playing against them in high school with playing in showcases and for Team USA. The transition to college was a lot easier than if I hadn't done that."
Boldt returned his sophomore season and produced at a high level once again. He led the Huskies with a .344 batting average, while tallying one home run and 21 RBIs.
He then went on to have a strong summer participating in the prestigious Cape Cod League, where he displayed his excellent approach at the plate against elite pitching.
"It was good to see good competition day in and day out," Boldt said. "As far as pitching you're seeing everyone's top pitchers. There was a lot of good pitching and it was good experience to face that."
In the offseason, Boldt changed his batting stance slightly to try to generate more power at the plate and is hoping to come back and be productive in his junior season.
If Boldt replicates the success he's had in his first two years at Nebraska, he'll be selected in the early rounds of June's MLB Draft.
MLB.com ranks Boldt as the 39th best available draft prospect in their preseason rankings, due to his approach at the plate and ability to drive the ball to the gaps.
Despite his name swirling in draft chatter, Boldt is focused on trying to help his team be successful this season, he said.
"I just go about my business the same everyday," Boldt said. "I just keep my head down and try to get better each and everyday. It's great to have that recognition, but at the same time I try not to pay attention to it."
Boldt has solid speed with a decent arm and makes accurate throws. However, some scouts question if he can stick in centerfield at the next level. He'll have to prove that he can this season if he wants to be a first round pick.
One luxury Boldt has is that he's learning how to play the outfield and be a complete player from head coach Darin Erstad, who played 14 seasons as an outfielder in the big leagues.
"I've grown up a lot and have made a lot of improvements since I've come to Nebraska," Boldt said. "Especially defensively because I haven't played outfield for too many years before I came here. There were a lot of adjustments and things I had to learn about to play the outfielder, and I think I've grown a lot since coming to Nebraska."
You can find more MLB Draft coverage here.