Robert Tyler hopes for productive season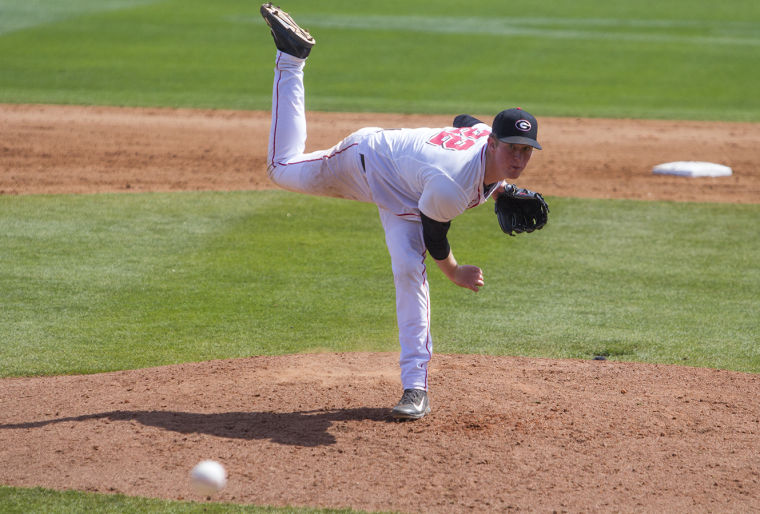 As a senior in high school, Robert Tyler was forced to make a difficult decision. He had the choice to stay in state and play collegiately for the Georgia Bulldogs or go straight into professional baseball.
Tyler was the state of Georgia's top high school pitching prospect and had the potential to be selected in the top five rounds of the 2013 MLB First-Year Player Draft. However, due to sign ability concerns, he slid in the draft and was selected in the 28th round by the Baltimore Orioles.
"I was preparing for either possibility, but once the draft was over, I felt like I wasn't ready for pro ball yet," Tyler said. "I wanted to work on some skills both on the baseball field and outside of baseball.
"I'm glad I made the decision to come to Georgia because I've learned a lot the last few years and I wouldn't trade the experience for the world."
In Tyler's first season at Georgia, he was named a Freshman All-American after going 6-4 with 64 strikeouts and 2.68 ERA in 80 2/3 innings.
However, Tyler was unable to duplicate that production in his sophomore season. In a start against Georgia Southern early in the season, he pitched nearly four strong innings before exiting the game with pain in his right forearm.
A MRI revealed Tyler suffered a right forearm strain, which caused him to miss most of the season.
He returned at the end of the season to finish the year with a 5.32 ERA and 29 strikeouts in 23 2/3 innings.
The 6-foot-4, 225-pound right-hander then had the opportunity to pitch for the USA Baseball's Collegiate National Team last summer.
"The summer experience with the USA National Team was awesome," Tyler said. "I got to play with 20 of the best guys in the country, and together we got to compete against some of the best competition that other countries had too.
"It opens your eyes to see how many talented players are around you and how everybody works hard to achieve success for their country. It was nice to hang out and get to know everybody a little better, and I look forward to seeing some of them this season."
Tyler spent the offseason getting healthy and also developing a third pitch. Besides throwing a mid-90s fastball and a changeup, Tyler worked on a breaking pitch, which he describes as being a knuckle curve.
Now a junior, Tyler is hoping to stay healthy and be a consistent and reliable pitcher for Georgia this season, while hopefully leading the Bulldogs to a NCAA Tournament berth.
"We want to go deep in the postseason," Tyler said. "I'm aiming to stay healthy and get eight to 10 wins, and that will help us do that [make the postseason]."
Tyler has been named a preseason All-American by numerous publications, and if he can perform up to expectations, he will likely be selected in the first round of June's MLB Draft.
MLB.com ranks Tyler as the 26th overall draft prospect in their preseason rankings since he has one of the best fastballs in this year's draft class. If he remains healthy and shows consistency with his off-speed pitches, he will shoot up draft boards.
"All the preseason stuff is nice to be honored," Tyler said. "But, I know that once the season starts, that's all out the window. I've got to perform on the field and that will speak for itself. I want to do my part to help the team win and reach the postseason and any honors and the draft will follow after that."
You can find more MLB Draft coverage here.