2017 MLB Draft: Mock Draft 4.0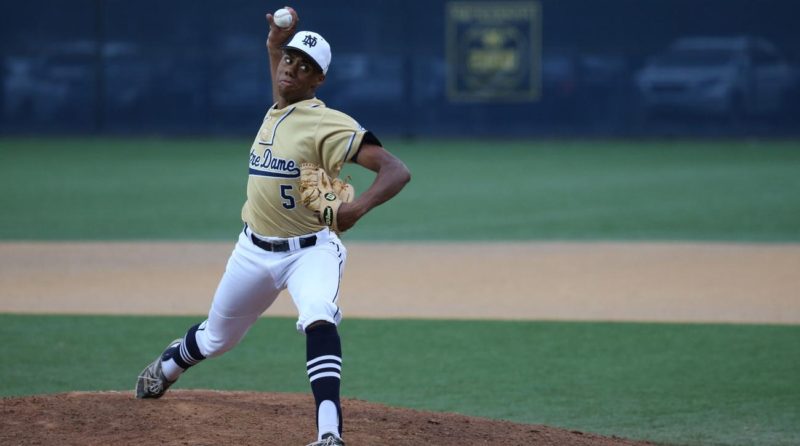 READ: 2017 MLB Draft: Profiles on top prospects
READ: The3rdManIn.com's MLB Draft prospect history
With just over a month until the MLB First-Year Player Draft gets underway on June 12, there is still a lot of uncertainty. But, the MLB Draft is starting to take some shape, especially towards the top. Here's how the first-round of the MLB Draft looks as of May 5.
1. Minnesota Twins: Brendan McKay, LHP/1B, Louisville
Brendan McKay is an intriguing option as a pitcher and position player. Scouts are split on McKay's position in professional baseball, but expect a team to try him on the mound first.
Read my MLB Draft profile on McKay here.
2. Cincinnati Reds: Hunter Greene, RHP, Notre Dame HS (Calif.)
Hunter Greene could be the first prep right-hander ever taken No. 1 overall, but even if he isn't, he will be a top three pick.
3. San Diego Padres: Royce Lewis, SS/OF, JSerra Catholic HS (Calif.)
The Padres are hoping Greene falls to them, but if he doesn't, Royce Lewis or Vanderbilt right-hander Kyle Wright are options here.
Read my MLB Draft profile on Lewis here.
4. Tampa Bay Rays: Kyle Wright, RHP, Vanderbilt
Kyle Wright is the top college right-handed pitcher in this year's MLB Draft and has a potential to even go No. 1 overall. Wright still has a lot of room to grow and possesses frontline starter potential.
5. Atlanta Braves: MacKenzie Gore, LHP, Whiteville HS (N.C.)
MacKenzie Gore has had a strong senior season and is rising up MLB Draft boards. The Braves love high-ceiling arms and Gore fits the bill. Some scouts believe Gore is a better pitcher than Greene.
Read my MLB Draft profile on Gore here.
6. Oakland Athletics: Pavin Smith, 1B, Virginia
Figuring a team drafts McKay as a pitcher, Pavin Smith is the best college hitter in this year's MLB Draft class. With a great approach at the plate and above-average power, Smith will go in the first 10 picks.
7. Arizona Diamondbacks: J.B. Bukauskas, RHP, North Carolina
J.B. Bukauskas has performed well this spring, but his size is keeping him from being regarded as the top college pitcher in this year's MLB Draft class.
8. Philadelphia Phillies: Jordon Adell, OF, Ballard HS (Ky.)
Jordon Adell has five-tool potential and the best all-around tools in this year's MLB Draft class. Although his primary position is in the outfield, Adell is also intriguing on the mound.
Read my MLB Draft profile on Adell here.
9. Milwaukee Brewers: Alex Faedo, RHP, Florida
A 6-foot-5, 225-pound right-hander, Alex Faedo has front-line starter potential. Faedo underwent arthroscopic surgery on both knees last fall and has had an up-and-down junior season.
10. Los Angeles Angels: Jeren Kendall, OF, Vanderbilt
A skilled outfielder, Jeren Kendall has intriguing tools, but his high strikeout rate concerns scouts.
11. Chicago White Sox: Adam Haseley, OF, Virginia
Adam Haseley has risen up draft boards this spring and has a shot to hear his named called in the first 10 picks. In 46 games, Haseley is hitting .399 with 12 home runs and 45 RBIs.
12. Pittsburgh Pirates: Nick Pratto, 1B, Huntington Beach HS (Calif.)
A talented two-way player, Nick Pratto's future is at first base. One of the best prep bats in the 2017 MLB Draft class, Pratto has an advanced approach at the plate and is a solid all-around player.
13. Miami Marlins: Austin Beck, OF, North Davidson HS (N.C.)
Austin Beck didn't participate on the showcase tour last summer, after suffering a left knee injury. Beck has the potential to go in the top five picks, but he has little experience hitting with a wood bat against elite pitching, which concerns scouts.
14. Kansas City Royals: Shane Baz, RHP Concordia Lutheran HS (Texas)
Shane Baz has been connected to the Royals frequently this spring. Baz has a five-pitch repertoire, featuring a fastball, cutter, slider, curveball and changeup.
15. Houston Astros: Griffin Canning, RHP, UCLA
UCLA's No. 1 starter, Griffin Canning has improved his MLB Draft stock this spring and could even go higher with a strong finish to the season.
Read my MLB Draft profile on Canning here.
16. New York Yankees: Seth Romero, LHP, Houston
For the second consecutive year, Seth Romero missed time due to a suspension. Teams will do their homework on Romero, but based on talent alone, he's one of the top college pitchers in the 2017 MLB Draft class.
17. Seattle Mariners: Alex Lange, RHP, LSU
Alex Lange has a track record of success as a starter and has an outstanding fastball-curveball combination. General manager Jerry DiPoto favors college players in the first-round.
Read my MLB Draft profile on Lange here.
18. Detroit Tigers: D.L. Hall, LHP, Valdosta HS (Ga.)
One of the top prep pitchers, D.L. Hall has a high-ceiling and would be a great value pick for the Tigers at No. 18.
19. San Francisco Giants: Sam Carlson, RHP, Burnsville HS (Minn.)
No Minnesota prep pitcher has gone in the first-round, but Sam Carlson appears like he'll be the first. A 6-foot-4, 195-pound right-hander, Carlson's fastball has sat in the mid-90s this spring.
20. New York Mets: Keston Hiura, 2B, UC Irvine
Keston Hiura is a legitimate college bat, but an elbow injury has limited him to DH duties all spring.
Read my MLB Draft profile on Hiura here.
21. Baltimore Orioles: Jake Burger, 3B, Missouri State
One of the top college bats, Jake Burger is hitting .363 with 18 home runs and 49 RBIs this spring.
22. Toronto Blue Jays: Tanner Houck, RHP, Missouri
Tanner Houck was regarded as a top 10 pick earlier this year. But after an uneven season and questions about his delivery, Houck's stock has taken a hit.
23. Los Angeles Dodgers: Heliot Ramos, OF, Puerto Rico
The Dodgers are looking for a high upside player and Heliot Ramos fits the bill. Ramos is strong, athletic and has impressive power potential.
24. Boston Red Sox: Bubba Thompson, OF, McGill-Toolen HS (Ala.)
The Red Sox have selected a prep player in the first-round each year since 2012, besides when they drafted Andrew Benintendi in 2015. Bubba Thompson is the best athlete in this year's MLB Draft class and is rising up draft boards.
Read my MLB Draft profile on Thompson here.
25. Washington Nationals: Logan Warmoth, SS, North Carolina
Logan Warmoth has solid speed and the ability to stick at shortstop long-term. He also has respectable power for a middle infielder.
26. Texas Rangers: David Peterson, LHP, Oregon
A strong spring has vaulted David Peterson into the first-round. A 6-foot-6, 240-pound lefty, Peterson has been a complete pitcher, impressing scouts this spring.
Read my MLB Draft profile on Peterson here.
27. Chicago Cubs: Evan White, 1B, Kentucky
With five-tool potential, Evan White is an intriguing college hitter that can play first base and in the outfield.
Read my MLB Draft profile on White here.
28. Toronto Blue Jays: Nick Allen, SS, Parker HS (Calif.)
If the Blue Jays take a pitcher with their first pick in the first-round, it will allow them to take a high-ceiling prep bat with their second first-round choice.
Read my MLB Draft profile on Allen here.
29. Texas Rangers: Tristen Lutz, OF, Martin HS (Texas)
If the Rangers take a pitcher with their first pick in the first-round, they could turn to a high-ceiling prep hitter with their second selection.
Read my MLB Draft profile on Lutz here.
30. Chicago Cubs: Jacob Heatherly, LHP, Cullman HS (Ala.)
Jacob Heatherly is an underrated prep left-hander with four solid offerings.
Read my MLB Draft profile on Heatherly here.
Find more MLB Draft coverage here.