An intriguing two-way player: Brendan McKay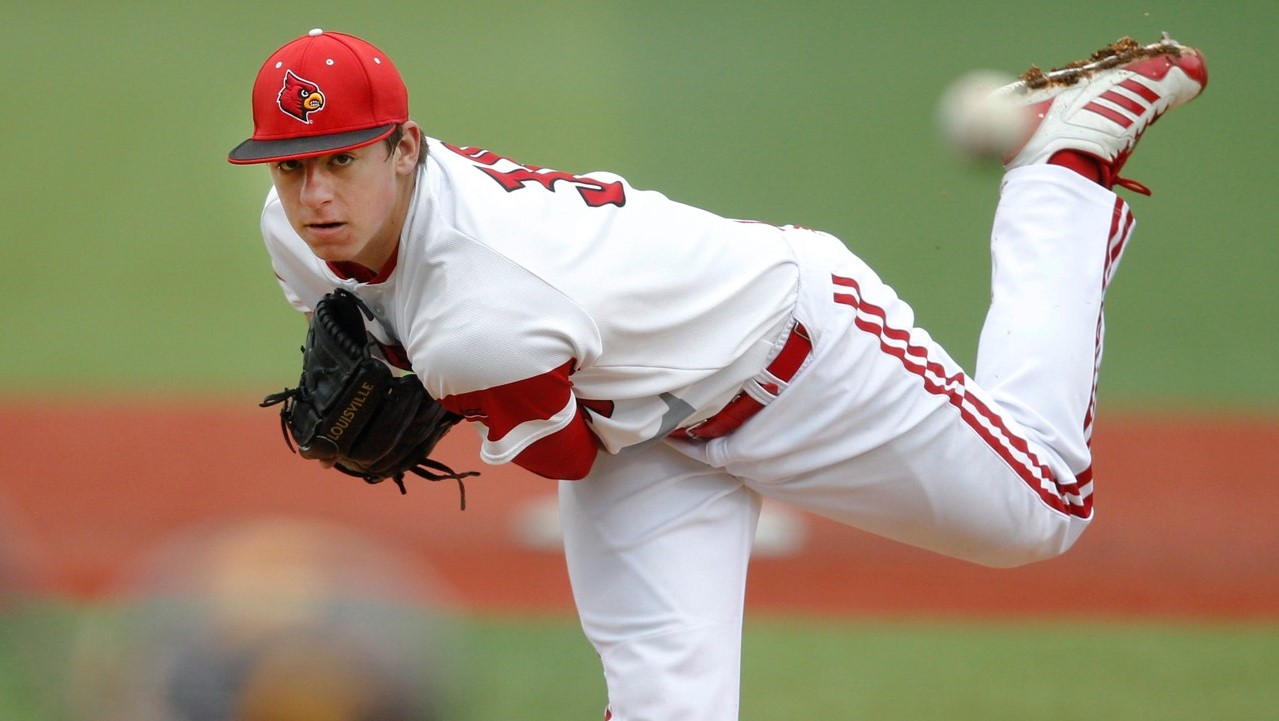 Each year there are intriguing two-way players in the MLB First-Year Player Draft. But unlike recently history, Brendan McKay is a legitimate top-10 draft prospect as a position player and pitcher.
Over the last two years at Louisville, Brendan McKay won the John Olerud Award, which is awarded to college baseball's top two-way player each season.
A first baseman and left-handed pitcher, MLB.com ranks McKay as the seventh-best draft prospect in this June's draft. While McKay doesn't favor one position more than the other, teams prefer him as a pitcher.
"I get asked that question a lot in scout meetings and just them wanting to know where I see myself," said McKay about what position he prefers. "I don't really know at the moment. Pitching could take off and that could be the standout thing. Or hitting could take off. We don't know. It's a crap shoot of what's going to work for you at the next level."
On the mound, McKay has a three-pitch mix, featuring a low-90s fastball, a curveball and an improving changeup, which he spent the off-season refining. The 6-foot-2, 212-pound lefty also has above-average control.
"Really I focused on working on a better changeup with more consistency," McKay said. "To also have more confidence in it and to get more action out of it to have it as a weapon."
With a smooth left-handed swing, McKay uses all-fields at the plate with average power that could improve if he concentrates exclusively on hitting.
Pro teams are confident McKay can polish his rough edges, whether it's as a position player or pitcher, once he focuses on one position.
Despite his name constantly being brought up in draft chatter and scouts discussing his future, McKay isn't worried about anything besides his junior season at Louisville.
"It is kind of in your control with the way you play, but it's ultimately up to the teams," he said. "You put yourself in the best circumstance to let teams know that they should take you.
"I had someone ask me, 'Are you set on being the first pick?' You can't really get caught up on that because it's only going to be one guy. Whoever that team wants they are going to go after. You can't be set on being the first guy and if you don't get taken and you're all upset."
In two seasons at Louisville, McKay has registered a 21-7 pitching record with four saves, a 2.05 ERA, 245 strikeouts and 76 walks in 206 1/3 innings (37 appearances). At the plate he's been just as impressive, hitting .321 with 10 home runs and 75 RBIs in 439 at-bats.
While McKay has thrived on the field for Louisville, he believes he's grown the most as a leader in his two college seasons.
"I've grown from a freshman who was pretty quiet, not talking a lot," he said. "To a guy who will talk to anyone on the team and help out as many guys that I'm around."
With the 2017 college season less than a month away, McKay hopes to have another productive season. But, his main focus is leading Louisville to the College World Series, something the Cardinals haven't accomplished since 2014, and hopefully a national championship.
"I just want to do what it takes to get to Omaha (Neb.) and win a national championship," McKay said. "That's what we've been missing the last two years. Getting so close and just falling short right at the end."
Find more MLB Draft coverage here.