David Peterson focused on team's success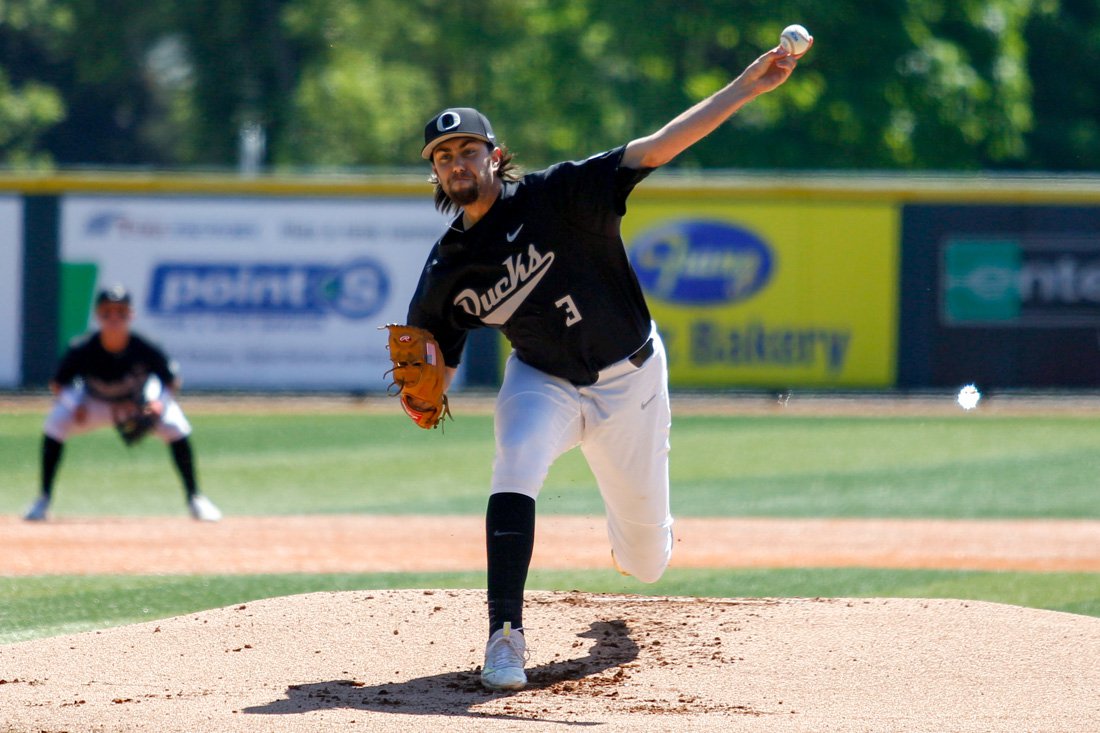 As a senior in high school, David Peterson was one of the top prep left-handed pitching prospects in the 2014 MLB First-Year Player Draft. But, Peterson missed most of his senior season, after breaking his right fibula playing basketball on a baseball retreat in 2014.
Peterson fell to the Boston Red Sox in the 28th round of the 2014 draft, but passed on the opportunity to turn pro. Instead, he honored his commitment and attended the University of Oregon, enrolling in fall 2014.
Now in his third year with the Ducks, Peterson is once again draft-eligible. Baseball America ranks the left-hander as the 30th-best college prospect for June's draft.
But like other high-profile draft prospects, he's leaving the draft pressure for others to worry about.
"My view has always been that I'm at Oregon for this year at least," Peterson said. "I might as well not focus on what's going to happen in the future until it comes. I think this year is not about playing as good as I can to get drafted as high as I can. It's about this team and us getting as far as we can."
A 6-foot-6, 242-pound lefty, Peterson has a three-pitch mix, featuring a fastball, changeup and curveball. Working from a three-quarters arm slot, Peterson's fastball sits in the low-to-mid-90s.
"I think my biggest strength in my game is my competitiveness," Peterson said. "I think I have some good stuff. But, I think that my competitive mentality is the strongest part of me. When coach (George Horton) hands me the ball, I'm going to give everything I have that day."
Besides participating with Team USA during the off-season, Peterson used the time off to refine his pitches, while focusing on his changeup.
"I've always had an alright changeup, but it's never been a huge weapon for me," Peterson said. "The biggest thing I've worked on is getting my changeup to be the best it can be and having it be a huge weapon for me to complement my fastball."
Peterson has gotten off to a shaky start in two starts this spring with Oregon, posting an 8.10 ERA, as opposing batters are hitting .317 off the southpaw in 10 innings of work.
Even though 2017 hasn't gotten off to the way Peterson hoped, he's confident he can turn it around quickly.
"Obviously the team comes first, and we want to get as far as we can as a team," Peterson said. "For me, it's not about stats. It's about every time I'm given the ball, giving my team the best opportunity to win. Just to have as many quality starts as I can."
Find more MLB Draft coverage here.
Read my feature article on former Oregon left-hander Matt Krook here.