Future is bright for prep star Jo Adell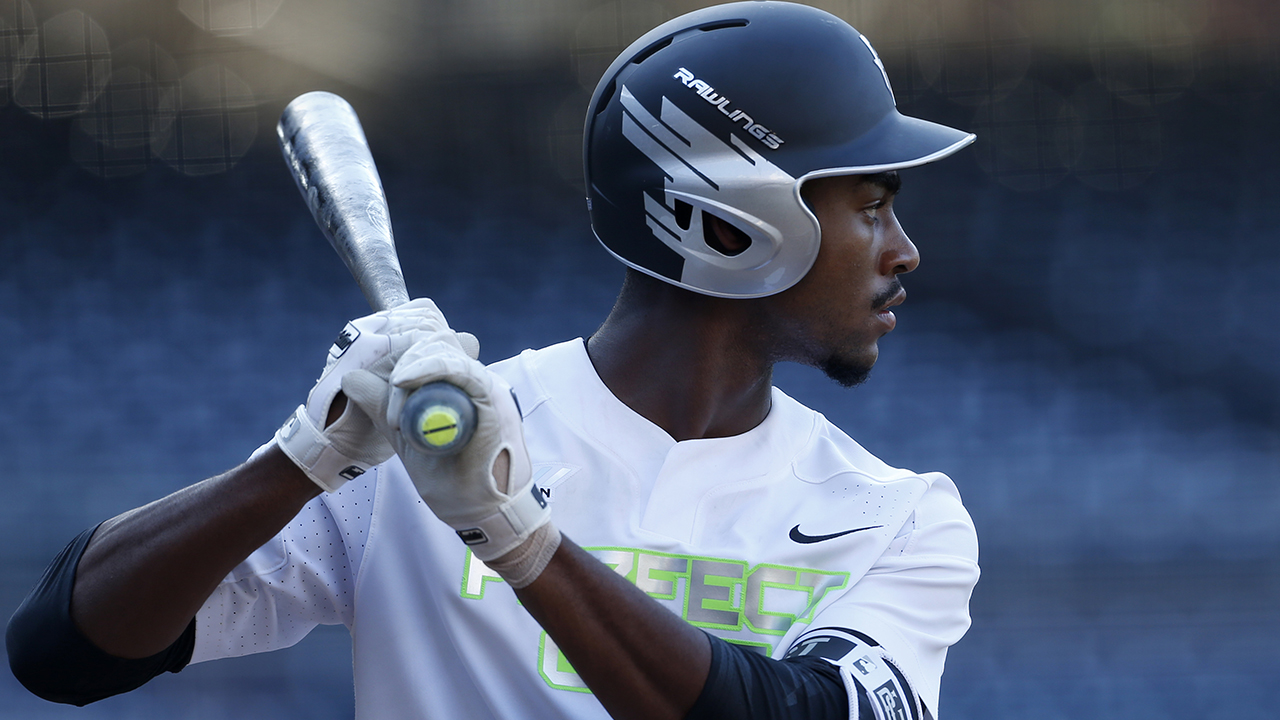 At the end of his freshman year of high school in 2014, Jo Adell committed to the University of Louisville, which he described as a "no-brainer." Growing up five miles away from Louisville's campus, Adell felt at home and wanted to join an elite program that prepares its players for professional baseball.
While Adell is eager to join the Cardinals as a two-way player in the fall, he may never step foot on Louisville's campus as a student-athlete. MLB.com ranks Adell as the 11th-best MLB First-Year Player Draft prospect in this year's class.
Poised to be a first-round pick straight out of high school this June, Adell will have a difficult decision to make. Even with his name swirling in draft chatter, Adell is trying his best to not focus on the future.
"I think it's important that I'm not trying to be superman," Adell said. "I think a lot of times guys get in a situation doing more than what they are capable of doing. Just play the game and let whatever happens, happens."
At 6-foot-2 and 195 pounds, Adell is a primary outfielder with five-tool potential. He possesses the best all-around tools in this year's draft and is an outstanding defender with above-average speed and enormous raw power.
The one area scouts will watch closely this spring is Adell's ability to consistently make contact, after he struggled at times on the showcase circuit last summer.
"I ended up playing 145 games before the season was out," said Adell about participating in showcase events last summer. "It worked out for me because like most people I'm a reps guys. The more reps I got, the hotter I got towards the end of summer."
When Adell committed to Louisville in 2014 he was a primary pitcher. But he said he transitioned more into a hitter after getting more experience at the plate as a sophomore and junior.
Adell still pitches and is an intriguing player on the mound, even though teams will look at him as an outfielder first. He's a right-handed hurler with a three-pitch mix, featuring a mid-90s fastball, a slider and a changeup.
Even though he enjoys pitching, he believes he's better in the field.
"I think the switch for me was for the better," Adell said. "I've always had really good hands at the plate and developed some real speed over the last few years. I know that I bring more to the table in the outfield.
"I love to pitch, but pitching is a last resort for me if I can't hit my way through. If I had to get on the mound I could definitely do it, but at the end of the day I'm strongly in belief that I'm an outfielder."
As a junior in 2015, Adell hit .449 with 11 home runs, 44 RBIs, 10 doubles and 25 walks. On the mound he was just as impressive, going 1-0 with a 1.55 ERA, while striking out 56 batters in 31 2/3 innings.
Adell hopes to build off his junior year this season, while putting the draft speculation in the back of his mind until June rolls around.
"I think you have to realize that this is a game," Adell said. "Baseball is such a failure sport. You have to look at it like that. You can only control what you can control. As long as you're bring to the table the best you can bring every day, then that's all you can do. No one is perfect and no one is expecting you to do any more than you're capable of doing."

(Video of Jo Adell from last summer on the showcase circuit.)
Find more MLB Draft coverage here.
Read my feature article on current Louisville Cardinals star Brendan McKay here.