Panthers extend home winning streak to 19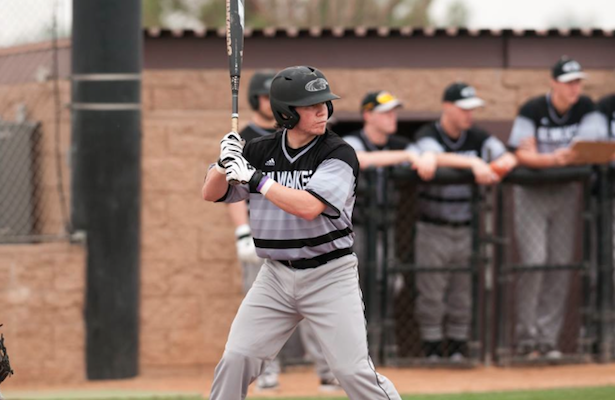 What a weekend it was for the Milwaukee Panthers. On two beautiful spring days, Milwaukee and Oakland battled it out in a Horizon League matchup at Henry Aaron Field.
These three games were filled with excitement and improbable comebacks as the Panthers (9-12, 4-2) swept the Golden Grizzlies to extend the nation's longest home winning streak to 19 games.
In game one, Milwaukee trailed 3-2 with only three outs left until junior Sam Hammer stepped up to the plate. On the first pitch Hammer saw, he pounded the ball into right field to bring in the winning run.
A 2-2 tie entering the top of the ninth, Oakland jumped ahead as they made Milwaukee pay for allowing a leadoff base hit.
Then in the bottom of the frame Pat Wilson led off the inning with a single up the middle, and then moved into scoring position on a pickoff attempt that resulted in an Oakland error.
Dan Barwick, who subbed in to pinch run for Wilson, was moved over to third on a sacrifice. Ryan Solberg was then beamed by a pitch and stole second on a wild pitch.
Following an intentional walk, Hammer stepped to the plate and drove in the winning run.
Brian Keller continued to pitch well as he threw 8.1 innings while allowing just four hits while striking out four and walking three.
In the second game of the doubleheader, the ending was nearly the same. Down 3-2 in the bottom of the ninth the bases were loaded for the Panthers with no outs. Oakland was fortunate to turn a double play allowing one run to score while advancing the runner to third. With two out and the game all tied at three, Wilson stepped up to the plate and ripped a line drive to the first baseman, which he was unable to handle, allowing the winning run to score.
Tyler Thicke (2-3) picked up the win in both games as he worked two scoreless ninth innings.
In the finale of this Horizon League series Milwaukee claimed an 8-2 win.
Redshirt freshman hurler Justin Langley (1-1) started for the Panthers as he picked up his first college victory throwing six solid innings allowing two earned runs while striking out three.
This was an excellent series for the Milwaukee Panthers as they start to heat up for conference play. They played well in all phases of the game, while showing what it takes to win close games. Milwaukee is a talented team and if they can continue to play like this they will be a dangerous team in the Horizon League.
Milwaukee will now wait until April 11th to resume Horizon League play as they face Wright State in Dayton, Ohio. Wright State played arguably the toughest nonconference schedule out of any Horizon League team, and so far it has paid off as they sit atop the conference standings with a 9-2-league mark. They will not be an easy team to beat, and the Panthers will have to play their best ball of the season if they want to win.