Milwaukee's offense erupts in victory at home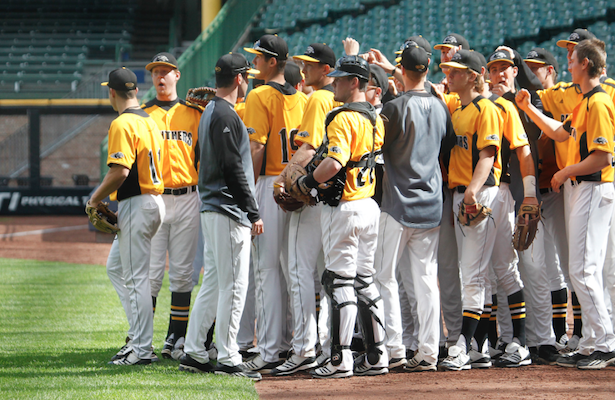 On a cold and breezy spring afternoon day, with a quiet group of fans watching on, the Milwaukee Panthers' offense exploded against Horizon League foe, Youngstown State. Clean up hitter Ryan Solberg set the tone for the offense, hitting a home run with a career-best five runs batted in, as the Panthers (15-17, 7-6) erupted for 13 runs in their 13-3 triumph over the Penguins at Henry Aaron Field on Friday.
Right Brian Keller (1-4) received the starting nod in this contest, pitching seven strong innings despite the poor weather conditions, racking up six strikeouts while allowing only five hit and two walks.
"I thought once Keller got through the first, he settled down a bit and then we got those two home runs in the first inning to give us some momentum," Milwaukee Panthers head coach Scott Doffek said. "He did a good job after that."
The offensive explosion began in the bottom of the first inning with two men out for Milwaukee as catcher Mitch Ghelfi started the rally off with a walk. After Penguins' starting pitcher, Brendon Shoemake surrendered a walk on four straight balls, he delivered a pitched right down Broadway that Solberg smacked over the left field fence for his fifth home run of the season.
First baseman Pat Wilson then stepped up to the plate recording a single off of a weakly hit grounder. Outfielder Tyler Hermann than stepped up to the dish, launching a ball over the leftfield wall for a two-run home run to give the Panthers a 4-0 lead after one inning.
"Ryan has been locked in almost the whole year," said Doffek. "He did a great job early in the game getting us the momentum.
"To come in the dugout with four runs after nobody on and two outs, that's huge."
These four runs were all the Panthers needed, but they continued to pounce on every mistake a Penguins' pitcher made, growing their lead to 13 after seven innings.
Youngstown State was unable to cut the deficit until the ninth inning when they scored three runs on one swing of the bat to take advantage of a leadoff walk.
Milwaukee's offense finished the exciting afternoon with every starter in the lineup recording at least one base hit. Four players earned multi-hit games with Solberg leading the way with three hits.
Shortstop Ryan McShane continued to impress recording two hits including a two-run home run to left.
This was an extremely lopsided game that was fun to watch if you are a Panther fan as Milwaukee dominated Youngstown State on both sides of the ball. The Panthers continue to get stronger as the season progresses. With only a month left in the season, Milwaukee looks poised to make a run to end the season. If they can continue to play like they did Friday afternoon, they should be a tough team to beat as they only made a few mistakes the entire game.
"We are continuing to get better in all phases," said Doffek. "For the most part, we have been playing better baseball, but we have another level – another gear left – for sure."
These two teams will square off in the second game of this three game series on Saturday at 1 p.m. as they return to the beautiful Henry Aaron Field.