Q&A: Milwaukee Panthers guard, Justin Jordan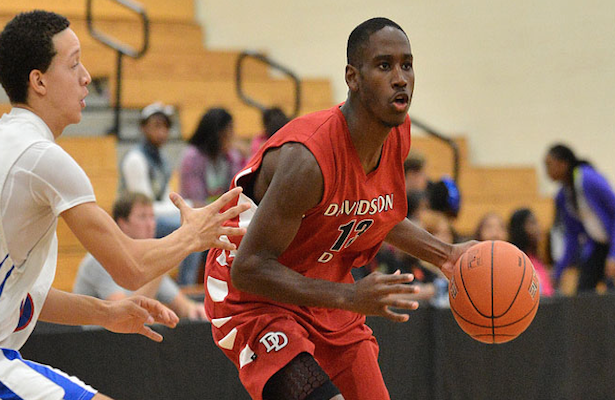 With the recent news of the Milwaukee Panthers men's basketball team being suspended from postseason play next season, fans have been searching for something to be excited about entering next year. One thing that is sure to get fans enthused is newest recruit, Justin Jordan.
A point guard from North Carolina, Jordan has always had attention drawn to him on and off the court. Not only is he a talented player filled with an immense amount of potential, but he is also related to the greatest player to ever step foot onto a basketball court – Michael Jordan.
Check out what he had to say about his commitment to Milwaukee and his life out of basketball:
Why did you decide to commit to Milwaukee?
On my visit I really liked the coaching staff and I felt like they're moving in a positive direction. I just felt like Milwaukee was somewhere I could go where I could grow as a basketball player and as a person.
With Milwaukee being banned from the postseason next year, did that have any affect on your decision?
I want to win, I want to go to the tournament, but it's just for one year, so it really didn't have too much of an affect on me.
Did you have any other schools recruit you and offer you an opportunity to play for them?
I had a few offers: Coppin State, Maryland-Eastern Shore, Wright State, Navy, Presbyterian and Tennessee State. Also, I did have a few high major programs recruiting me, but they didn't offer me a scholarship – Iowa and Creighton both where talking to me this past year. I heard a little bit from Wichita State – it wasn't too serious, but they contacted me.
After graduating from Davidson Day why did you decided to attend Hargrave Military Academy?
I felt like playing for coach A.W. Hamilton would really prepare me for the next level so I could come in and have an impact rather than going somewhere and sitting on the bench for my first couple of years.
Do you expect to receive some playing time right away then with the Panthers freshman year?
I have no idea. I'm just going to come in and compete. I know they have a senior point guard this year, and he is already starting and established. So I'm not coming in with expectations. I'm just coming in and will work as hard as I can.
You spent time training with former Charlotte Hornets point guard Tyrone "Muggsy" Bogues, what advice did he given you?
He gave me a lot of advice. Particularly on the court, being a point guard. One of the real main things he has been preaching to me over the past few years has been being a leader, not only on the court but also off the court. As the point guard you always have to set the example for the other guys.
What do you feel your biggest strengths are in your game?
I'd probably say defensively, I feel like I'm a real solid defender. Also I have a good mid-range game, often protect the basket, get in the lane and finish, and create for others.
What are some areas of your game that you would still like to improve on entering your freshman season?
Well I definitely need to work on my strength, that's the main thing. I'm about 175 (pounds) right now, and if I can add 10-15 pounds I feel like I'll be good. Just a little bit of everything really. Being more of a consistent shooter. Making the right reads. You can always get better in everything – I'm not perfect in any particular areas.
What player would you say you model your game most after?
I'd probably say out of the players right now I feel like I'm kind of more like a Jeff Teague kind of a player. We have similar size and our athleticism is similar. I feel like I see a lot of myself in him.
What impact has your uncle Michael Jordan and dad Larry have on you from their time playing professionally?
They have given me a lot. Since the day I picked up a basketball my dad has been working with me everyday. He was always staying on top of me. He was also my AAU coach, so was always really pushing me. My uncle as well. He would always come to my games. He'd give me a lot of pointers. He'd tell me what I'm doing well, what I needed to work on, what I'm not doing well. So they both have been really big influences on me.
What was it like growing up with your uncle being Michael Jordan?
It was pretty cool to be honest. Sometimes it gets a little bit annoying because you get like a thousand people coming after you for shoes and "hey can you do this or hey can you do that," but other than that it is pretty cool. Especially now that he owns the (Charlotte) Hornets (formerly the Bobcats). I go down to the arena and work out with those guys, I get to go down to all the games, I make some practices – it's just really cool to be around.
With the recent academic trouble the basketball program has gotten in fans are starting to worry more about the players being brought in and the importance they place on school, how important are academics to you?
Academics are huge to me because I can't play forever. Hopefully I can get one of these jobs with the Bobcats. It has been a real big part of me. My parents are always pushing me. If I get bad grades, I'm going to have to answer to them. So it is really important to our family.