MLB Draft: Class deep with two-way players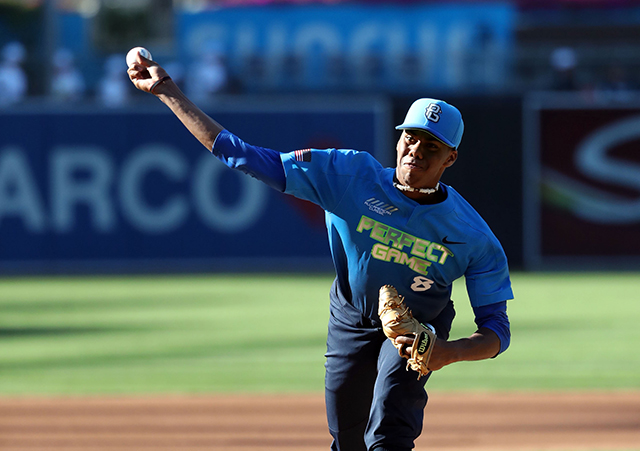 READ: Profiles of top 2017 MLB Draft prospects
READ: The3rdManIn.com's MLB Draft prospect history
This year's MLB First-Year Player Draft class is intriguing because of the amount of two-way players who could be first-round picks. Once draft day rolls around on June 12, as many as five two-way players could hear their names called in the first-round.
Here's the top five two-way players in the 2017 MLB Draft class:
–Hunter Greene, RHP/SS, Notre Dame High School (Calif.)
People are buzzing about Hunter Greene, who is an athletic 6-foot-3 prep pitcher that throws his fastball consistently in the mid-90s. He also throws a sharp breaking curveball and average changeup.
Greene projects as a potential star at shortstop. While selecting and developing position players is less risky, expect a team to try him first on the mound.
A high school right-handed pitcher has never gone No. 1 overall, but Greene could be the first due to his potential and talent.
—Brendan McKay, LHP/1B, Louisville
Brendan McKay is the top college player in the 2017 MLB Draft class, possessing the potential to get drafted first overall as a left-handed pitcher or first baseman.
Teams are split on what position McKay plays long-term, but don't expect him to last long in the draft, as he's solidified himself as the best college draft prospect.
Read my draft profile on Brendan McKay here.
—Jo Adell, OF/RHP, Ballard High School (Ky.)
After making the transition from a primary pitcher to a position player in the last couple of years, professional teams view Jo Adell as an outfielder first. Adell also believes he's a position player first.
At 6-foot-2 and 195 pounds, Adell has five-tool potential, possessing the best all-around tools in this year's draft. He's an outstanding defender with above-average speed and enormous raw power.
Adell still pitches and is an intriguing player on the mound, even though teams will look at him as an outfielder first. He's a right-handed hurler with a three-pitch mix, featuring a mid-90s fastball, a slider and a changeup.
Read my draft profile on Jo Adell here.
—Joe Perez, RHP/3B, Archbishop McCarthy High School (Fla.)
An above-average power hitting position player, Joe Perez also has an electric arm on the mound. A 6-foot-3, 208-pound right-hander, Perez has a four-pitch mix, featuring a mid-90s fastball, a sharp breaking slider, a curveball and changeup.
Perez only started pitching about a year and a half ago and although he doesn't prefer one position over the other, he said considers third base as his primary position.
Perez has a shot at going in the first-round and expect teams to draft him as a pitcher.
Read my draft profile on Joe Perez here.
–Hagen Danner, RHP/C, Huntington Beach High School (Calif.)
Scouts are split on what position Danner will play in pro baseball, but he's spent more time as a pitcher. A 6-foot-1, 195-pound right-hander, Danner has a mid-90s fastball, a curveball and changeup.
He's a solid defensive catcher with an above-average arm. He's a below-average runner, however, and will hit for average power in the future.
Find more MLB Draft coverage here.