Talented left-handed pitcher: Ricky Tyler Thomas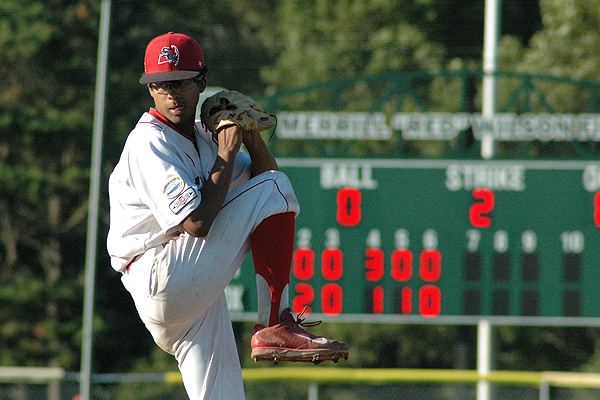 Fresno State left-handed pitcher Ricky Tyler Thomas isn't an imposing figure on the mound, listed at 6-foot-1 and 185 pounds. But last year, he caught scouts' attention for his performance with the Bulldogs last spring and then with USA Baseball's College National Team last summer.
Thomas went 9-4 with a 2.16 ERA, 108 strikeouts and just 16 walks in 104 innings as a sophomore with Fresno State in 2016.
He was just as impressive in 19 innings of work with Team USA last summer, as he earned the Dick Case Award, which is given annually to USA Baseball's top player.
"It was a huge honor getting to travel all around the world and to see all the different kinds of baseball," said Thomas about playing with Team USA. "I got more experience and that helped me compete."
After a successful year in 2016, Baseball America ranks Thomas as the 59th-best prospect in June's MLB First-Year Player Draft.
Despite the draft attention, Thomas is trying his best not to focus on the future.
"I don't really think of any of that stuff," Thomas said. "I just try and focus on the team. Do whatever it takes to win."
Thomas has solid command of his 90 mph fastball, which he uses to set up hitters. His out pitch is an above-average changeup. He also throws a curveball, which he started using with Team USA last summer, and spent the off-season developing.
Thomas' role in pro baseball is still up in the air, but if he's able to develop a quality third offering, it enhances his chances of being a starter.
With the draft less than three months away, Thomas hopes to refine his fastball.
"Definitely (want to improve fastball) velocity because that's always helpful," Thomas said. "Also, getting stronger and adding more weight."
In six starts for the Bulldogs this spring, Thomas is 2-1 with a 3.05 ERA, 52 strikeouts and 15 walks in 38 1/3 innings. He even had a 15 strikeout performance against UC Riverside on Feb. 24.
Thomas has posted quality starts in all but one of his outings this spring. On the road against Air Force on March 17, he surrendered seven earned runs and six walks in five innings.
"The altitude didn't help, but I can't be perfect," said Thomas about his start against Air Force. "I pitch every game to try and win, but stuff happens."
With less than two months left in the regular season, the Bulldogs are 14-10 overall and 5-4 in Mountain West Conference play. Thomas' goal is to help Fresno State make a deep postseason run in what might be his final season of college baseball.
"(My goal is to) win the Mountain West, get to a regional and hopefully then to the College World Series," Thomas said.
Find more MLB Draft coverage here.