Milwaukee poised for postseason success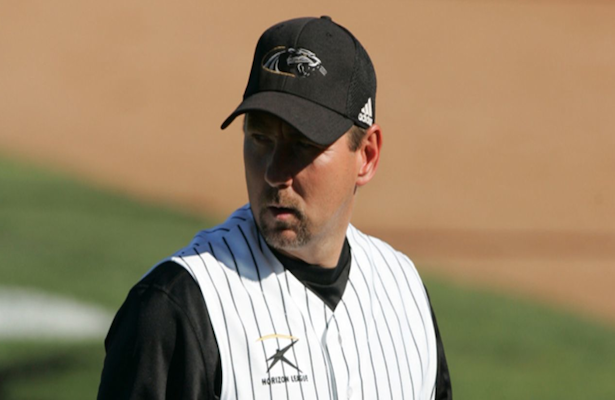 With the temperature hovering around zero and snow falling from the sky, it is hard to believe the baseball season is almost here, but in less than seven days the Milwaukee Panthers season will be underway.
Last season the Panthers cruised through the regular season going 29-21 overall including an impressive 14-7 in the tough Horizon League. They even went undefeated at home (13-0) to extend the their home winning streak to 16 games, the longest active streak in college baseball.
It was truly a team effort as Milwaukee led in almost every offensive category, while having a solid pitching staff on their way to winning many Horizon League awards. They took home the Player of the Year, Pitcher of the Year, Newcomer of the Year and Coach of the Year awards, while also having four players on both the first and second team lists.
Unfortunately their regular season success did not translate into the postseason as the Panthers fell short of reaching their goal of a NCAA Tournament appearance for the first time since 2010.
Even with their disappointing conference tournament results the Panthers still enter this season as the favorite to win the Horizon League again according to Baseball America, but it will not be easy as they lost their top two starters, Jake Long and Cale Tassi, and closer, Joshua Uhen, from a year ago.
"We lost a couple of good arms to graduation and the draft," said head coach Scott Doffek. "We did the same thing we do every year and just try to prepare the guys we have on the roster to hopefully take a step forward. We're going to need to have a couple of guys to step up, but that has kind of been the mantra, next guy up here."
It will be a challenge to fill the void Long leaves behind as he was named the Horizon League Pitcher of the Year going 8-3 with a 1.73 ERA in 13 appearances.
"I don't know if you can plan on filling the type of numbers he put up," Doffek said. "Through preparation we just try to get guys prepared to give us an opportunity to win games, just like Jake did, and hopefully someone steps up."
Even though the Panthers did lose some quality arms, their pitching staff has more depth than a year ago with Mike Schneider and Tyler Thicke at the front of their starting rotation.
"I think we got a little more depth in the pitching staff, which we really needed, we were kind of top heavy last year," said Thicke. "I think we are pretty well rounded."
Last season Schneider went 8-3 with a 3.64 ERA in 16 games while Thicke made 20 appearances including three starts with a 4.70 ERA. Thicke, who will be penciled in as the Friday starter for the Panthers, pitched extremely well in his final 13 appearances with a 1.24 ERA.
Milwaukee's offense will be strong again as they led in almost every category statistically a season ago, and return most of their key everyday players.
One player that the Panthers can already rely on to be a consistent force again is second baseman, Mike Porcaro.
The junior star won numerous accolades including the Horizon League Player of the Year award, while being named an All-American as he hit .364 with one long ball and 43 RBIs in 187 at-bats.
Porcaro's incredible performance a year ago has put his name atop the early predictions to win the conference Player of the Year award again this season. He has said though he does not feel any pressure to try and produce at a high level again this season.
"We have an experienced lineup and it makes it easier for you because you know you have guys behind you to back you up if you aren't having a good game," said Porcaro. "I know if I don't have as good of games, we have a nine deep lineup, every single guy is going to be able to hit, and we are four deep on the bench at least. I am just trying to go out there and have fun, and do the same thing I did last year."
Catcher Mitch Ghelfi, and outfielders Ryan Solberg, Derek Peake and Luke Meeteer all return from last season after putting up solid numbers offensively for the Panthers.
Milwaukee also has a couple of freshman who could see some playing time this season, with first baseman Blake Fleischman the most likely to see some time.
It is going to be another fun and competitive baseball season, as the Horizon League will be tough with the University of Illinois at Chicago the Panthers biggest threat for the top spot.
One thing is for sure no matter who is in the batters box or on the pitching rubber, the main goal will be to win the Horizon League tournament especially since the tournament will be held at home (Kapco Field in Mequon) this season.
"That would be sweet winning it at home," Porcaro said. "I think the big thing is just playing the same game. Last year in the conference tournament we played a good first game against Wright State, and then against Valparaiso we made a couple of mistakes.
"It is just not treating it as a big deal. The season is a process we just got to keep building it up till the end of the year because that is when you want to be playing your best ball. Each week, each game, taking it one game at a time, and trying to get better is what I think is really the key."