Kaprielian's strong leadership propels UCLA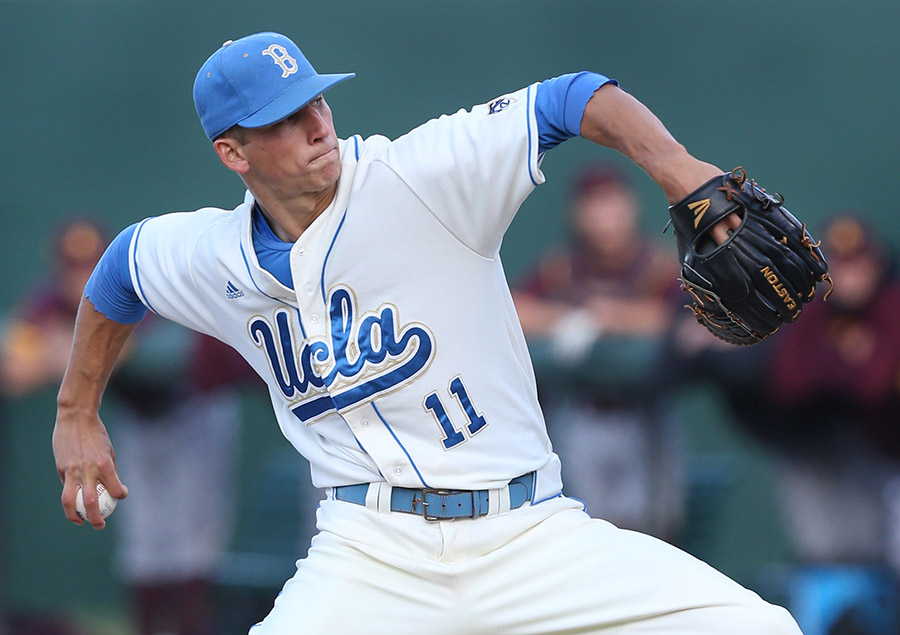 Elite high school seniors sometimes face a challenging decision if a Major League Baseball team selects them in the draft – to go play professionally or attend college?
Before draft day even arrived, James Kaprielian knew which route he wanted to take. For Kaprielian it was rather easy – he wanted to honor his commitment and play baseball at the University of California, Los Angeles.
"Coming out of high school I always wanted to get my degree and UCLA was a school that was able to offer a very meaningful degree," Kaprielian said. "The school itself is really beautiful and it's not to far from home but not to close to home.
"I guess the cherry on top was that for my personal development I wanted to go to a school where I was going to get better as a baseball player, and UCLA really offered that. UCLA was definitely just the best option for me, and I'm happy I took that path."
Kaprielian could have been selected in the early rounds of the 2012 MLB Draft, but the California senior lasted until the 40th round when the Seattle Mariners selected the right-handed pitcher, mainly due to his strong desire to become a Bruin.
"I wanted to be honest with all of the organizations that were interested in me, and I let them know early that I only wanted to go to school unless it was going to be a life changing opportunity," Kaprielian said. "I got calls early on and guys understood, but I think at the end of the day everyone respected that decision.
"I think being taken in the 40th round was more of a courtesy draft pick anyways. I was surprised I even got drafted since I told them I'm probably going to head to school."
It wasn't surprising to see MLB teams extremely interested in his services after he finished his three-year high school varsity career with a remarkable 33-3 record with a 0.96 earned run average, 250 strikeouts, 23 complete games and two no-hitters.
He also received college offers from most of the Pac-12 schools along with a lot of other schools in the west, and even some across the country. He even earned an offer from the University of Southern California – the school he grew up cheering for.
"Absolutely (I considered going to USC)," Kaprielian said. "USC is a great school with a rich history. Obviously growing up in a USC household and going to USC football games, baseball games and events my entire life that was always a school I wanted to go to.
"But, it just worked out that UCLA was the best option for me. USC was definitely an option, but with what UCLA was offering and the opportunity I had, I decided to go with UCLA."
Through his first two seasons with the Bruins, it appears that he made the right decision. As a freshman he assisted UCLA to their first National Championship in the school's rich history as he appeared in 34 games as a reliever posting a 1.55 ERA, two saves and 53 strikeouts in 40.2 innings.
Sophomore year the 6-foot-4, 200-pound righty became the team's No. 1 starter and recorded a 7-6 record with a 2.29 ERA and a Pac-12 high 108 strikeouts in 106 innings of work.
Now a junior, Kaprielian hopes playing for the U.S. collegiate national team this summer and the hard work he put in this offseason will pay off and help him have another terrific season.
"Getting stronger and just continuing to establish my fastball," Kaprielian said regarding what he worked on to hopefully build off his first two season with UCLA.
"One of the things I like working on and preach here at UCLA is winning the first two out of the first three pitches to put the leverage in my count. That way I can pump it up for the rest of my repertoire and really use my pitches against the batter at that point. Continuing to do that this summer was a big thing for me."
Kaprielian isn't an overpowering pitcher, but he has good control of all four of his pitches. He throws an 89-92 mph fastball and is successful at that speed because of his excellent ability to locate the pitch.
He also throws a solid changeup, slider and curveball to give batters a different look.
Since coming to UCLA, Kaprielian has done an excellent job pitching off of his fastball instead of relying on beating batters only with his stuff. This is a crucial part of the game because many players can hit a fastball, but if you are able to throw a great breaking pitch after the fastball, it makes it challenging for batters to have success.
It is no secret that Kaprielian is regarded as one of the better college arms and is ranked No. 23 on MLB.com's list of top MLB Draft prospects. He has the potential to continue to rise up draft boards as the June draft approaches.
However, Kaprielian isn't focused on the draft quit yet. Instead, he is worried about being a good teammate and leader as the Bruins looks to put together an excellent season.
"It is always something that is in the back of college kids minds – everybody dreams of being drafted and being a big leaguer one day," Kaprielian said. "There are times I think about it and times I think what I need to do. But, then I catch myself.
"The one thing I need to worry about is myself and my team, and trying to be a leader for the guys here at UCLA. If I'm able to give my team an opportunity to win this year and hopefully be a good leader and sacrifice things the right way, I think it will all work out in the end."