Hard work pays off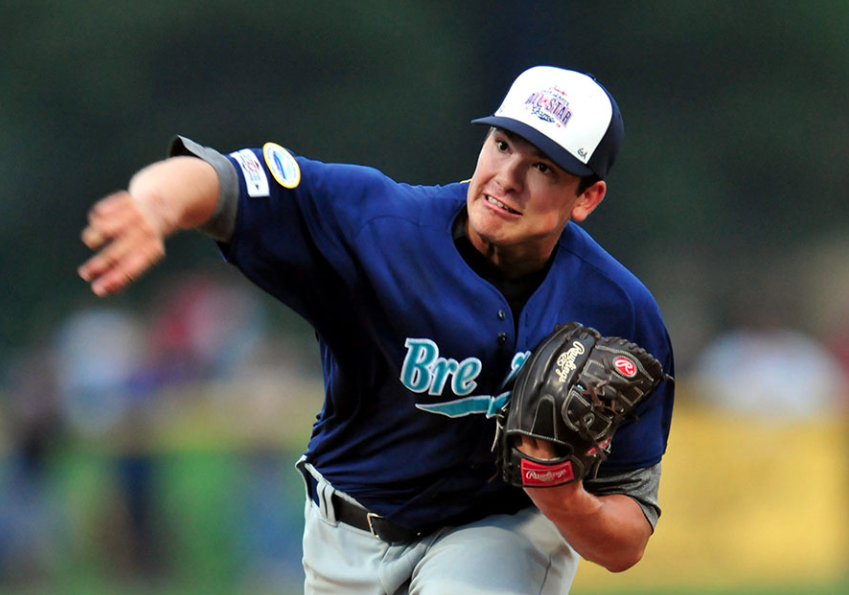 Baseball is a crazy game. Each year there are players who break onto the scene and become household names. With the college baseball season quickly approaching, fans and scouts are keeping their eyes on Cal Poly's Cody Ponce.
The right-handed pitcher enters his junior season as the 20th ranked prospect in June's Major League Baseball Draft by MLB.com after a breakthrough summer in the prestigious Cape Cod League.
However, Ponce hasn't always been on scouts' radar. Coming out of high school, Ponce wasn't highly recruited, only receiving interest from Cal Poly and a couple other Division II schools.
Ponce hasn't forgotten about being overlooked, using it as motivation every time he steps foot on the baseball field.
"Every morning I wake up with a chip on my shoulder," Ponce said.
Despite only receiving interest from D2 schools, he loves being at Cal Poly.
"There is no place I'd rather be than at my school right now – I love my school," Ponce said. "Cal Poly gave me that opportunity to play baseball at the next level, which was a blessing and an opportunity, and to go to school and get my kinesiology degree."
At Cal Poly, he has continued to develop into a solid and reliable pitcher. After working as the team's closer during his freshman year, he pitched the majority of his innings in the starting rotation during his sophomore season, recording a 3.36 earned run average with 52 strikeouts and only 29 walks in 75 innings with a 4-5 record.
He then took a major step forward this summer, going 4-1 with a 2.82 ERA with 32 strikeouts and 11 walks in 35 innings.
The biggest reason for his development and emergence as a legitimate first-round pick in the draft, is his fastball. Ponce has always had size, but during his high school career his fastball sat in the low to mid-80s.
Now the 6-foot-5, 235-pound righty is throwing his fastball in the 91-94 mph range, and even hit 97 on the gun during the summer. His goal this season is to have his fastball consistently hit 93-94 mph, but he knows that the most important part is locating the fastball and getting ahead in the count.
Besides throwing a fastball, his arsenal also consists of a cutter, changeup and curveball – which sometimes looks like a slurve. If he needs a strike, he often goes to the changeup, and when he is looking to finish a batter, he uses his cutter.
He trusts his off-speed pitches, but he also realizes there is room for improvement.
"I would definitely like to be able to throw any off-speed in any count and be confident in throwing it for a strike," Ponce said. "That is going to make a big time difference, if I can throw all four pitches for strikes in any count.
"I'm just trying to take my game up to the next level."
Cal Poly has produced eight big leaguers, but never a first-round pick. If Ponce can continue to show improvement on his secondary pitchers, there is no reason why he shouldn't be selected in the first round. Not only is he extremely talented and filled with potential, but also he possesses an incredible work ethic and passion for the game – two qualities you can't teach.
Despite all the attention and talk regarding his draft stock, Ponce doesn't worry about it. Knowing that it is still a long ways away, and even when he is drafted, that he hasn't reached his goal of making it to the big leagues.
"I would be very blessed for sure (to be a first-round pick), " Ponce said. "If God wants me to do that, that is what I will do. If he sees me going in the first round that is where I will go.
"I'm not a big number guy, I love the game too much to basis it off which round I go and what pick I am. If I want to play pro ball I am going to do it because it is a game I love. If I am the first pick or the last pick it doesn't matter, I still get to continue this game, which I love to play.
"(The draft) is a one-day celebration. I'm not in the big leagues after that draft, and that is everyone's goal. The draft will be a blessing in disguise for sure, it will be an eye opener, it will be fun. But once that day passes, it's time for another grind, and that grind is to make it to the big leagues."