Tyler Jay bursts onto the scene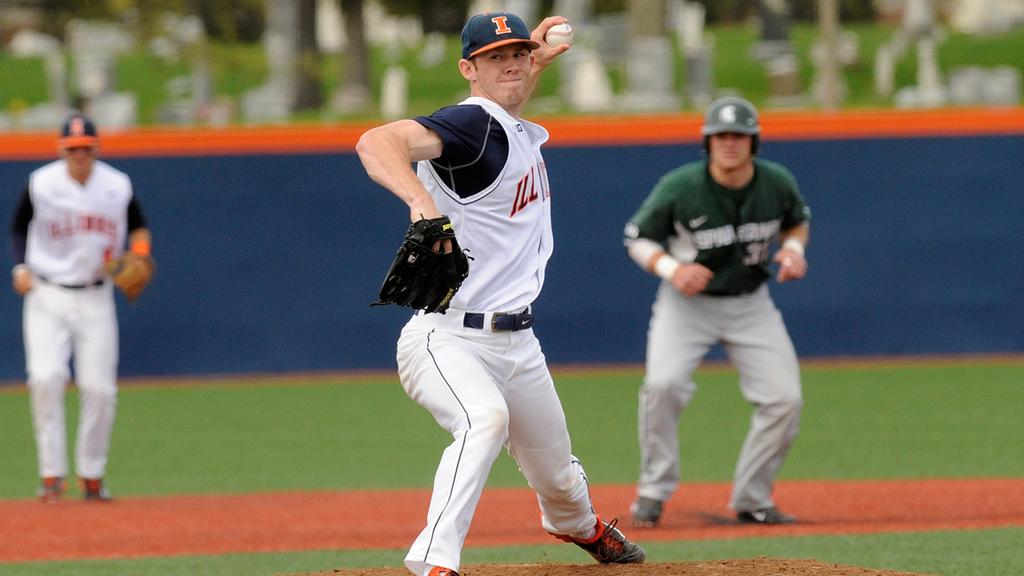 Sometimes the most successful athletes are the ones who are extremely dedicated, exhibiting an intense work ethic and determination as they work towards their dreams and goals. However, sometimes these athletes go unnoticed, and don't receive the attention they may deserve.
Instead, these athletes have to take advantage of an opportunity and prove that they belong. Tyler Jay is a prime example of this type of athlete.
Despite being blessed with superior athletic skills, Jay drew little attention from Division I baseball schools.
So he decided to remain close to home and attend the University of Illinois at Urbana–Champaign.
"I just felt at the time with my maturity that being closer to home would be ideal for me to succeed when it comes to baseball and school," Jay said. "I felt Illinois was the right choice for me."
Besides the proximity to home, Illinois was also the only school to offer him the opportunity to pitch, while the other two schools insisted on him being an outfielder.
Jay was a terrific position player and pitcher in high school, hitting .484 with 11 double and 35 runs batted in while recording an 8-3 record with a 1.14 earned run average and 88 strikeouts in 49 innings during his unbelievable senior campaign. But, he really wanted to pitch, making his decision to attend Illinois a little easier.
The biggest transition for Jay was conditioning his arm to handle the workload of being a college reliever.
"I would go straight from football to baseball so my arm wasn't really conditioned (in high school)," Jay said. "I think the biggest transition was getting use to throwing everyday and recovering my arm."
Conditioning and add adding strength to his lower half have helped tremendously with his adjustment and early success in the college game.
"I've put on maybe 10 pounds since the end of high school and I'm feeling like just doing that really helped me to get over the hump and the velocity higher than it was in high school," Jay said. "We've been doing a weighted ball program and conditioning our arms everyday and that is something that has really helped me get to that next level. "
In high school the left-hander's fastball velocity topped off at 90 mph, and now entering his junior season it sits at 93-95 mph and peaks at 97.
An unknown prospect coming out of high school, people are starting to take notice of Jay, especially after his outstanding sophomore season and summer pitching for the U.S. collegiate national team.
As the Illini closer a year ago he posted a 4-1 record with a 1.94 ERA and 47 strikeouts in 41.2 innings while going a perfect 10-for-10 in save opportunities. As an encore, Jay was outstanding this summer recording a 0.00 ERA with 21 strikeouts in 16.2 innings for the national team.
It won't be easy to duplicate this success, but Jay is hoping that his hard work this offseason will pay off in a big way.
"I focused on keeping my body in shape, keeping my weight up," Jay said. "I got a quick metabolism and my weight will drop pretty quickly. I focused on that, and I also put a lot of effort into developing my pitches as in my changeup and slider.
"I don't throw often as the closer, and I'm not quit sure what my role is going to be this year. I wanted to prepare myself for whatever my role will be."
Regardless of what Jay's specific role is, it is safe to say he will have a major impact on the Fighting Illini's success this season. He is an electric pitcher who throws an excellent fastball along with a solid curveball and changeup.
If he is able to put together another terrific season, he has a chance at being a first-round selection in June's Major League Baseball Draft. He currently ranks as MLB.com's 44th best prospect, but if he is able to sneak into the first round, he would become only the second ever first round pick produced by Illinois.
He will be an interesting draft prospect because despite being undersized (6-foot-1 and 175 pounds) and a relief pitcher throughout his time with Illinois, he could potential be a starter at the next level. This is something Jay would love to do, and could be successful at doing since he has a solid three-pitch mix and great control of his pitches.
But, right now Jay isn't worried about the draft, as he knows everything will work out in the end.
"Just to be able to play in the major would be an honor," Jay said. "I really don't even look at that kind of stuff. I've never had really. Being recruited lightly out of high school that was something I never worried about.
"I'm not going to really change my mentality. Whatever has got me to this point I'm going to stick with it."
Instead, Jay is just excited for the season to begin and is focused on his team. He believes they should win the Big Ten Tournament and could have a chance at making it to the College World Series.
"We feel like we need to win the Big Ten Tournament," Jay said. "We feel like if we don't it is kind of a disappointment for us because we've put in a lot of effort.
"All the guys have come back stronger, better and really improved the things they needed to improve. I definitely feel like we have an Omaha bound team just based on the guys I played with this summer, I think our guys are right there with them."

(Courtesy of FanGraphs)