Determined to succeed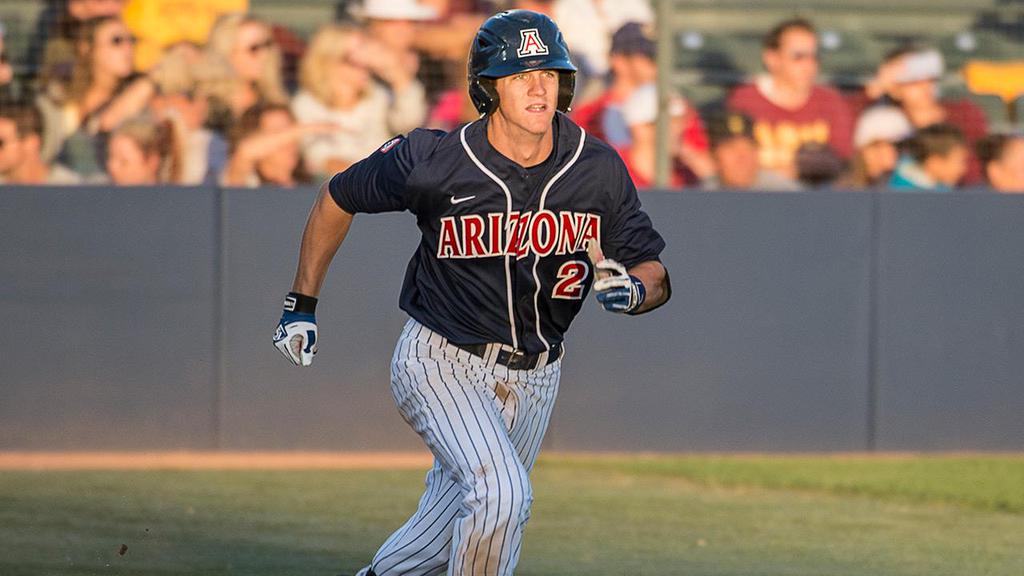 After winning back-to-back batting titles in the prestigious summer Cape Cod League, a great deal of buzz surrounds Arizona shortstop Kevin Newman as he enters his junior season.
This isn't unusual for Newman, who has been receiving national attention dating back to his high school days when he hit .403 as a junior and .374 during his senior season.
Surprisingly, he wasn't drafted coming out of high school despite talking to a few professional scouts during his junior season.
"I was (surprised I wasn't drafted)," Newman said. "But, I wasn't going to sign. I wasn't going to go pro. I was going to come to school.
"Obviously it would have been nice to just be selected, but it put some fuel in the fire. Thirty teams pasted me up and because of that I think it has motivated me in other ways."
Ignored by professional teams during the Major League Baseball Draft, this high school phenom earned Division I baseball offers from almost every Pac-12 school. He eventually narrowed the list down to Oregon, UCLA and Arizona – ultimately deciding to become a Wildcat.
"They obviously have great coaches and great facilities," Newman said regarding his decision to play college baseball at Arizona. "I knew I had a chance to play as a freshman, which was a big factor for me."
Newman has had very little trouble adjusting to college baseball, after adapting to the speed of the collegiate game. In his first two seasons with Arizona he has started 55 games each year, while developing into one of the top college shortstops.
In his freshman campaign he burst onto the scene hitting .336 with six doubles, three triples and 42 runs batted in. Last year his numbers fell slightly, as he hit a solid .304 with 10 double, four triples and 34 RBIs.
However, he put on a show this summer hitting an incredible .380 in the Cape Cod League winning the batting title and the Most Valuable Player award.
Newman hopes to attain similar results this season after continuing to work on his swing this offseason.
"I really worked on keeping my swing short," Newman said. "Really just staying where I was with my swing – not trying to get too long.
"This summer it was really nice getting a couple hundred at bats and really working on my swing a little bit."
Now in his third season with the Wildcats, Newman is a preseason All-American and has the potential to be, at very least, a second round pick in June's MLB Draft.
He isn't a home run hitter (0 HRs at Arizona). Instead he's a solid gap-to-gap hitter, who does an excellent job of putting the ball in play. This cuts down on his strikeouts, but it also causes him to walk less.
Defensively, he has average speed, range and arm strength, causing pro scouts to believe he will have to make a switch to second base at the next level.
"I think I can play (shortstop at the next level)," Newman said." I definitely think once I get bigger and stronger I'll be able to stay there. But, ultimately that resides with wherever I am at and what the organization thinks."
Newman feels that every aspect of his game can be improved, and he continues to work on getting bigger, faster and stronger in hopes of doing so.
However, some of his biggest strengths are unteachable and crucial to the success of a team.
"My leadership, and my ability to compete and work hard (are the biggest strengths in my game)," Newman said. "I think that rubs off on teammates."
If he is able to continue to develop as a baseball player, to go along with his excellent characteristics, he will be an enticing option in the draft.
However, he isn't focused on the draft quit yet, despite it always being his goal to be a professional baseball player.
Instead, he is concentrated on helping the Wildcats return to the NCAA Tournament after a sluggish 22-33 season a year ago. Arizona has the potential to possess a prolific offense, but their biggest question mark will be their pitching, which finished second last in conference a year ago with a 4.49 earned run average.
If the pitching staff is able to figure things out, Arizona has a chance to be a dangerous team in the Pac-12, led by Newman.
"I think we definitely have the talent to go as far as we ultimately want," Newman said. "We need to play together, play for each other. If our pitching shows up and our hitting shows up we will have a successful team.
"My main goal is to get us to the postseason and hopefully Omaha."