Down on the farm: Preseason rankings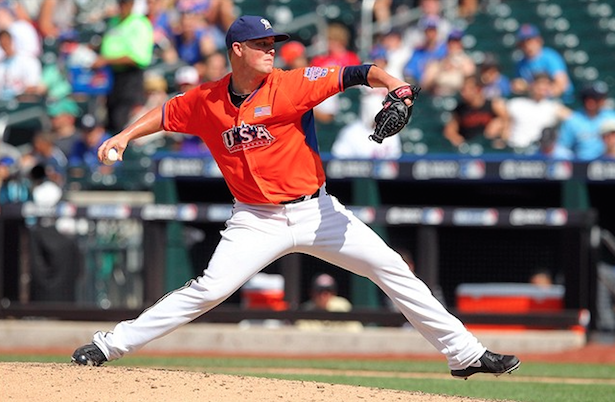 It is no secret that the Milwaukee Brewers' farm system is the worst in baseball, but what many people do not know is that it is filled with potential. Sure the Brewers do not have the second coming of Mike Trout, but they do have many players who could be solid contributors in the big leagues one day. Entering the season here are the top 10 prospects in the Brewers' system:
1. Jimmy Nelson, RHP
In 2013 Jimmy Nelson entered the season as the fifth-best prospect in the Brewers organization, but a strong season in the minors (10-9, 3.25 ERA, 163 strikeouts) and a nice showing as a September call-up (0.90 ERA in 4 games), causes him to be the top prospect to start the season. A former 2010 second round draft pick, the right handed hurler generates a lot of ground balls with a mid to low 90s fastball. Nelson has the makeup of being a backend of the rotation starter, but he needs to continue to take strides forward in order to get to that point.
2. Tyrone Taylor, OF
Tyrone Taylor is an elite athlete, standing at only six feet tall, but his tools are still raw. Drafted out of high school in the second round of the 2012 First-Year Player Draft, as a two-sport star, Taylor has finally been able to solely focus on-baseball. The one area of Taylor's game that needs to improve this season is his hitting ability. Taylor is not a power threat, and because of that he needs to do a better job of getting on-base. Taylor still has work to be done, but so far the early returns have been promising.
3. Devin Williams, RHP
The signing of Kyle Lohse days before Opening Day last season left the Brewers without a first round pick in the First-Year Player Draft, making Devin Williams their top selection in the second round. At only 19 years old, Williams has the potential to be special for the Brewers one day. His fastball currently sits in the low-90s, but scouts believe slight changes in his delivery and his projectable frame could increase his velocity. His slider and changeup are also a work in progress along with his command. It will take time for Williams to reach his full potential, but when he does it could be frightening for opposing teams.
4. Orlando Arcia, SS
A former non-drafted free agent signing by the Brewers, Orlando Arcia is a slick fielding shortstop. After missing all of the 2012 season due to a broken ankle, the 18 year old returned healthy in 2013, playing with the Wisconsin Timber Rattlers. Arcia is not a power hitter, but he is a solid contact hitter who has great plate discipline, striking out only once for every 12.15 plate appearances last season. Arcia's glove will carry him through the minor league system, but he will still need to become more consistent at the plate in order to be an everyday shortstop in the majors one day.
5. Mitch Haniger, OF
Coming out of Cal Poly, Mitch Haniger had a great blend of athleticism and strength, causing the Brewers to select him in the supplemental first round in 2012. After injuries cut his 2012 season short, he returned strong in 2013, putting up solid numbers in his first full professional campaign. Haniger has some holes in his swing, but possess tons of power. He also has a strong arm, causing many to project him as a fourth outfielder in the big leagues one day that can play right field.
6. Nick Delmonico, 3B
Acquired by the Brewers last season at the trade deadline, Nick Delmonico has great potential, but has always struggled to stay healthy throughout his career so far. Delmonico has a solid feel for hitting and usually make hard and consistent contact. He has displayed solid power already and should continue to improve, as he gets stronger. If Delmonico can find away to stay on the field while continuing to develop, there is now question that he could be an everyday player in the big leagues.
7. Johnny Hellweg, RHP
Standing at 6' 9", Johnny Hellweg looks like a giant standing on the mound. His frame along with a clean delivery allows him to throw his fastball in the high-90s, making it difficult for opposing hitters. Hellweg has the makeup of being a major league starting pitcher, but if he does not improve his secondary pitches and command, he will end up in the bullpen.
8. Victor Roache, OF
After being selected in the first round by the Brewers, Victor Roache's professional career was delayed until 2013 due to a broken wrist. Roache possess an abundant amount of raw power, more than anyone in the Brewers' system, but the rest of his hitting is still a work in progress. He has to cut down on his strikeouts, while finding more ways to get on-base. His bat is what will get him to the big leagues, as he is just an average defender, and fans should expect to see him in Milwaukee in a couple of years.
9. Taylor Jungmann, RHP
A former first round pick in 2011 out of Texas, Jungmann's stock has fallen after going 10-10 with a 4.33 ERA in 26 starts a year ago in Double-A. Jungmann has also lost velocity on his fastball since his Texas days, now relying on a slider and changeup to create ground balls. This season Jungmann is going to have to have better command and continue to improve his secondary pitches, if he ever wants to reach his potential as a major league starter.
10. Hunter Morris, 1B
Hunter Morris put together a huge season in 2012 hitting .303 with 28 home runs and 113 RBIs as he was named the Southern League MVP and Brewers Minor League Player of the Year. Last season the slugging first baseman took a step back hitting a disappointing .247 with 26 long balls and 73 RBIs at Triple-A Nashville. You could even see this offseason that the Brewers organization has lost faith in him not even giving him an opportunity to compete for the starting first base job this spring. Morris has some pop in his bat, but besides that he struggles to make contact on a consistent basis while striking out a lot. Hitting is what will get Morris to The Show, but if he cannot develop into a better all around player, he will not be a successful in the majors.