The Brewers are for real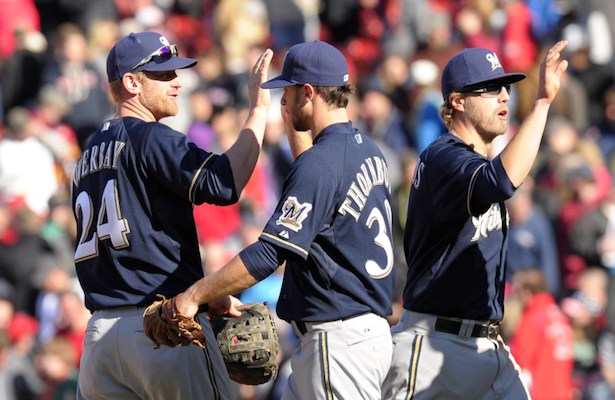 Every year people release their yearly baseball predictions with how they expect the division standings to shake out, and never does someone actually make perfect predictions. There are always teams that surprise, while others fail miserably. This season the Milwaukee Brewers look like a team that is going to surprise many.
Entering this 162-game schedule no one outside of Milwaukee really thought the Brewers would be competitive, as they were selected by many to finish fourth in the division with a record near .500. Even the addition of hurler Matt Garza did not get people to buy into the Brewers.
Everyone said the Brewers did not have the talent to compete up to the same level as the St. Louis Cardinals, Cincinnati Reds and Pittsburgh Pirates.
So far the Brewers (8-2) have done an amazing job proving people wrong. Not only have they been the best team in the NL Central over the first two weeks of the season, but they have also been the best team in baseball.
After dropping two of three at home against the Atlanta Braves, the Brewers went on the road and swept the Boston Red Sox and Philadelphia Phillies. They then returned to Miller Park to win the first game of their three-game set against the Pirates.
This scorching start to the season has truly been a team effort, as they have succeeded in every phase of the game. Their offense is not prototypical with a lineup filled with aggressive hitters, but so far it has worked. They rank in the top ten in baseball in runs scored, second in doubles and third in slugging percentage.
Do not expected them to draw many base on balls, and while they have some players who will get their fair share of strikeouts, they do not strike out a ton.
The pitching staff has also been spectacular as they hold a microscopic 1.86 ERA – best in the majors. Ace Yovani Gallardo has started two games, throwing 12.2 innings, while not allowing a single run.
Francisco Rodriguez has lived up to his nickname, striking out 11 in only five innings of work, while recording three saves in three opportunities.
The season is early, and teams always go through hot and cold stretches, but right now the Brewers look like the real deal. The Brewers have been clicking on all cylinders, and if they can continue to have effective pitching they will be playing in October.