Remembering the day Hank Aaron hit No. 715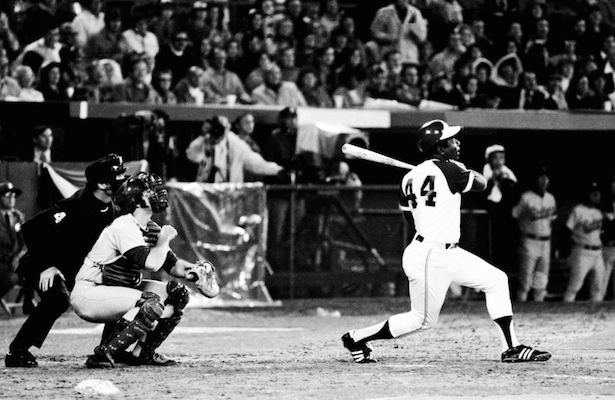 Hammerin Hank! Hank Aaron, the longtime Braves slugger, is known for being the greatest home run hitter baseball has ever seen, and on April 8th the Atlanta Braves will commemorate the 40 year anniversary when Aaron hit his historic 715th home run to put his name on top of the all-time home run list.
Leading up to this historic moment, in 1973 Aaron destroyed the baseball as he accumulated 40 home runs to put his career number at 713. Leading up to the 1974 campaign, Braves camp was filled with a buzz, as fans were prepared and eager to see Aaron break the record.
In Cincinnati for the opening series of the year, Aaron tied Babe Ruth's all-time record of 714 home runs, which led to the possibility of Aaron breaking the record in Atlanta.
On the night of April 8, 1974, Fulton County Stadium was packed with more than 50,000 fans as they were longing to see Aaron break the record against the Los Angeles Dodgers.
In Aaron's first at-bat in the bottom of the second he stepped up to the plate to face Dodger lefty Al Downing. Downing was careful against the slugger as he walked him on five pitches.
With the Dodgers leading 3-1 in the bottom of the 4th inning, Aaron strolled to the plate as Braves fans gave him a standing ovation. The mood quickly turned as the fans started to boo Downing after he delivered low for ball one.
At 9:07 p.m. with the count 1-0, Aaron received a fastball and crushed it into left center field for No. 715 in his career.
The fans went crazy as they erupted in cheers with fireworks being blasted into the sky, as Aaron became the new all-time home run king.
The Braves went onto win this game 7-4, but that was the least important thing, as Aaron became the greatest home run hitter in baseball history, while changing the game's culture.
The Braves knew this as well as anyone and prepared for the moment he did break the record just in case something would happen. Usually Atlanta had 17 policemen on duty for openers, but on this record setting day they had 63.
Aaron was okay and even was greeted rounding second by two young adults who wanted to give the future Hall of Famer a pat on the back.
Today is a day to remember one of baseball's biggest stars and honor him for breaking the record the right way. Hank Aaron will go down as baseball's great home run hitter, no matter who sits above him in the all-time standings because he did it the right way, while changing the game's culture.