Team effort leads Milwaukee past Montana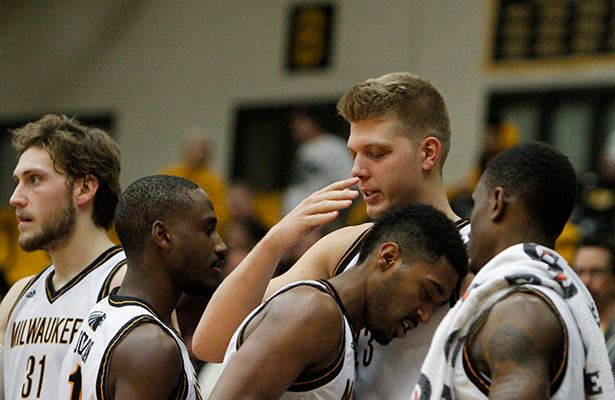 Five players scored in double figures for the Milwaukee Panthers, as they bounced back and defeated the Montana Grizzlies 73-58 on Sunday evening at the Klotsche Center.
"The last few days of practice were a little tough," Milwaukee forward J.J. Panoske said. "Coach was little tougher on us then usual. Which is good, it was something we needed. It's good to get back on the winning track."
JeVon Lyle led the way for the Panthers scoring 16 points, while Steve McWhorter was right behind him, adding 15. Akeem Springs had a big day coming off the bench, chipping in 14 points.
Milwaukee also got outstanding contributions down low from Matt Tiby (13 points and 10 rebounds) and Panoske (10 points and five rebounds).
"When you have an inside and out presence like we have with our post players, it keeps teams off balance," Panther head coach Rob Jeter said. "When you see five guys in double figures that usually means we won the game."
In the first 10 minutes, the Panthers got off to a scorching start, leading the Grizzlies, 23-12, on an impressive 69.2 percent (9-13) shooting including 83.3 percent (5-6) from three-point range.
However, Milwaukee's offense cooled off a bit, scoring only four points over the final 5:55 in the half. Montana was able to take advantage of the Panthers' struggles, going on a 9-0 run to close the first half trailing 37-25.
Both teams got off to a sluggish start, combining to shoot just 2-9 from the field, through the first four minutes of the second half. This didn't hurt the Panthers however, as they were able to keep control of the game, growing their lead to as many as 22 points.
Despite the Grizzlies shooting 50 percent (11-22) over the final 20 minutes of play, they had no answer for the Panthers' offensive attack, as Milwaukee's lead was too much for them to overcome.
Milwaukee finished the day shooting 46.8 percent (22-47) from the field and 45 percent (9-20) on their three-point attempts. They also dominated the rebounding battle, pulling down 34 rebounds compared to Montana's 23.
"Our character has been tested and this was a positive step in the right direction," Jeter said. "Our previous two outings, we didn't play well. We are a tough, gritty team, we are Horizon League champs, and we have to play in a manner that is going to help us win.
"Our character is going to continue to be tested when you look at the upcoming schedule. We are not home for a while now, and we have to make sure that we continue on the positive path that we have started.
"This is just the first step in the right direction, and we have to see how many more steps we can take to show our true character and toughness."
Milwaukee will now be off for nearly a week due to final exams, as they won't open up their five-game road trip until December 20 when they face SIU Edwardsville.