Shuffling off to Buffalo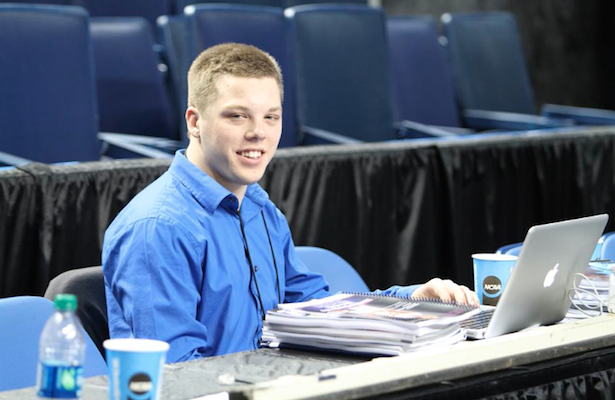 Dreams are made at the NCAA tournament, as only 68 teams are fortunate enough to perform on the biggest stage in college basketball. This creates a genuine "madness" – heart thumping anticipation and excitement for players, and even members of the media are touched with the enthusiasm surrounding the event.
This year I was fortunate to have the opportunity to travel to Buffalo, New York to cover the Milwaukee Panthers game against the Villanova Wildcats.
Immersed in this program since my parents purchased season tickets in 1999, Bo Ryan's first season as Milwaukee's head coach, this was an opportunity I could not pass up.
I have been lucky to witness some of the best teams in program history, while seeing what it takes to be a championship level squad. Entering this season I knew the Panthers would surprise some people, but I never imagined they would shock the Milwaukee Panther community by charging into that magical springtime ball that is the Big Dance.
On Selection Sunday my family and I journeyed down to the Gasthaus, just like we have done the past three times Milwaukee participated in March Madness, to find out who the Panthers would face in the first round of the tournament.
It was not surprising to see Milwaukee end up as a 15 seed, but it was somewhat disappointing to see that they would not be playing in St. Louis, instead having to play in Buffalo.
Unfortunately my family was not able to attend the game, but I was able to find a cheap way to get out to "The Queen City" to attend the biggest game the program has been apart of since 2006.
The drive was long, but when I arrived Wednesday morning I was filled with excitement and energy. I was ready to go, and was looking forward to this opportunity.
Once I arrived at First Niagara Center, I picked up my media credential, and walked inside the arena to the court. When I stepped onto the court my excitement grew even more – I could not believe I was there.
Then when I went to find my seat on media row, I could not believe how close I was going to be to the action. I was lucky enough to get a seat in the second row near half-court.
Once I sat down in my seat marveling at my view, I looked left and standing less than 10 feet away from me was legendary basketball head coach Jim Calhoun. While I tried to go introduce myself, he unfortunately was preparing to do an interview, so I did not want to disturb him.
I then chose to check out where the afternoon's press conferences were going to be held. After finding the room and grabbing a few media guides, I proceeded back to my seat.
When I entered the arena I walked past someone who looked really familiar, and after thinking about it for a second I realized that, that individual was ESPN Bracketologist Joe Lunardi.
Luckily some fans stopped him to ask for a picture and autograph, giving me enough time to catch up with him. Once he was done spending some time with his fans, I asked him if that would be all right if I asked him some questions about the Milwaukee/Villanova matchup.
He was gracious and more than willing to help, in fact I only asked him two questions and his answers were lengthy and entertaining.
Then later on in the day after the Villanova and Milwaukee press conferences, the Panthers took the court for their practice. While standing near one of the hoops chatting with one of the Villanova radio guys about Panther basketball, I noticed CBS Sports' play-by-play Verne Lundquist was getting ready to leave courtside.
I wrapped up my conversation with the Villanova media rep, so I quickly went over to Verne to ask him if he would be fine answering some questions for me about the Panthers game against the Wildcats.
Verne was more than willing and excited to help me out. The interview did not last very long, but I was just a bit star struck, talking to one of the top broadcasters in the business.
After the interview was over I was thrilled and could not believe the two interviews I did that day. This made me even more ecstatic for the Panthers game, as I was already enjoying my time at the NCAA tournament.
The day was finally here! The Panthers were scheduled to take on the Wildcats at 8:25 pm CST, and I could not wait until I was finally at the arena. For lunch, my friends and I went to a local restaurant to watch the early basketball games.
We ended up fixing our eyes on the television screen that had the Dayton/Ohio State game on. When that final buzzer sounded and Dayton was victorious, I was hoping it would be a similar situation in the Panthers' game later on in the day.
I arrived at the arena early enough to watch some of Syracuse's game against Western Michigan, while sitting in on the Jim Boeheim interview. It was amazing seeing one of the top teams in basketball, while listening to Boeheim's comments after the game.
I then decided to go out and set my bag and coat down at my seat, only to see Verne Lundquist on my way. Right away he remembered me, and I quickly was able to get a picture with "The Golden Throat."
Prior to the tip of the Panthers' game, Connecticut faced Saint Joseph's. I chose to sit in my media seat to observe this game, just in case Milwaukee did advance. Both these teams were extremely talented, and a lot of fun to watch. I even was able to talk a little more to Joe Lunardi who is the color commentator for Saint Joseph's.
The UConn/St. Joe's game ended up going into overtime, and I continued to grow excited but nervous. I was looking forward to the game, but nervous that 'Nova would be too much for the Panthers to handle.
The beginning of the game was nip and tuck and stayed close, and as the crowd's energy grew, mine grew as well. You could tell Villanova did not have their "A" game that evening, and I thought Milwaukee might have a chance. Unfortunately the Wildcats turned it around in the second half, and won by 20. The game was closer than the score indicated, but win or lose I still had a great time.
It was a little disappointing that the basketball season had come to a close, but the experience covering the game was something I will never forget.
I am truly blessed to have been in the position, earning this opportunity to cover this game. By my count I was the only freshman covering the game, and most likely the youngest media member there, which I take huge honor in.
This was an up and down season, but I can assure you the Panthers will be competitive again next season. Hopefully they will be returning to the NCAA tournament because where ever it is, I will be there. I had a lot of fun covering the game, while meeting some amazing people, and hopefully I can get this opportunity again.