Milwaukee's home opener set for Wednesday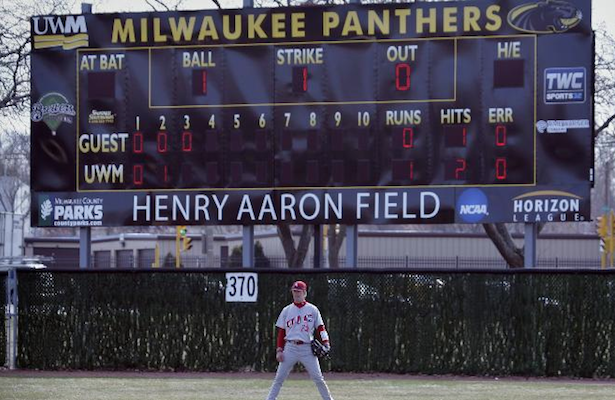 Weather has derailed the Milwaukee Panthers season so far this year, but hopefully the Panthers will be able to get their home opener in this week. They will play one home game against Edgewood on Wednesday before a weekend series on the road against UIC.
It has been a slow start to the season for the Panthers (3-10), but maybe they can find some home field success as they still hold the nation's top-winning streak (16 in a row).
This will be the Panthers best chance of picking up a victory at home as Edgewood (4-10) has not been an impressive squad. They average a mediocre .266 team batting averaging, while posting a 4.19 ERA.
One player to keep your eyes on for the Eagles is infielder Andrew Lauritzen. The sophomore slugger is hitting an eye-popping .362 with three doubles this year.
With the early struggles Milwaukee has had, this is a game they need to win. Edgewood is a Division III program, and a loss to them would be an embarrassment.
Once the Panthers are done taking care of business against the Eagles they will focus their attention on the UIC Flames. Milwaukee will play UIC in a three game weekend series starting Friday at Granderson Stadium.
Originally this series was slated to take place at Henry Aaron Field, but due to the weather it has been moved to Chicago.
This will be a battle of the Horizon League's preseason top two teams as Milwaukee just edged out the Flames for the top spot in the conference predictions.
The Flames have jumped out to a slow start, as they are six games below .500 and only 2-4 in conference play.
Their offense is hitting a respectable .290 with five regulars possessing a .324 average or better. UIC's pitching on the other hand has been atrocious as they hold a 6.37 ERA while allow opposing hitters to reach base at a .335 clip.
UIC has a lineup filled with players who can burn opposing pitchers, and one-player Milwaukee cannot afford to make a mistake to is Jacob McNamara. The slugging backstop is hitting an incredible .387 with eight runs batted in.
This series will come down to pitching especially for the Panthers on the road. Their pitching staff has been up and down as they have a team ERA above 6.00, and throwing first pitch strikes will be the key to success.
Milwaukee has gotten off to an extremely slow start to the year, and now it is time to kick it into gear. Conference play is beginning and if Milwaukee wants to be celebrating with the championship trophy at the end of the season, they need to start play better ball.