Milwaukee wins on freezing afternoon day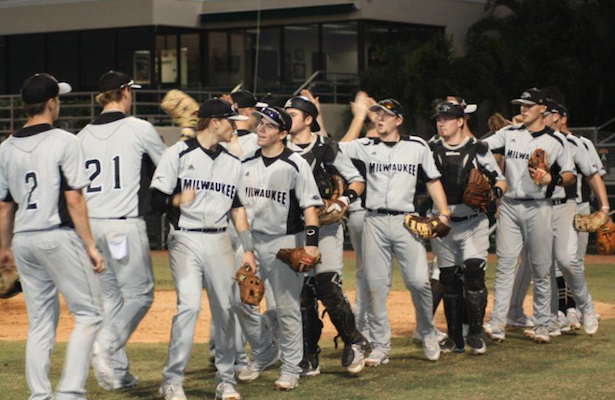 Once again the Milwaukee Panthers were affected by the weather. Originally they were scheduled to play their home opener today, but due to Henry Aaron Field not be ready for game action, they were forced to play their game against Edgewood College in Kenosha, Wisconsin. The change in venues though did not affect the Panthers (4-10) as they picked up a 4-1 victory.
It was a frigid 34 degrees at the start of the game, and it seemed to have an affect on both teams. Each team recorded only four hits on the day, while the pitching dominated the matchup.
Cody Peterson (3-0) picked up the victory for the Panthers after throwing two innings of scoreless baseball, while racking up two strikeouts. The Panthers used eight different pitchers, as they combined to log nine strikeouts on the day.
Edgewood managed to get on the board first, taking a 1-0 lead in the second inning as they recorded two hits in the frame.
In the sixth inning the Panthers finally put Edgewood in their place. After a walk and a pass ball, Derek Peake stepped up to the plate laying down a sacrifice bunt. The Edgewood pitcher picked up the ball trying to record an out, but instead threw the ball into the runners back, allowing a run to come home for Milwaukee.
Peake then got into scoring position, stealing second base – advancing to third on a bad throw by the catcher. Mike Porcaro was able to get Peake in on a sacrifice fly giving the Panthers a 2-1 lead.
Milwaukee came back in the bottom of the seventh scoring two more runs. On the first pitch Ryan Solberg saw in his at-bat, he belted the pitch for a two run homerun, his second of the season.
This was not a dominating win for Milwaukee over their Division III opponent, but a win is a win. It was however a good sight to see the Panther pitchers throw nine strong innings as they prepare for conference play to begin.
Up next the Panthers will travel to Chicago to face UIC as the series has been moved from Henry Aaron Field due to the field conditions. They will play one game on Saturday starting at 2 p.m., and a double header on Sunday.