Panthers trending in right direction under Baldwin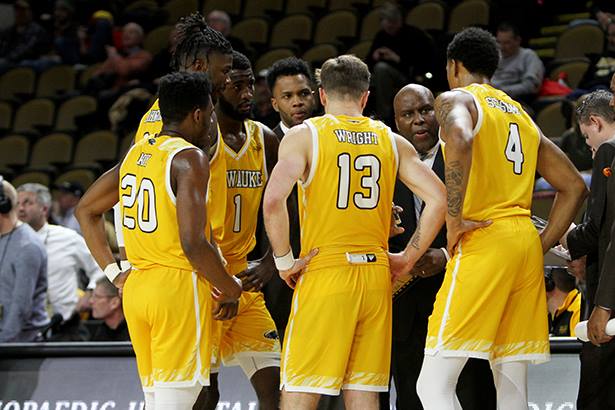 Stability wasn't a word associated with the Milwaukee Panthers men's basketball program in the three years leading up to this season. They had three head coaches and a slew of roster changes in the three-year stretch.
This season, second-year coach Pat Baldwin has the program trending upwards. The Panthers are 9-11 with 11 regular-season games left, an impressive mark after losing their top four scorers and returning three role players from last year's 16-17 team.
This year's team features length, athleticism and size. They also have depth and talent. Most of those attributes haven't been associated with the Panthers in recent memory.
The Panthers are 4-3 in Horizon League play and are in a race for one of the top two seeds in the conference tournament. The 10-team conference is wide open and once the tournament rolls around, any of the eight qualifying teams will have a shot at earning the automatic NCAA tournament bid.
Besides the play on the court, Baldwin has a knack for evaluating talent.
He pieced together this year's team and has two high-major transfers sitting out due to NCAA transfer rules. Te'Jon Lucas, a 6-foot-3 guard from Milwaukee Washington High School, transferred from Illinois after two seasons, and Harrison Henderson, a 6-10 center, joined the Panthers after one year at Southern California.
The Panthers also added Omar Thieleman, a 6-8 native of Belgium, on Thursday, after he signed with the University of Arizona but left the program before suiting up. He will have 3 1/2 years of eligibility when he joins the Panthers.
In addition to the three transfers, the Panthers will return nine of their 11 eligible players next season, including their top two scorers in junior guard Darius Roy (16 ppg) and redshirt junior guard DeAndre Abram (12.7).
The future is bright for the Panthers. After two dark seasons for the program, Baldwin is showing he's the right coach to build and lead the Panthers.
Photo courtesy of John J. Ward / GoUWM)
Dan Zielinski III has covered the Milwaukee Panthers since 2013 for multiple publications, including The3rdManIn.com, Milwaukee Journal Sentinel and PantherU.com.