Panthers look to retain Milwaukee Cup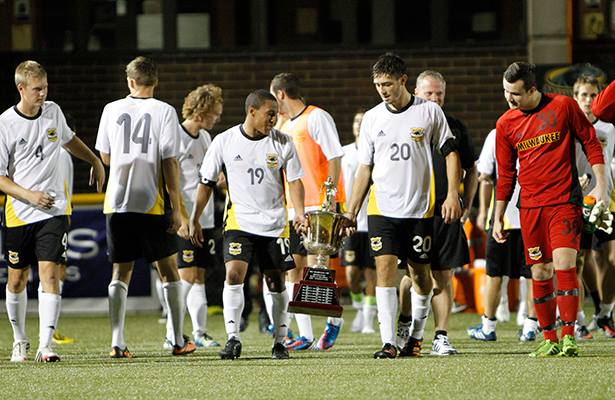 Every year when the college schedule comes out, Milwaukee Panther and Marquette Golden Eagle fans always make sure to circle one date on their calendar – the battle for the historic Milwaukee Cup.
This is one of the most storied derby matches in college soccer, and on Wednesday evening the Panthers will make the short journey to Valley Fields to take on the Golden Eagles.
Last season, the Panthers were able to reclaim the Cup with a thrilling 2-1 victory over a nationally ranked Golden Eagles squad, in front of a record crowd of 3,312 people at Engelmann Stadium.
Milwaukee has been the better team over the years in this rivalry match, holding a 28-10-3 advantage all-time. The Panthers have also won the Cup three out of the last four years, losing in 2012, in one of the more memorable games in this rivalry when the Golden Eagles were able to score the winning goal at the 89:59 mark.
This season Marquette is 3-2-0 with victories over Gonzaga, Oregon State and Drake, while falling to Indiana and defending national champion Notre Dame.
The Golden Eagles are averaging just over a goal a game, while holding their opposition to an impressive 0.60 goals scored per game. Leading the Marquette offensive attack is junior forward David Selvaggi.
Selvaggi has recorded three goals and one assist on the year, for a team high seven-points. He also has tallied 12 shots, with seven being on goal.
In goal for the Golden Eagles will be senior Charlie Lyon, who has played every minute in net for Marquette this season. Besides enjoying a 0.60 GAA, has made 15 saves, while recording three shutouts on the year.
This will be an important game for the Panthers (3-3-0), who are currently sitting on a two-game losing streak – Milwaukee's longest since the 2012 season.
The Panthers' offensive attack will look to get back on track after being shutout in the last two games. Milwaukee's offense has been extremely balanced with three different players, Reid Stevenson, Petter Ingebrigtsen and Nick Moon, recording two goals apiece.
All-American midfielder Laurie Bell has recorded only two assists on the young season, and is due for a break out game. There would be no better place for him to do it than in this game against Marquette for the prestigious Milwaukee Cup.
Head coach Kris Kelderman has used two different goalkeepers this season. Kelderman feels the Panthers are one of the more deeper teams in goal across the country, so it wouldn't be surprising to see either Liam Anderson or Agustin Rey starting.
Anderson has started four games, while Rey has started two, but both have a 1.50 GAA.
If you are looking to watch an excellent soccer game, this one is for you. This game always seems to come down to the wire, with each team battling it out until the end. With Marquette's defense averaging less than a goal per game, the Panthers offensive chances will be at a premium. That is why Milwaukee's defense will be the key in this game. If they can play well, while holding Marquette's offensive opportunities at a minimum, there is a good chance that the Panthers will be hoisting the Milwaukee Cup for a second consecutive season.