Milwaukee falls to Marquette in Milwaukee Cup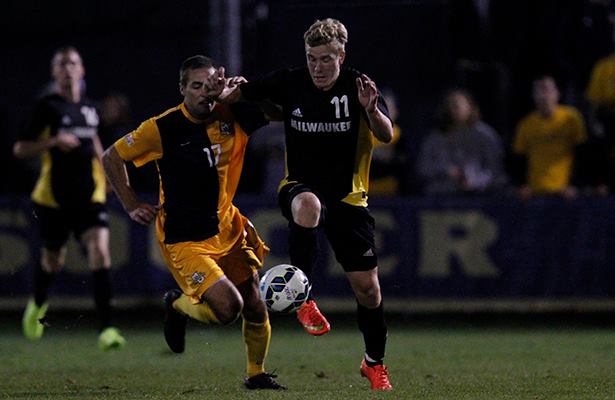 In the most anticipated game of the regular season the Milwaukee Panthers traveled crosstown to square off against the Marquette Golden Eagles for the prestigious Milwaukee Cup.
The Panthers (3-4-0) had their chances, but were unable to overcome two early goals, falling to the 17th-ranked Golden Eagles 2-0.
Marquette's goalkeeper Charlie Lyon had an outstanding game, recording three saves, for his fourth straight shutout of the season.
Despite Lyon's excellent play, the Panthers had opportunities to score. Milwaukee's best chance came in the 81st minute when captain Laurie Bell lined up to take a penalty kick after a Marquette defender was whistled for a foul in the box. Bell shot the ball to Lyon's left side, but Lyon dove, deflecting the ball from going in.
Petter Ingebrigtsen also had a beautiful shot at finding the back of the net in the 86th minute, off of a through ball from Bell, but Ingebrigtsen hit the post.
Bell nearly scored in the 70th minute, but Lyon made a diving stop, pushing the ball wide.
Although Marquette was able to record a two-goal victory, statistically this game was close. The Golden Eagles ended the night with a slight advantage in shots, 15-13, and shots on goal, 5-3.
Rodriguez and Bell both tallied three shots. Agustin Rey made the start in goal, recording three saves.
This was a tough game for the Panthers, falling behind early in the contest. This is their third straight game against a nationally ranked opponent, and third straight time they have been shutout, dropping their goals scored per game to 0.86. Right now the Panthers are in a funk, struggling on both sides of the ball, but they will be better.
The Panthers will return to action, as they try to end their three-game losing streak next Tuesday when they return to classic Engelmann Stadium to face Northern Illinois for the LeWang Trophy.