Milwaukee falls in season opener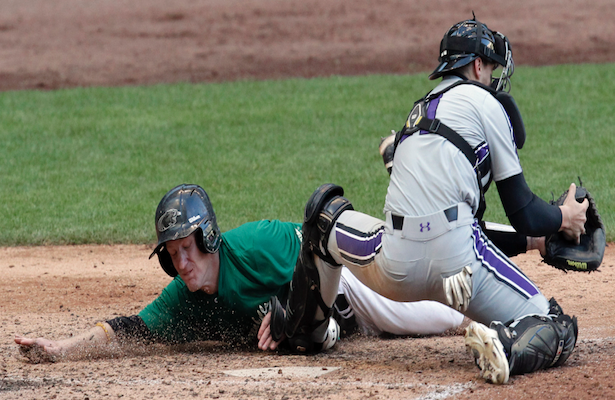 Baseball season is finally here, but unfortunately the Milwaukee Panthers could not open their season with a victory. The Panthers (0-1) fell to CSU Bakersfield 8-4, pushing their record to 4-20 in season openers at the Division I level.
While it is always nice to get a win, it is not surprising the Panthers struggled at times today because this was their first time playing baseball outdoors this season.
The Panthers had a chance in the first inning to jump out to an early lead, but they did not make timely hits they needed. Derek Peake led off the inning getting hit by a pitch on a 2-1 count, and then stole second base.
With one player already in scoring position and no outs, head coach Scott Doffek decided to play small ball, having Luke Meeteer lay down a sacrifice, advancing Peake to third base with one out.
Then slugger Mike Porcaro stepped up to the plate, but was unable to get Peake home. On a 0-2 count he hit a grounder back to the pitcher for the easy out.
Mitch Ghelfi struck out to end the inning, stranding Peake at third base.
In the bottom of the first, the Roadrunners were able to get a run on the board to give themselves an early 1-0 lead.
They then came back in the bottom of the second and continued to add to their lead, scoring four runs to go up 5-0.
CSU Bakersfield also added a run in the fifth inning on a hit by a pitch and a couple of singles to get a run home.
It was not until the seventh inning that the Panthers finally got on the board. With one out in the inning, Tell Taylor drew the base on balls, and Milwaukee made Bakersfield pay for the free pass. Peake doubled to right center advancing Taylor to third, but on an error Taylor was able to score with Peake reaching third.
Meeteer was next up as he grounded out to shortstop, which was enough for Peake to score. Then the following three Panther batters drew walks, brining Sam Hammer to the plate.
He singled up the middle, scoring two, and giving the Panthers four runs in the inning.
The Roadrunners responded in the bottom half of the inning, scoring two runs, to push their lead to four.
Both teams went quite the rest of the way, as the Roadrunners were able to pick up the home win.
Tyler Thicke struggled in his first start of the season only lasting 4.2 innings, while allowing six runs on seven hits, three walks and three hit batters. He did throw 98 pitches as he picked up his first lose of the season.
When a pitcher is throwing off of a fake mound, in climate controlled-conditions with no fans, it is hard to prepare for game situations no matter how talented you are. Next time Thicke is out on the mound, he will perform better after getting the game feel back today.
Overall it was not a bad performance by the Panthers especially with them not being able to practice outside at all before this game. Milwaukee has talent on this team, and they will continue to improve as the season goes on.
Milwaukee will be back at it tomorrow as the series continues with a 4 p.m. CST start.