Mercer's Kyle Lewis enhances draft stock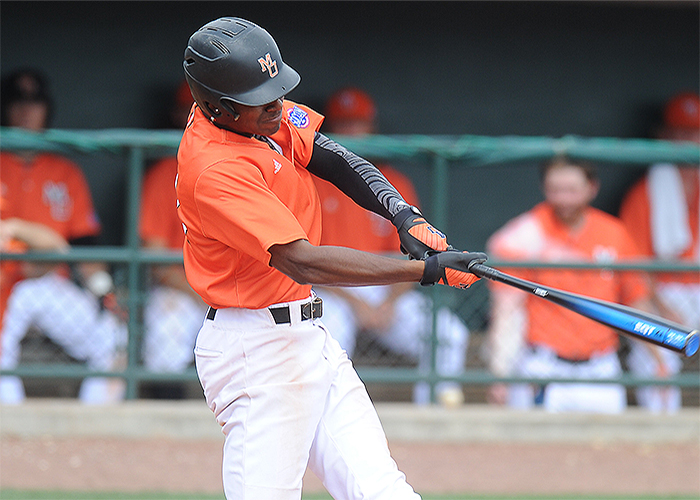 This is a follow-up article to my original feature article on Kyle Lewis that I did earlier in the year. You can read the first article here.
Prior to the start of the 2016 college baseball season, MLB First-Year Player Draft experts ranked Mercer's Kyle Lewis as one of the top position players in the 2016 draft class. While Lewis put up eye opening numbers a year ago, no one was ready to put him in the same tier as the top draft prospects in this year's class.
But, that has changed. Lewis has picked up right where he left off last season and is destroying opposing pitching. In 51 games this season, Lewis is hitting .419 with 17 home runs and 64 RBIs.
"I've tried to have a consistent approach everyday I show up to the ballpark, and I think I've been able to do that," Lewis said. "I think that's what I am most proud of to this point is being able to be consistent everyday for the team."
A 6-foot-4, 195-pound outfielder, Lewis hit .367 with 17 home runs and 56 RBIs in 54 games on his way to winning the Southern Conference Triple Crown and being named a second team All-American in 2015.
While, replicating those numbers for a second consecutive season was no easy task, Lewis was confident that he'd be able to improve his production this season.
"I always have the belief in myself that I'll be able to top what I've done and to follow a steady incline of getting better each year," Lewis said. "I'm just trying to follow that same progression. I kind of feel like I expected to be better. I still expect to finish strong and have a better season than I did last year."
One significant area Lewis has improved in is his plate discipline. Last year, Lewis struck out 41 times and drew only 19 walks. But this season, he's struck out 41 times, while drawing 55 base on balls.
"Really just understanding what pitches I can hit and what pitches I need to layoff of has been key," Lewis said. "Just because a pitch is a strike doesn't mean you have to swing. Just going up there and relaxing more and being able to believe in myself that when I get the pitch I want to get I'm going to hit it."
Lewis' performance this season now has professional scouts buzzing. After being ranked as the eighth best draft prospect in the preseason by MLB.com, Lewis has now solidified himself as the top position player in this year's MLB Draft class and has a chance of being the No. 1 overall pick by Philadelphia.
Despite his name constantly swirling in draft chatter, Lewis is not worried about the attention and is only focused on finishing off his junior college baseball season strong.
"I try to stay in the moment with that kind of stuff," Lewis said. "Projection is only projection and doesn't mean much in the grand scheme of things. You can't really look into that stuff. I don't really put any pressure on myself based on that thing. If you go into the ballpark and prepare the same way you have, I think you just let your talents take over and that's what I've been doing."
Find more MLB Draft coverage here.
Over the last few months I've interviewed 31 of the top MLB Draft prospects. Read my profiles on these draft prospects here.