Funkhouser looks to improve in senior season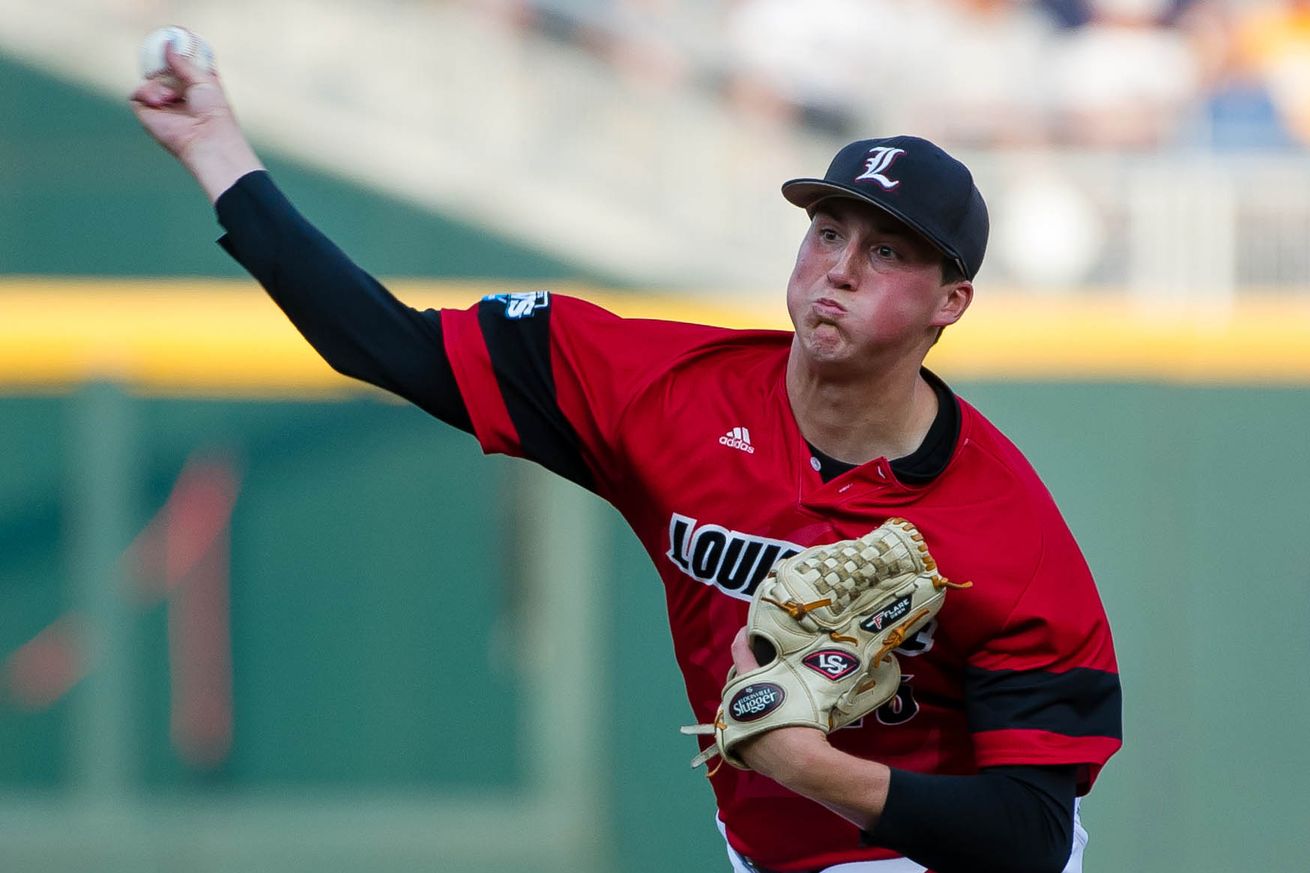 Entering last season, Louisville's Kyle Funkhouser was regarded as one of the top pitchers in college baseball and was projected as a top 10 pick in the MLB First-Year Player Draft.
However, the right-handed hurler put together a "subpar" season by his standards, going 8-5 with a 3.20 ERA and 104 strikeouts in 112.1 innings pitched.
"Not a great year overall, but not a bad year," Funkhouser said. "You sit back and look at the stats and stats don't tell the full story, but it was not terrible. As far as going back to my sophomore year and overall expectations, kind of a down year."
Funkhouser fell in the draft and was selected 35th overall by the Los Angeles Dodgers.
This was an unexpected season for Funkhouser who had high expectations placed on him after a strong sophomore season when he went 13-3 with a 1.94 ERA and 122 strikeouts in 120.1 innings.
He also had a strong summer (1.27 ERA in 28.1 innings) with the USA Baseball Collegiate National Team leading up to his junior year.
"You say dead arm and people kind of start freaking out, but it was kind of one of those situations," Funkhouser said of the possible reason for his junior season. "My body wasn't feeling great. Monday through Thursday I'd feel fine and Friday came around and my body felt fine, but when I went to throw there was no juice coming out really.
"Just failed to make an adjustment on my part with the strength program. But, overall confusion and not really knowing what to do."
With his lack of success and falling in the draft, Funkhouser decided to return to Louisville for his senior season in order to get his degree and because he felt like he had some "unfinished business" he said.
It wasn't an easy decision, but he is looking forward to returning to the Cardinals, where expectations are high.
"Coming back to the guys and coaches, basically the city of Louisville, they love their baseball, they love their athletics," Funkhouser said. "We feel like we are going to have a good year. We have a lot of returners and a lot of experience coming back. It definitely made it a little bit easier than if I was going back to a mid-major where the expectations aren't always high like at a school like Louisville."
The Cardinals are coming off of a 47-18 season in which they were one victory away from reaching the College World Series. With key players, like Funkhouser, returning, numerous publications have Louisville ranked as the No. 2 team in the country in their preseason top 25 polls.
"We try not to worry about the preseason because it goes by last year and who you have coming back," Funkhouser said. "You always have to perform. They aren't going to just hand you that. We know that. Our team goal is pretty simple – we're here to win a National Championship."
In order for Louisville to have a shot at winning it all, they will need Funkhouser to be a reliable top of the rotation arm.
Funkhouser's 6-foot-3, 225-pound frame is built for durability, and he possesses a four-pitch arsenal, that is headlined by his excellent 92-96 mph fastball. He also throws a slider, changeup and curveball, with his best off-speed pitch being his slider.
"My fastball is my best pitch," Funkhouser said. "I know it's kind of cheesy but you're never to good. You can always get better. You can always tighten up a little bit."
Funkhouser spent the offseason working on improving his secondary pitches by making slight adjustments he said.
"I'm grateful that it happened last year," Funkhouser said. "I learned a lot about myself, my body, my arsenal and what I need to work on in order to get me ready for the next level."
As Funkhouser learned last year, the MLB Draft is unpredictable. However, he is ranked as the 23rd best available draft prospect in MLB.com's preseason rankings and has a chance at being selected in the top half of the first round.
If Funkhouser can be reliable and consistent for Louisville, just like he was his sophomore season, he will skyrocket up draft boards.
"Obviously when you are trying to get drafted, you're trying to get drafted as high as possible," Funkhouser said of his goal to be drafted No. 1. "I don't think that's that out there. It could happen.
"As I learned last year you really never know. The draft is a mystery. Obviously that's a goal. If I pitch really well and do what I should do that is a pretty reasonable goal. There is still that mystery factor, but that's the ultimate goal."
You can find more MLB Draft coverage here.