Dalbec looks to lead Arizona to the postseason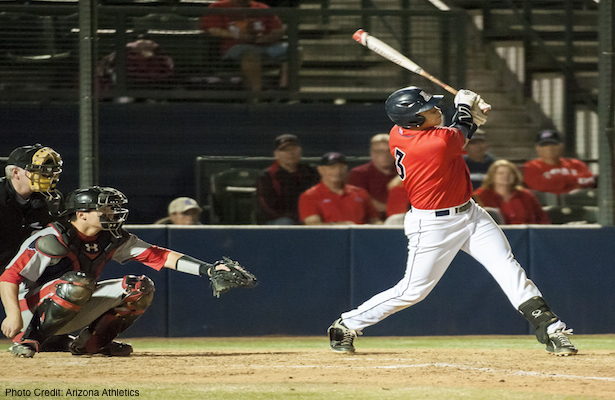 Over the last three seasons, Arizona baseball hasn't performed up to their usual standards. It has been since 2012 that they last made the NCAA Tournament. It was also that same year that the Wildcats captured their last College World Series crown.
Now with the 2016 season quickly approaching, Arizona will attempt to end their three-year postseason drought.
With many key players returning and a new coaching staff in place, after the retirement of longtime head coach Andy Lopez, the Wildcats have a legitimate shot of returning to the NCAA Tournament.
"I think the team expectations are to make the postseason," Arizona's Bobby Dalbec said. "I don't think that's going to be a problem this year. It's not going to be easy. With the personnel we have and the coaching staff to keep our heads on, I think it's an attainable goal."
One player who will be extremely influential in Arizona's success is Dalbec. A junior third baseman and pitcher, Dalbec is coming off an All-American season where he hit .319 with 15 home runs and 58 RBIs.
He also found success on the mound as a relief pitcher and a starter posting a 3.21 ERA in 61.2 innings of work, including seven starts (21 total appearances).
Dalbec then followed this performance up by having a strong summer playing in the prestigious Cape Cod League, hitting 14 home runs.
He also spent time playing for the USA Baseball's Collegiate National Team. However, he hit .174 with two home runs and 18 strikeouts.
"It was my second year in the Cape Cod League with the same coaching staff," Dalbec said. "It was fun. It was good to be comfortable out there. I started hot in the Cape Cod League. I think I had four home runs in six games.
"I went off to Team USA. It was really good experience. I struggled out there offensively, but I wasn't really stressing about it. It was kind of a rough patch for me. I went back to the Cape and took off from there."
Overall, it was a phenomenal sophomore season for Dalbec, who will attempt to carry last season's success into his junior season, while being a team leader for Arizona.
"I saw myself as a team leader last year, but just not as vocal as I needed to be," Dalbec said. "Now I am definitely more of a vocal leader and lead by example to the guys on the team that are younger than me. I try to be very approachable and help them with whatever they need."
Dalbec has high expectations placed on his shoulders this season, with numerous preseason accolades already rolling in, including being a highly regarded prospect in June's MLB First-Year Player Draft.
Currently ranked by MLB.com as the 15th best prospect in their preseason rankings, Dalbec has a solid chance of being a first round pick if he improves on some of his weakness this season.
Dalbec possesses legitimate power from the right plate and destroys fastballs. However, Dalbec needs to show improvement against off-speed pitches, while cutting down on strikeouts.
Although he isn't the fastest guy on the field, he is respectable in the field, thanks in large part to his strong arm.
A position player by trade, Dalbec also has experience pitching at the collegiate level, making 43 combined appearances over the last two seasons. He has the potential to hit the mid-90s with his fastball, but he's unsure if he will pitch this season with a new coaching staff in place he said.
Regardless of if Dalbec steps foot on the pitching rubber or not, his future is as a position player.
Dalbec needs to display consistency at the plate this season, and if he does, there is no question he will be a first round pick as legitimate power bats are always in demand.
"I don't really look into it that much," Dalbec said on the draft. "There are some players that are on there that probably shouldn't be. There are some players that aren't on there that deserve to be. I take that all with a grain of salt. I'm not really worried about preseason rankings or mock drafts. I'm just trying to be better each day. Where ever I fall in the draft and whatever happens this season happens."
You can find more MLB Draft coverage here.