Landon Sims trying to enjoy final prep season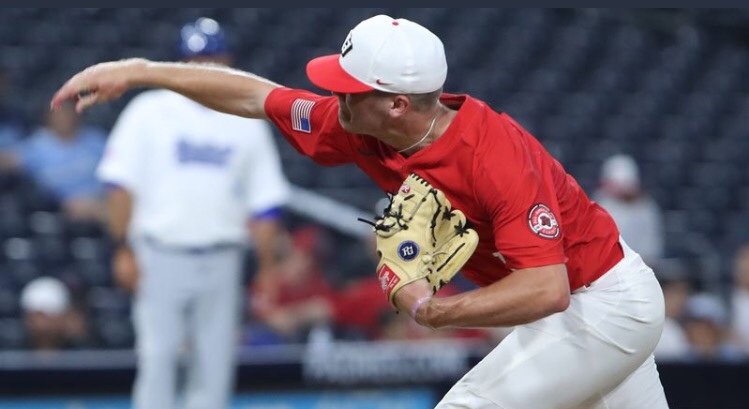 Landon Sims, a 6-foot-2, 205-pound right-handed prep pitcher from Cumming, Georgia, verbally committed to Mississippi State on Dec. 1, 2016. He remained loyal to the Bulldogs, despite a coaching change. He said he explored other options but the program's culture and his comfort level with the new regime factored into his decision.
Sims may never step foot on Mississippi State's campus, however. He's a well-regarded prospect in the 2019 MLB draft class, as Baseball America ranks him as the 28th-best prep prospect.
Although Sims said the draft process has been a humbling experience, he's trying to remain focused on his final season of high school baseball at South Forsyth High School instead of looking ahead at the future.
"Just playing the game for 12, 13 years now, it is just awesome to know that all the hard work I've put in is starting to pay off," Sims said. "Never getting complacent is the biggest thing for me.
"It's a very honoring feeling to know that people consider me a top high school player in the nation."
Sims has a simple turn and throw delivery and releases the ball from a three-quarter arm slot. He throws a four-seam fastball, two-seam fastball, slider and changeup.
Despite having two fastballs in his repertoire, he uses his two-seamer "about 90 percent of the time." His fastballs sit in the mid-90s and are pitches he locates well.
His slider shows potential and is a pitch he hopes will develop into his outpitch this spring.
"With my slider, I am working on it a lot right now," he said. "I am just trying to get a good feel for it and be consistent with it."
Sims doesn't throw his changeup on a regular basis and has focused on refining the pitch this offseason. His goal is to gain a better feel for the pitch so he can throw it consistency and with confidence, he said.
"Just having a good feel for it during my bullpens is really the biggest thing," Sims said. "If I can be consistent with it in my bullpens, then it is usually going to carry over to games.
"Really understanding when I do have a good feel for it, how that feels and just trying to repeat that and find that when it's not a good pitch is important."
Sims began his throwing program in November in preparation for this spring. Although he will have to decide between college baseball or starting a professional career this summer, Sims is trying to savor his final season of high school baseball.
"Obviously in the back of your head you know there's eyes on you from professional scouts," he said. "But I'm just making the main focus be enjoying my senior year and trying not to stress about all this stuff."
(Photo courtesy of Landon Sims)
You can find more MLB draft coverage here.
Dan Zielinski III has covered the MLB draft for four years. He's interviewed 133 of the top draft prospects in that period, including three No. 1 overall picks. Multiple publications, including Baseball America, USA Today, Bleacher Report and MLB Trade Rumors, have quoted his work, while he's appeared on radio stations as a "MLB draft expert."