Joe Perez injures elbow, clouds MLB Draft status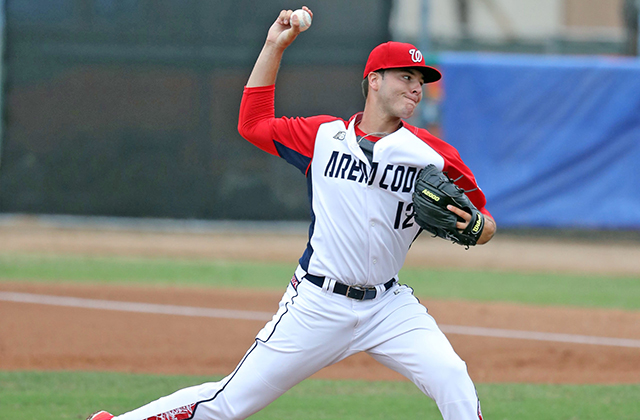 Joe Perez is one of the top two-way players in the 2017 MLB First-Year Player Draft class, but where he's drafted, might not reflect his talent. Although he's still a well-regarded prep prospect, Perez might not hear his name called as early in the draft as expect, as he's set to undergo Tommy John surgery on June 13.
A Florida native, Perez is a third baseman and right-handed pitcher. He partially tore his ulnar collateral ligament in his right elbow while pitching in an intrasquad game this spring, as his high school team was preparing for a regional semifinal game, Perez said.
Ranked by MLB.com as the 92nd-best draft prospect, Perez is still open to going straight into pro baseball this summer if the situation is right.
"With the injury, some teams are going to wait and some will lower their (signing bonus) number," Perez said. "I'm confident I can get the (signing bonus) number I want. But if not, I'm confident in my ability to go to Miami and develop for three years."
An above-average power hitting position player, Perez also has an electric arm on the mound. A 6-foot-3, 208-pound right-hander, Perez has a four-pitch mix, featuring a mid-90s fastball, a sharp breaking slider, a curveball and changeup.
Professional teams are looking at Perez mainly as a pitcher, but he said he's had a few teams show interest in him as a position player.
"A couple of teams said they like my bat, but most like the upside of my pitching," Perez said.
If Perez decides not to go straight into pro baseball this June, he will attend the University of Miami in the fall. Perez committed to Miami last August and will be a two-way player for the Hurricanes.
With the elbow injury, Perez will only be able to contribute offensively as the designated hitter with the Hurricanes next year, he said.
"Obviously Miami is coming off a rough season, but we will have the opportunity to improve next season," said Perez about Miami. "I think myself and the other incoming guys can help the team compete."
Read my first MLB Draft feature story on prep two-way player Joe Perez here.
Find more MLB Draft coverage here.
READ: 2017 MLB Draft: Profiles on top prospects
READ: The3rdManIn.com's MLB Draft prospect history