Brendon Little works out for Astros, Braves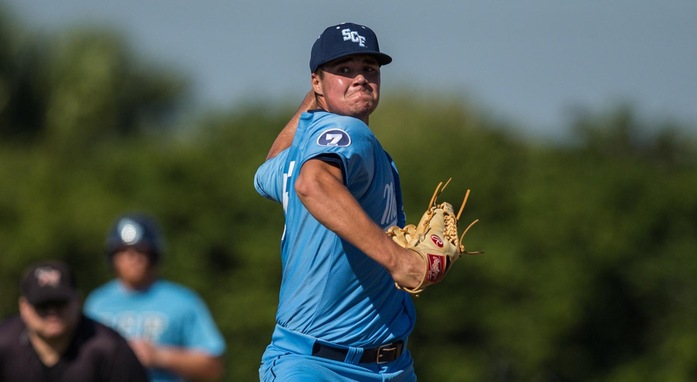 Brendon Little was a well-regarded prep left-handed pitcher coming out of the Pennsylvania high school ranks and could have jumped straight into professional baseball in 2015. But he opted to head to the University of North Carolina, where he only pitched four innings as a freshman in 2016.
Following his freshman campaign, he transferred to the State College of Florida for his sophomore season in 2017, making him draft-eligible for this year's MLB First-Year Player Draft. With the MLB Draft starting on June 12, MLB.com ranks Little as the 36th-best draft prospect.
Little has had pre-draft workouts with the Houston Astros and Atlanta Braves, he said.
"I'm just sitting back and letting it take its course," said Little about the draft. "To have the opportunity is very exciting, and I really hope it all works out. I would love to play professionally as soon as I can."
Little has a three-pitch mix, featuring a 97 mph fastball, a 12-6 power curveball and a developing changeup. A potential first-round pick, the lefty has developed quickly to become a sought after draft prospect.
"It's crazy. It's all happened so fast," Little said. "It's all very exciting, but also very encouraging to see how far I've progressed. I've made the changes I need to make all in a little bit less than a year. It's been a fun ride."
In his senior season of high school in 2015, Little started having command issues, which was due to mechanical adjustments he made prior to the start of his season, he said.
His command inconsistences carried over to his freshman year at UNC. After researching solutions, he made mechanical adjustments before heading to the Cape Cod League last summer where he dominated opposing batters.
This spring with SCF, Little's goal was to minimize free passes and demonstrate better control. In 15 starts this spring, Little struck out 133 batters and allowed just 33 walks in 85 1/3 innings.
"The biggest thing for me was learning to repeat my delivery better," Little said. "Staying on a straight line towards home plate. I had the tendency to rush my delivery to the plate. (Pitching coach Don Robinson) really helped me improve my command and control."
Read my first MLB Draft feature story on college left-hander Brendon Little here.
Find more MLB Draft coverage here.
READ: 2017 MLB Draft: Profiles on top prospects
READ: The3rdManIn.com's MLB Draft prospect history