Four Brewers named to All-Star team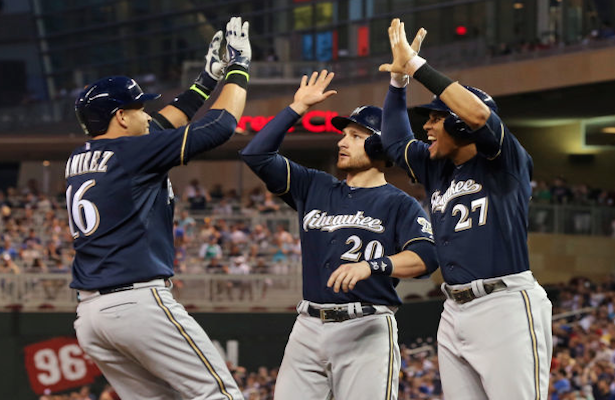 For the first time since 2007, the Milwaukee Brewers will be sending four players to the All-Star Game.
Third baseman Aramis Ramirez and centerfielder Carlos Gomez were selected to the National League starting squad by the fans, while catcher Jonathan Lucroy and closer Francisco Rodriguez were also named to the team via player voting.
The Brewers have been the top team in the National League through the first three months of the season, and they will be well represented in the Midsummer Classic as they are the only team with more than one starter.
Ramirez has been voted in by the fans for the first time in his 16-plus years in the big leagues, and is the first Brewer third baseman to be elected a starter. Although the slugging third baseman made a trip to the disabled list, he has still put up solid numbers as he his batting .287 with 11 home runs and 41 runs batted in.
Ramirez finished ahead of New York's David Wright as he received 2,318,611, while Wright had 1,979,883. This will be Ramirez's third appearance in an All-Star Game and first since 2008.
The loud and energetic Carlos Gomez has been named to his second straight All-Star Game, but this will be his first start of his career. Gomez is having another terrific season hitting .299 with 13 home runs and 45 RBIs, while playing outstanding defense in centerfield.
Gomez finished second to Andrew McCutchen in the in the outfield as he received 4,068,745 votes, while the reigning NL MVP had 4,529,440.
Lucroy has been the Brewers top hitter this season as he is putting up MVP caliber numbers. He ranks near the top in the NL in multi-hit games (31), batting average (.329), hits (104), doubles (30), extra base hits (40), slugging percentage (.516), OPS (.913) and total bases (163).
Lucroy has also slugged nine home runs while recording 44 RBIs in 82 games this season to earn his first trip to the All-Star Game.
After the Brewers made an ad to promote Lucroy for the starting spot behind home plate he was able to jump ahead of San Francisco's Buster Posey for second place. However, he fell just 300,000 votes short of beating out St. Louis Cardinal Yadier Molina for the starting spot.
Surprisingly the only pitcher to make it from the Brewers roster was Rodriguez.
After signing and reporting to Spring Training late, Rodriguez ended up missing some time in March after stepping on a cactus. He then wasn't even named the closer until after Jim Henderson struggled in Spring Training.
While no one expected Rodriguez to make the All-Star Game after this wild start to his season, he has been arguably one of the better closers in baseball. He is tied for the major league lead with 27 saves in 30 opportunities.
In 42 appearances, Rodriguez is 3-2 with a 2.34 ERA and 49 strikeouts in 42 1/3 innings.
This will be Rodriguez's fifth All-Star Game and first since 2009.
It has been an exciting and successful season for the Brewers so far, and it is nice to see fans and players around baseball taking notice. All four of these players deserve to be in the All-Star Game, and it will be a fun evening for Brewers fans as they will be able to see their team well represented in this annual summer contest between the two leagues.