Down on the farm: Week 1-3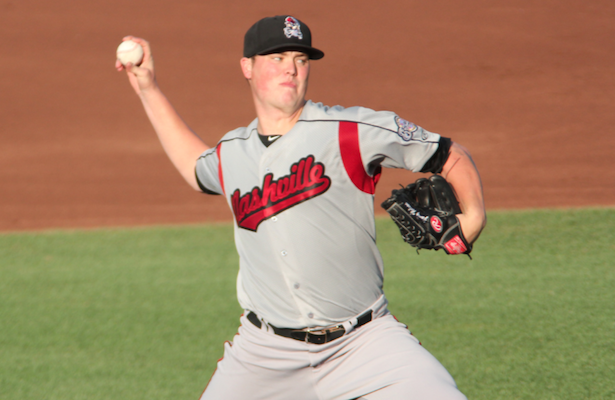 What an incredible start to the season the Milwaukee Brewers have had. Through the first three weeks of the season the Brewers sit atop baseball with a 13-5 record. Thankfully for the Brewers' sake, they have not had to rely on their prospects down on the farm because so far most of their top 10 prospects have struggled to perform up to expectations. Through the first three weeks of the season here is how the Brewers' top 10 prospects are doing:
1. Jimmy Nelson, RHP
Jimmy Nelson entered the season with high expectations as the organization's top prospect, and through four starts at Triple-A Nashville he has looked extremely impressive. In 25 innings of work, the Alabama product is 2-1 with a 1.80 ERA and a miniscule 0.80 WHIP. He has also racked up a strikeout per inning. Nelson is on fire right now, and his stock is rising quickly. If he continues to dominate, it might not be long until he is taking the mound in Milwaukee.
2. Tyrone Taylor, OF
A guy some consider to be the top prospect in the organization, Tyrone Taylor has gotten off to a sluggish start. In 17 games, 67 at-bats, Taylor is hitting .239 with one home run, six runs batted in, and 12 strikeouts as he is only getting on base at a .301 clip. Taylor is an extremely young player, and expect his numbers to improve as he receives more experience over the course of the season.
3. Devin Williams, RHP
Rookie ball has not even begun, so Devin Williams has not started game action. It will not be until June when Williams is in uniform, but when he does start playing, expect him to put up monster numbers.
4. Orlando Arcia, SS
Orlando Arcia is known for being solid defensively, while not possessing a huge threat at the plate, but so far Arcia has struggled on both sides. In 17 games this season he is only hitting .224 with four RBIs and a .318 OBP. Defensively he has split time between second base and shortstop, holding a .938 field percentage with five errors. Arcia's stock is falling, and if he cannot figure it out soon, it will be a tough season for the 19 year old.
5. Mitch Haniger, OF
Mitch Haniger maybe in Double-A but it might be awhile until he's in a Brewers' uniform. The power hitting outfielder is hitting a dismal .190 with three long balls and 10 runs batted in. With an embarrassing .264 on base percentage, Haniger has been home run or bust this season, racking up 15 strikeouts in only 63 at bats. Haniger's stock is falling, and if he cannot figure out how to hit minor league pitching, he will struggle to reach the big leagues.
6. Nick Delmonico, 3B
Nick Delmonico has just gotten back to baseball activities after not participating in minor-league spring camp due to personal reasons. He will work out in Phoenix, with the goal of being assigned to a team once he is ready. This is obviously not a good sign for Delmonico whose career has been shaky due to injuries. Delmonico has potential to be a solid Major League player one day, but the Brewers have to be worried about his ability to stay on the field.
7. Johnny Hellweg, RHP
A tall lengthy right-handed pitcher, Johnny Hellweg has gotten off to a slow start at Triple-A to begin the season. In four starts he is 1-2 with a 4.95 ERA and 1.80 WHIP in only 20 innings of work. Command has been the biggest issue for Hellweg as he has walked 15 batters. The biggest knock on Hellweg has always been his command, and if he cannot figure out how to throw strikes, he will have a hard time being successful with the Brewers one day.
8. Victor Roache, OF
A former first round pick for the Brewers back in 2012, Victor Roache has had mixed results so far in Brevard County. The slugging youngster is hitting an even .200 with two homeruns and eight RBIs. Roache is not known to hit for average, instead possessing the threat to hit many bombs. Roache is extremely young, and still trying to adjust to professional pitching, but once he does, expect him to be one of the Brewers' top prospects.
9. Taylor Jungmann, RHP
It has been a rocky start for Taylor Jungmann to begin the season. In four starts at Double-A, Jungmann is 1-2 with a disappointing 4.71 ERA and 1.33 WHIP in 21 innings. Once the Brewers' top pitching prospect, Jungmann has struggled to get hitters out, as his fastball no longer sits in the mid-90s. Jungmann's stock is falling, and he will need to figure out how to use his secondary pitches effectively in order to be successful.
10. Hunter Morris, 1B
Through 17 games at Triple-A Hunter Morris has put on a nice showing. In only 65 plate appearances he has recorded two home runs with six RBIs while hitting a respectable .277. He has strikeout 16 times. Morris' value is rising, and if he can figure out away to get on base more, he will be knocking on the Major League door in the near future.
Make sure to check back at The3rdManIn.com next week to see whose stock has risen.