Benches Clear During Brewers vs. Pirates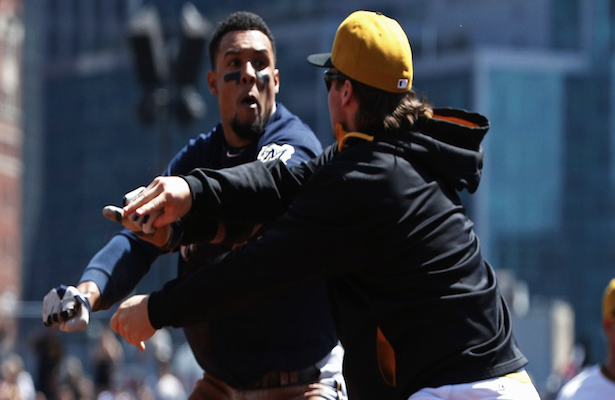 Although it is Easter, that does not mean two division rivals have to be nice to each other. In fact Easter for the Milwaukee Brewers and Pittsburgh Pirates was anything but fun, as both teams squared off in a benches clearing brawl during their game.
Brewers center fielder Carlos Gomez, Pirates outfielder Travis Snider and Milwaukee bench coach Jerry Narron were ejected after a shouting match quickly escalated into a punch-filled brawl in the third.
The problems started when Gomez paused at the plate and flipped his bat to watch his two-out drive off Pirates starter Gerrit Cole.
Gomez said he thought the ball would be caught. Instead, it hit the wall and he sped into third base, making a headfirst slide for a triple.
Cole, who was near third base backing up the play, stormed toward Gomez and they exchanged words.
This was when all the excitement began:
A possible suspension could be in the works for Gomez, but he stated after the game that he will appeal a suspension if given one.
Make sure to check back at The3rdManIn.com to see if Gomez does receive a suspension.