Despite restrictions, goal is to win Horizon League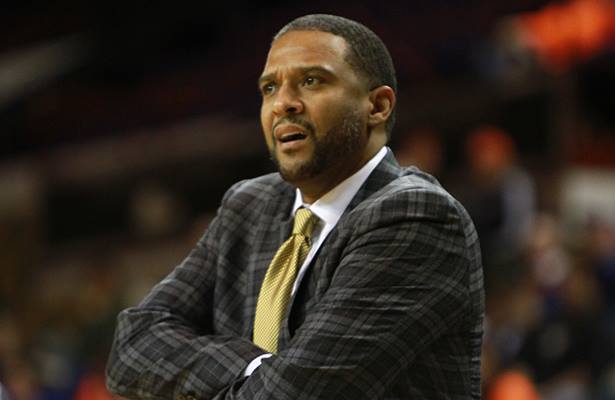 After making an improbable run through the Horizon League Tournament, the Milwaukee Panthers made their first NCAA Tournament appearance since 2006. Although, the Panthers were only dancing for one game, there was a buzz surrounding the program.
Many believed despite losing two starters to graduation, that Milwaukee had the potential to build off of their tournament appearance in the 2014-15 season.
However on April 9, that dream was crushed when the university announced that the Panthers would be unable to compete in postseason play due to low cumulative Academic Performance Rate (APR) from 2009-13.
This means Milwaukee's season will come to an end on Feb. 28 against the Youngstown State Penguins. Sure they can still win the Horizon League regular season title, but they can't compete for the ultimate goal every college program has – making it to the NCAA Tournament.
While many have voiced their displeasure about this situation, the Panthers are focused on winning the conference's regular season.
"As a coach the first goal is always to win your league," Milwaukee head coach Rob Jeter said. "Get better every day, take it game by game. Then your second goal is to get into a tournament and win it, then try to win a national championship.
"For us, it's a single goal — to win our league. So we've got to focus in on that."
Even though the league coaches and sports information directors predicted Milwaukee to finish sixth, Jeter feels that they will have a target on their back after winning the Horizon League Tournament a year ago.
Milwaukee might not be receiving the attention they feel they deserve, but they are an intriguing team, with an extremely deep backcourt and many talented newcomers set to make an impact this season.
Leading the Panthers will be junior forward Austin Arians, senior point guard Steve McWhorter and junior forward Matt Tiby, all who return to the starting lineup from last season's team.
Arians is a 6-foot-6 forward with excellent range. Last year, he averaged 11.1 points per game, while making 65 three-point shots on 36.7 percent shooting from three-point territory.
He is expected to have an expanded role in the offense this season, but the only question that still remains is his health. It is still an unknown if he will play in their season opener against Auburn after suffering a high ankle sprain three weeks ago.
McWhorter, a 6-2 point guard, is the Panthers leader on and off the court. The senior floor general is a pass first guard who knows that in order for the Panthers to have success, he needs to get numerous players involve. Last season, McWhorter averaged 7.8 points, four assists, 4.1 rebounds and 1.5 steals in a team-high 34.1 minutes per game.
He will be an important player on this team, but don't be surprised to see him playing a few less minutes per game, now that Jeter has finally found a true backup point guard in highly touted freshman Justin Jordan.
Like McWhorter, Jordan is a pass first player, who plays well defensively and possesses a solid mid-range game.
There is no question that this is McWhorter's team, but Jordan will definitely receive some minutes in preparation for next season when he takes over the reigns from McWhorter.
Tiby , a 6-8 forward, brings a loud, vocal personality to the floor that seems to generate some energy for the other players on the team, while irritating their opponents. He played well on both sides of the ball last season, averaging 12 points and 6.5 rebounds per game.
Starting along side Tiby will be junior shot blocker J.J. Panoske. Panoske began last season starting for the first six games before getting benched in favor of senior Kyle Kelm. The 6-foot-10 big man now has the opportunity to prove himself as a legitimate starter in college basketball.
"He has to just remember who he is and be really good at that," Jeter said. "He is a really skilled basketball player who can shoot the basketball and is trying to have a post game. He's done a really nice job being committed to doing that.
"If we can get him to make shots and be a presence inside defensively – that is a great start for J.J."
The final guard spot in the starting lineup will be a big task to fill, with the departure of senior Jordan Aaron, but Jeter has multiple options he can use. Right now it appears that the 6-foot-4 Akeem Springs is the favorite to land the starting nod.
A transfer from NIU, Springs had to sit out last season per NCAA transfer rules, but he has the potential to be a special player for Milwaukee this season. He is a big, athletic guard with excellent athleticism who plays well on both sides of the ball.
JeVon Lyle and Trinson White will play a key role off the bench, with White possessing the ability to really surprise some people this season.
"He's probably the guy that no one knows about, but who has the potential to be the biggest impact for us," Jeter said. "He has a game that fits our style. Likes to play inside, athletic for a wing, rebounds the ball well, does a lot of the work 15 feet and in. He's a good compliment to the shooters on our team."
Redshirt freshmen twins Brett and Alex Prahl have shown the potential to be imposing players in the post throughout practice, and now it is just a matter of seeing them do it in a game situation. Both will receive some minutes this season, backing up Tiby and Panoske.
If sophomore guard Cody Wichmann doesn't decide to redshirt, he will be a player Jeter relies on to come of the bench to make shots, especially from behind the arc.
Milwaukee is going to be a fun team to watch, and fans will also enjoy the experience of Panther basketball a little more with the upgrades made to the newly renamed UW-Milwaukee Panther Arena. The university will pay $3.4 million over the course of 10 years for the naming rights, while a new Jumbotron and gold seats have been installed.
These upgrades are outstanding, displaying tons of Panther spirit.
"It creates a home-court advantage instantly, in my opinion," Jeter said. "When teams come out here to shoot around, the seats are empty at that time. They see the black and gold seats and all of the signage, it's like, 'OK, we're in Milwaukee. We're in hostile territory.'
"This is a whole new home court for us."
Milwaukee might not be able to partake in conference tournament play, but they will definitely cause havoc for opposing teams throughout the regular season. No matter the results, this will be an outstanding learning year for the Panthers, playing against numerous high-major opponents.
It might be tough knowing how the season will end for the Panthers, but just imagine how good they will be next year, with only losing McWhorter and Evan Richard to graduation.