Cowboys hand Panthers second straight loss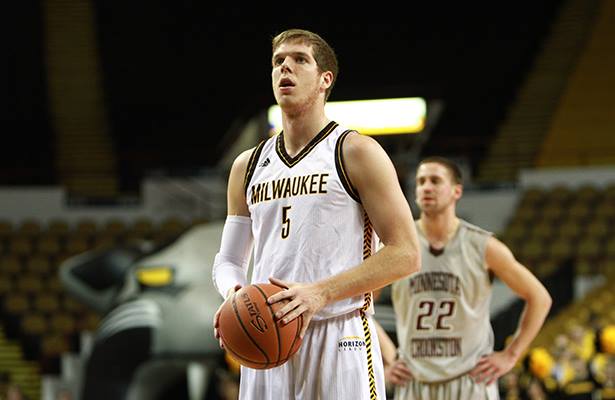 Everyone knew it wasn't going to be an easy game for the Milwaukee Panthers as they went up against the talented Oklahoma State Cowboys. Despite shooting an incredible 59 percent from the floor in the second half, the Panthers (1-3) couldn't overcome their slow start, falling to the Cowboys (4-0) 82-68.
Steve McWhorter led the way for the Panthers, scoring 18 points, giving him his third straight double digit scoring performance. He also recorded nine assists and six rebounds.
Matt Tiby was the only other Panther to score in double figures, adding 10 points. Cody Wichmann, J.J Panoske and JeVon Lyle each chipped in nine points apiece.
After turning the ball over 13 times in the first half, the Panthers did an excellent job securing the ball, committing only four turnovers in the final 20 minutes of play. Milwaukee also ended up outrebounding Oklahoma State 32-26.
With 3:19 left in the first half, the Panthers trailed by 21. They came out in the second half with more energy and fight. Just with over five minutes remaining, a McWhorter basket cut Milwaukee's deficit to 10.
However, this would be the closest the Panthers would get, as they hit only one of their final seven shots in the game.
Milwaukee finished the game shooting 49.1 percent (27-55) from the field including 40.9 percent (9-22). They also took a step forward with their free throw shooting, despite minimal opportunities, hitting 83.3 percent (5-6) from the charity strip.
There are many positive to take out of this game, even though there are some obvious weaknesses. They did an excellent job rebounding the ball, while shooting an outstanding percentage from the floor. Their biggest issue in this game however, was falling behind early.
In all four of Milwaukee's games they have gotten off to a slow start. This has to change especially if they want to have the chance to beat teams that are better than them. With being a young team, they are still searching for their identity, but if they attack down low offensively early on in games, it could be a solution to their sluggish starts.
The Panthers have now dropped two consecutive games, and they will look to snap this streak next Monday when they head to Las Vegas to take on Louisiana-Lafayette in the MGM Grand Main Event.