Brett Favre to be honored next July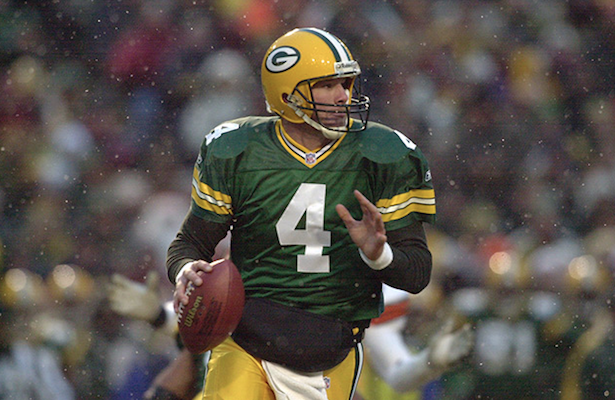 Brett Favre is returning to Green Bay. This time however it won't be in a football uniform, but instead he will be returning to be honored for his marvelous career. After years of discussions and speculation, the Packers officially announced in a joint news conference with Favre on Monday afternoon, that he will be inducted into the Hall of Fame and have his number retired at the July 18 induction ceremony.
The combined event was planned by former Packers president Bob Harlan, who now serves on the board of directors of the Hall of Fame. This move will end the six years of separation between Favre and the Packers.
For only the sixth time in the Hall of Fame's history, one player will be inducted, and it will be the first time the induction is joined with the retirement of a player's number.
Favre's name will go up inside Lambeau Field at a game next season with the date to be announced at a later time.
In 16 seasons wearing the Green and Gold, Favre led the Packers to a Super Bowl victory while capturing three NFL MVP awards.
Favre retired from the Packers following the 2007 season after they fell to the New York Giants in the NFC Championship Game in overtime, but later decided that he wasn't done playing the game he loved.
However, following the original announcement that he was hanging up his spikes, general manager Ted Thompson and head coach Mike McCarthy moved forward, and made the young Aaron Rodgers the No. 1 quarterback on the depth chart.
When Favre decided that he wanted to come back, the Packers told him that they had moved on. After a meeting as training camp began, the legend was dealt to the New York Jets.
Favre played one season with the Jets before signing with the Minnesota Vikings in free agency, and spent his final two seasons there. While some fans where disappointed that he was traded to New York, many Packer fans were outraged that Favre signed with the Vikings.
The fans made it known that they were unpleased. When he returned to Lambeau wearing purple, he heard an enormous amount of boos. This decision by Favre to play for the hated division rival still leaves a sour taste in the mouths of Packer fans.
But now it is time to move on. Years have passed since then and now it is time to welcome back Favre with open arms. Sure he made some mistakes, but now fans need to remember all the amazing things he did when playing for Green Bay. It is still a year away, but it is never to early to starting planning to make the trip up to Lambeau Field to honor one of the greatest quarterbacks to ever play the game.