Packers ink Nelson to contract extension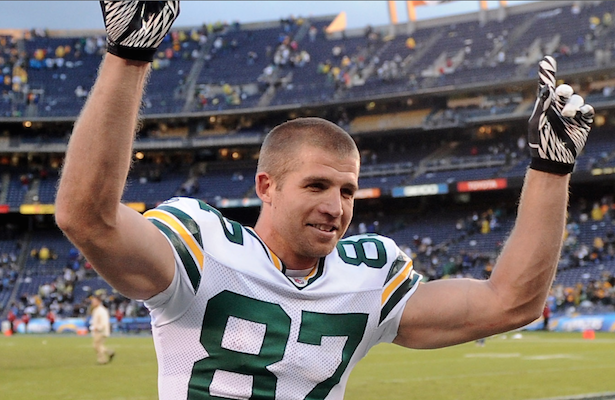 Only a few hours into the first training camp practice of the 2014-15 NFL season, the Green Bay Packers made a move that all Green and Gold fans should be happy about.
General manager Ted Thompson signed another one of the team's top players to a contract extension Saturday morning as star wide receiver Jordy Nelson agreed to a four-year, $39 million contract that includes $14.2 million of guaranteed money with a signing bonus of just over $11 million according to the NFL Network.
Since 2011, Nelson has been Aaron Rodgers favorite target as he has developed into the team's top receiver, and one of the games most underrated players. Over the last three years, Nelson has played in an average of 15 games while pulling in 67 catches and 10 touchdown receptions for 1,107 yards.
During Nelson's six-year NFL career he has played in 89 games, recording 302 receptions, 4,590 yards and 36 touchdowns.
Prior to agreeing to this lucrative deal, Nelson was entering the final year of his three-year, $12.6 million contract that was set to pay him $2.55 million in base salary, $200,000 in a roster bonus and $250,000 in a workout bonus.
Now Nelson will make an average of $9.75 million per year beginning next season with the contract extension. Although this seems relatively high, this puts him below the market for superstar receivers like Detroit's Calvin Johnson ($16.2 million) and Arizona's Larry Fitzgerald ($16).
Instead this contract will put him in the same category as Chicago's Brandon Marshall ($10 million), and Nelson's former teammate and current Minnesota receiver Greg Jennings ($9 million).
This deal also will works well with the Packers' payroll moving forward, as this contract will come off the books in 2018, one year before Rodgers' contract expiries.
Over the last two seasons the Packers have locked up Rodgers, Nelson and linebacker Clay Matthews to mega deals to make sure none of them depart Green Bay via free agency. Now Thompson will turn his attention to receiver Randall Cobb.
However, a deal between Cobb and the Packers is not expected to be competed until the Packers organization believes that he is over his injury from a year ago, and can return to being a weapon for the Packers' passing attack.
Nelson has developed into one of football's top receivers over the last three years, and this was a deal that the Packers needed to make. There is no question Nelson deserved to get paid, and this contract matches up with other receivers around the NFL who produce at the same rate as Nelson does.
With this new deal Nelson will be able to focus exclusively on his production on the field, and helping the Packers overtake the Seattle Seahawks and San Francisco 49ers as the top team in the NFC.