2013 NBA Mock Draft: Picks 1-10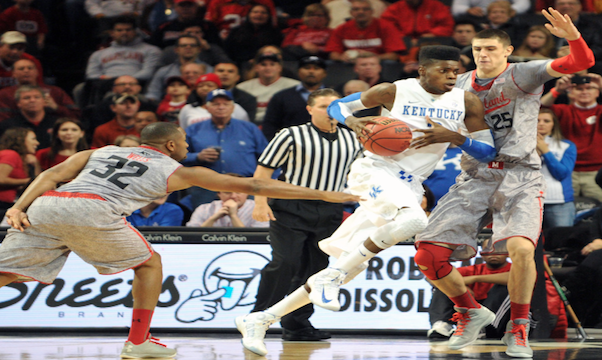 The NBA Draft is only a few days away, and this draft has been very unpredictable, starting from the first overall selection. There will be numerous surprises, with a few players sliding down the draft board, as well a few obvious selections. Here is how I see the 2013 NBA Draft going:

1. Cleveland Cavaliers: Alex Len, Maryland, 7'1″, C: The Cavaliers have numerous options with the first overall selection, but the player who would be the best selection is Alex Len. Alex Len is a highly talented 20-year-old skilled big man, who is a terrific rebounder and shot blocker that can score from all areas of the court. He possess huge upside, making him a great pick for the Cleveland Cavaliers.
2. Orlando Magic: Nerlens Noel, Kentucky, 7'0″, C: The Magic ranked 24th in blocked shots this past season, and Nerlens Noel would fill a major need on this team. Nerlens Noel is a long, athletic center that led college basketball with 4.4 blocks per game a year ago. His injury history and lack of strength are a major weakness for him, but his defensive abilities make him a player the Magic cannot afford to pass on.
3. Washington Wizards: Otto Porter, Georgetown, 6'9″, SF: Since the NBA Draft Lottery, Otto Porter has been linked to the Washington Wizards. If the Wizards hold onto their third overall selection Porter will be their guy. He is an elite defender, who has a great midrange game, and is a good, unselfish passer. Otto Porter is the closest player to a sure thing in this year's draft, and he would fit nicely into the Wizards young core of players.
4. Charlotte Bobcats: Anthony Bennett, UNLV, 6'8″, PF: Anthony Bennett has more upside than any other player in this year's draft, and he would provide the Bobcats with a much-needed scoring threat down low. Even though he is undersized for the power forward position, he is an athletic forward, that is an excellent rebounder, and can shoot inside and out. Anthony Bennett will develop into an All-Star caliber player, while dominating the paint for the Bobcats for the years to come.
5. Phoenix Suns: Victor Oladipo, Indiana, 6'4″, SG:Victor Oladipo has very few question marks coming into the NBA Draft, and he has strengths that many few other players have. He has elite athleticism, with a high-energy motor, and is tenacious on the defensive side. He is the safest option in the NBA Draft, and it is just a matter of time until he develops into a great NBA player.
6. New Orleans Pelicans: Trey Burke, Michigan, 6'1″, PG: Trey Burke is the best point guard in this year's draft, and he is exactly what the Pelicans need. The Pelicans have been looking for a great point guard to team up with Anthony Davis to run the pick and roll, and Burke is their guy. He is a strong, physical guard who sees the floor very well, and is a solid shooter. Trey Burke would be an excellent fit with the young Pelicans team.
7. Sacramento Kings: C.J. McCollum, Lehigh, 6'3″, PG: The Sacramento Kings have been searching for a dynamic point guard over the last few years, and C.J. McCollum is their guy. McCollum is an electric scorer, who is an excellent rebounder and picks up a number of steals per game, while excelling in transition. C.J. McCollum will not become the next Damian Lillard like many people expect, but he has the tools to become a solid NBA player.
8. Detroit Pistons: Michael Carter-Williams, Syracuse, 6'6″, PG: Michael Carter-Williams has elite size for a point guard making him a solid defender who racks up steals often, and a great scorer in the paint. He would be an excellent fit along Brandon Knight, and is capable of playing the point and the two due to his size. The Pistons would be excited to draft Carter-Williams with their eighth overall pick to go along with their already impressive young core of players.
9. Minnesota Timberwolves: Kentavious Caldwell-Pope, Georgia, 6'6″, SG: It seems that Caldwell-Pope is a consensus pick at number nine. Kentavious Caldwell-Pope is a deadly shooter with deep range and a quick release on his jump shot. Besides being a great athlete and superb shooter, Caldwell-Pope is a good passer and excellent defender. He fits well along side Rickey Rubio and should be a solid guard for the T-Wolves for many years.
10. Portland Trail Blazers: Ben McLemore, Kansas, 6'5″, SG: Here will be the biggest surprise of the draft, Ben McLemore sliding all the way down to the number 10 pick. He is a superb athlete that is a dangerous shooter, with excellent range, and he is a solid defensive player. There is no question that he is talented, but his poor workouts have hurt his value, causing him to slide down the draft board. McLemore would be a great fit along side Damian Lillard, and the Blazers would be happy if he falls right in their lap.