Wichmann developing into the next great scorer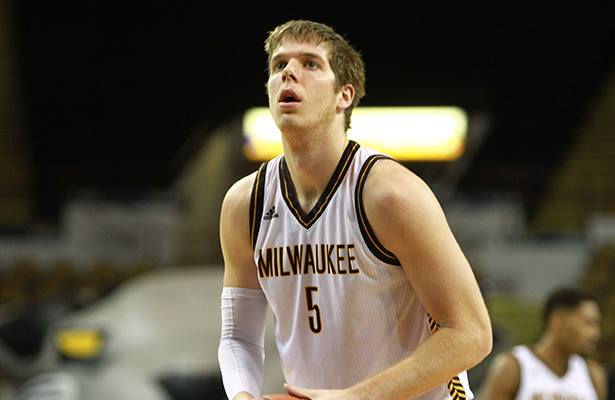 Clay Tucker, Von McDade, Jason Frederick, Ed McCants and Craig Greene are just a few of the many productive and talented shooters in the rich history of the Milwaukee Panthers men's basketball program.
Jordan Aaron was another one of these players. But now without Aaron, the Panthers are searching for that next pure scorer that they can rely on in key situations.
In his second season wearing the black and gold, sophomore guard Cody Wichmann appears to be moving into that role.
A Pulaski native, Wichmann was a star at the high school level, dominating opposing defenses on a nightly basis. He led Pulaski to its first-ever state championship in any sport as a senior, and finished his career as the all-time leading scorer (1,372 points).
Wichmann was also named a unanimous Division II First Team All-State selection by the Wisconsin Basketball Coaches Association as a senior, averaging 15.1 points, 4.7 rebounds and 3.5 assists per game.
Luckily for the Panthers, Wichmann chose to accept their scholarship offer over their rival, Green Bay, prior to the start of his senior season in high school.
Now in his sophomore year at Milwaukee, Wichmann has taken advantage of his opportunities, providing head coach Rob Jeter with a dangerous scoring option off the bench.
Last season as a freshman, Wichmann was adjusting to the speed of the college game, while still displaying some flashes of his ability. But, now with that year of experience under his belt, the left-handed sharp shooter is more relaxed and confident on the court.
"Getting the feel for the game has helped me a lot," Wichmann said. "I know my role is to come in and shoot the ball."
He has done just that, but more importantly, he has hit a high percentage of his shots. Through the first eight game this season he is second on the team in scoring, averaging 8.9 points per contest, while shooting 50 percent from the floor including an incredible 51.4 percent from three-point range in 22.4 minutes per contest.
He even registered his first career collegiate double-double, posting 13 points and 11 rebounds against Concordia-St. Paul nearly a week ago.
When Wichmann enters the games, he has usually provided the Panthers with a major spark, knocking down clutch three-point shots when Milwaukee desperately needs them most.
His early season performance hasn't gone unnoticed, as Coach Jeter has played him in crucial situations, while even having him occasionally play forward to create a mismatch offensively and stretch the defense.
While it might be unfair at the moment to compare Wichmann to some of the greatest shooters in program history, he has the work ethic and determination to be just as productive as any of those players in the past.
Wichmann still has two full years of eligibility remaining to go along with the rest of this season, and it will be a thrilling time for Panther fans to watch him develop over the rest of his Milwaukee career.