Time to move on from Larry Sanders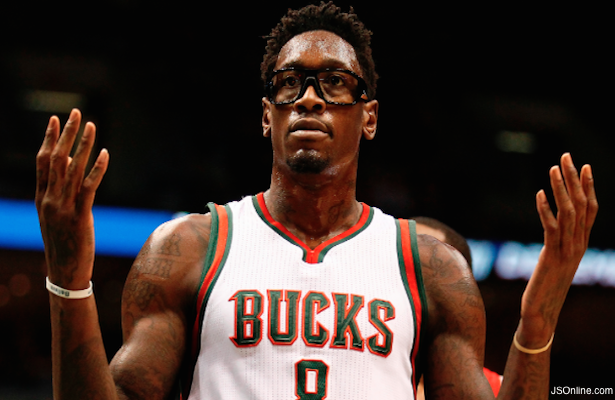 When the Milwaukee Bucks selected Larry Sanders with the 15th overall pick in the 2010 NBA Draft, hardly anyone knew anything about the tall, lengthy center.
Potential was a word associated with Sanders, but through his first two seasons he looked more like another bust than someone who was capable of eventually being a starter in the NBA.
It was not until Nov. 30, 2012 that fans were able to see what Sanders was made of. In a loss to the Minnesota Timberwolves, Sanders recorded his first career triple-double with 10 points, 12 rebounds and 10 blocks.
Despite the Bucks' mediocre season that included getting swept by the Miami Heat in the first round of the playoffs, Sanders finished third in the NBA's Most Improved Player Award, as he averaged 9.8 points, 9.5 rebounds and 2.8 blocks per game.
He brought energy, excitement and swagger to the Bucks, who were desperately searching for someone to build their roster around moving forward.
Right before the 2013-14 season began, Bucks' management made the decision to make Sanders the face of the franchise by signing him to a four-year, $44 million contract extension – a move that would change the franchise for the years to come.
Sanders was already known for his aggression and immaturity on the court, picking up 14 technical fouls in the 2012-13 season, but following the contract extension, off the court issues began popping up.
A torn ligament in his thumb due to a nightclub altercation caused Sanders to miss 25 games from early November to mid-December last season. Then, while sitting out for the remainder of the season due to a fractured right orbital bone, news broke that Sanders was given a five-game suspension for violating the NBA's drug policy after testing positive for marijuana.
With $44 million guaranteed over the next four years, the Bucks had no choice but to stick with Sanders, and hope he would mature and be a force on the basketball court once again in 2014-15.
Despite Jason Kidd coming in as the head coach and the culture changing, Sanders hasn't performed near the numbers he put up just two years ago. In 27 games, he is averaging 7.3 points, 6.1 rebounds and 1.4 blocks.
However, the bigger issue has been the fact that he has now missed five straight games since Dec. 23 due to the flu and personal reasons.
Kidd indicated on Friday prior to the Bucks game against the Indiana Pacers that there is no timetable for his return, and he currently isn't taking part in any team activities.
Obviously something is going on with Sanders, and it is time for the Bucks to take action.
Sanders has absolutely no trade value, and with so many positives going on for the Bucks right now, it is time to get rid of this dysfunctional player regardless if they buy him out or just cut him.
They will be eating a lot of money by doing this, but in the end it is what is best for the franchise moving forward. Sanders is most likely going to be just an average NBA player if he ever gets a chance to play again, and right now the Bucks can't have him affecting this franchise any longer.
Zaza Pachulia and John Henson have filled in nicely since Sanders' absence, and they are more than capable of holding down the center position for the remainder of the season.
It is a new era of Bucks' basketball. Enthusiasm has aroused Bucks fans with the bright future ahead. The Bucks are in position to make the playoffs this season with a team filled with youngsters and castoffs who have a passion for playing basketball and proving people wrong. They can't afford to let Sanders affect that, and it is time to move forward and clean their hands of this situation.