T.J. Zeuch looks to lead Pitt to tournament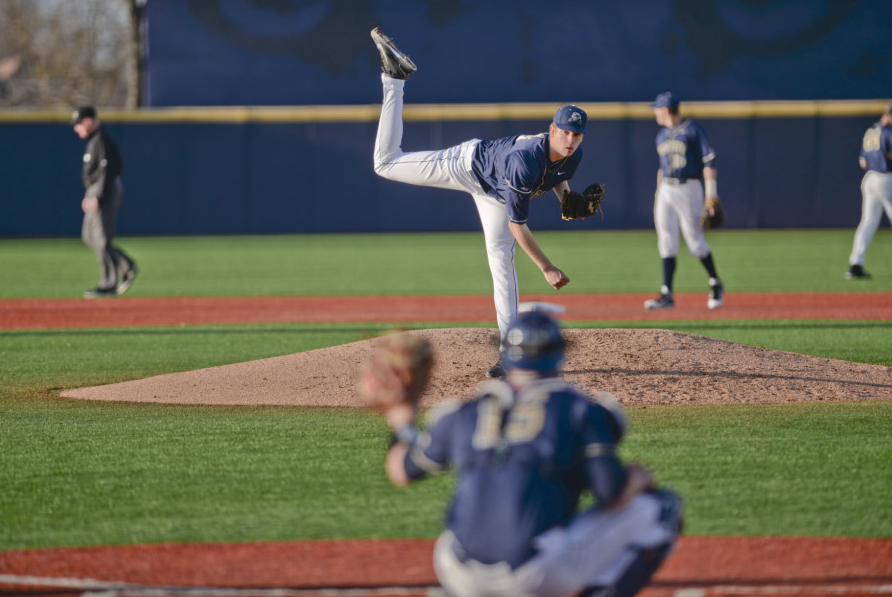 As a 6-foot-7, 210-pound right-hander, T.J. Zeuch was an intriguing draft prospect coming out of high school.
His projectability and ability to throw his fastball in the low 90s caused MLB teams to be interested in the young hurler. The Kansas City Royals ended up taking a chance and selecting Zeuch in the 31st round of the 2013 MLB First-Year Player Draft.
However, Zeuch declined the opportunity to play professionally and stuck with his commitment to attend and play baseball at the University of Pittsburgh.
"From an academics standpoint, it's one of the best schools in the country hands down," Zeuch said. "It's a great education and opportunity. An opportunity a lot of people do not get. I came here and met with the coaches and loved them. It's close enough to home that my family can come and see me once and awhile. The ACC is an amazing conference."
As a freshman in 2014, Zeuch registered a 2-6 record with a 2.75 ERA and 41 strikeouts in 55 2/3 innings (15 games) in a swingman role.
In his sophomore season, Zeuch returned to Pitt and pitched in a larger role. In 88 1/3 innings over 14 starts, he went 5-6 with a 3.87 ERA, while striking out 90 batters and walking just 25, as the ace of the Pitt pitching staff.
Zeuch then pitched last summer in the prestigious Cape Cod League and went 2-0 in four starts, posting a 1.31 ERA with 17 strikeouts.
"It was amazing," Zeuch said on participating in the Cape. "The level of competition is unbelievable. It was ton of fun going out there and pitching and facing top tier talent, while trying to give my team a chance to win."
Entering the 2016 season, Zeuch was expected to be Pitt's No. 1 starter. However, in the first two weeks of the season, he has yet to pitch in a game.
"To be honest, I'm just resting until ACC play starts," Zeuch said. "It's a long year and last season the innings piled up on me. I almost ran out of gas at the end with that being the most innings I've thrown in a year in my career."
He is unsure when he will make his first start of the season and is throwing bullpen sessions in the meantime to continue to improve and be prepared for when he does make his season debut.
"I've been working on my off-speed," Zeuch said. "Being more consistent with it. With the curveball and developing a better changeup and a better slider. Also, being able to locate a fastball in and out more than I did last year."
Once he returns to the mound, Zeuch will have high expectations on him, as he is one of the top college arms across the country and will likely be selected in the early rounds of the 2016 draft.
Baseball America ranks the right-hander as the 41st overall college draft prospect.
"I try to block other people out," Zeuch said of his name swirling in draft talk. "You hear stuff from scouts and advisors, but it's just a game. I'm here and in this position for a reason. Someone thinks I'm good enough to do it. I just have to go throw the ball and have fun."
Now a junior at Pitt, Zeuch is 6-foot-7 and 225 pounds and has made strides in his development as a pitcher since his freshman season. He has a four-pitch mix, featuring a fastball, changeup, slider and a 12/6 curveball.
"I think the biggest progression I've made has been my maturity level on and off the field," Zeuch said on his development as a pitcher. "Just the way I handle and carry myself. It's a huge difference what two and a half years will make.
"On the field I've become a much smarter pitcher. Obviously with time and age comes better ability. Learning of the game at this level of competition has helped me tremendously."
While the future appears bright for Zeuch, he is focused on helping Pitt win games this season. Pitt is coming off of a 20-32 season and is predicted to finish 13th in the 14-team Atlantic Coast Conference this year.
"We want to make the ACC tournament," Zeuch said. "We have missed out on being one of the top 10 teams the last few years and that is a goal of ours. Not only that, but also compete and prove people wrong.
"Every year the polls come out we're picked dead last. We're tired of that. We want to show that we aren't just a team that you're going to walk over."
Update 5/22/16: Read my follow-up interview with Zeuch here.
You can find more MLB Draft coverage here.