Seth Beer is a highly sought-after draft prospect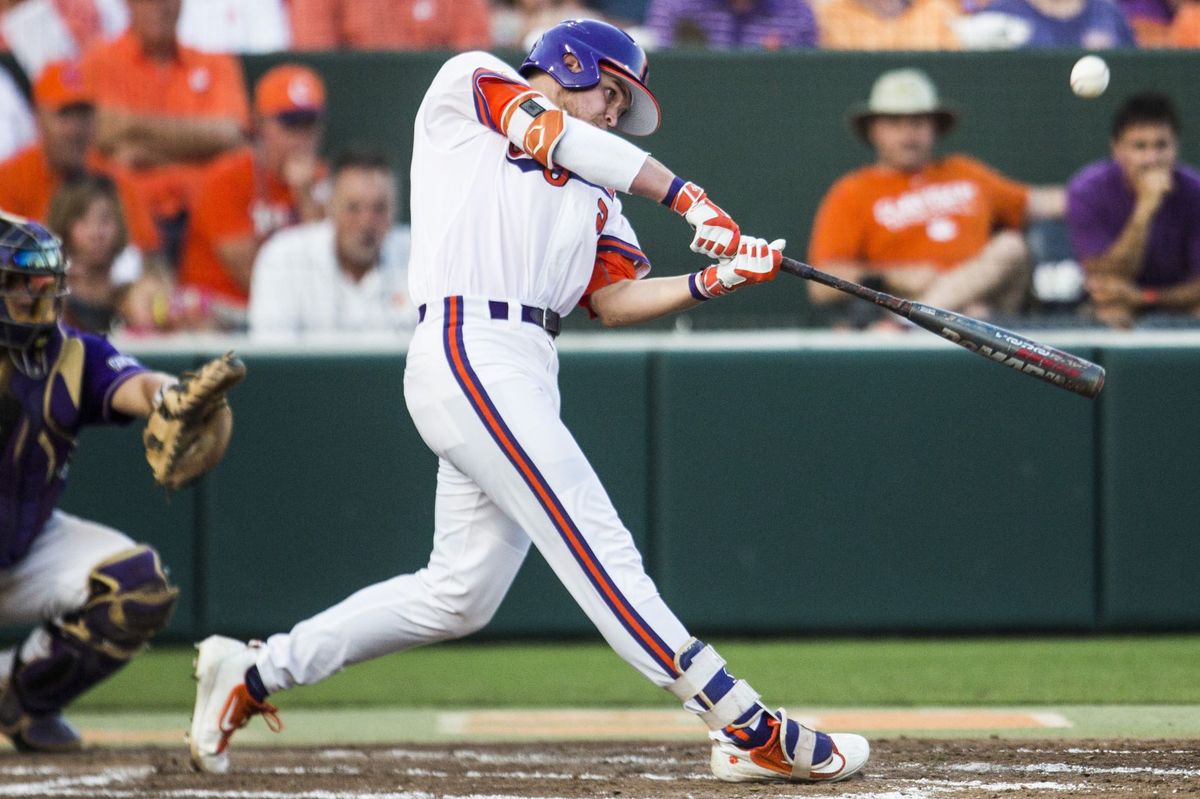 Baseball fans have had their sights set on one prospect in the 2018 MLB Draft – Clemson's Seth Beer.
Fans have created social media campaigns, slogans and puns referring to Beer's last name urging their favorite team to tank for a higher draft pick to select the well-regarded first baseman. Clever hashtags such as "#DraftBeer" and "#TankForBeer" are just two examples.
"I think it is one of those things that people like to say a lot of different things and make different statements," Beer said. "But until the day comes and my name is called, nothing is set in stone.
"Understanding that and how it can vary with different teams and what it takes to make it to the big time is important. For me, I just can't worry about what I see and come out there and help your team succeed and put yourself in the best situation."
MLB.com ranks Beer as the 27th-best prospect in the 2018 draft. This is Beer's first time being draft-eligible, after graduating high school a semester early to play at Clemson for the 2016 season and bypassing the 2016 draft.
"I didn't want to sit at the end of the spring in the high school season and go into the draft and have to decide between the two and see what happens with that," Beer said. "I thought I should go all in with college."
Beer's best trait is his combination of power and plate discipline. The left-handed hitting slugger has registered 34 home runs, while drawing 126 walks compared to just 62 strikeouts in his first two seasons at Clemson.
Despite his extremely high potential at the plate, Beer's future defensive position is unknown. Although he's played mostly in outfield during his first two years at Clemson, scouts project Beer as a future first baseman or DH in professional baseball due to his below-average speed and lack of arm strength.
Beer said first base will be his primary position at Clemson this season.
"I'm very happy right now to say I worked extremely hard this offseason to improve my defense," he said. "For most of my career, almost everything I've done has revolved around hitting. This offseason, I went in and took as many ground balls as pitches I hit."
Beer hit .369 with 18 home runs and 70 RBIs in 62 games as freshman in 2016. His performance earned him the Dick Howser Award, which is awarded annually to the college player of the year. He was the first freshman to ever receive the honor.
He returned his sophomore season and tallied a .298 average with 16 home runs and 53 RBIs in 63 games for Clemson in 2017.
"For me the biggest thing was pitch selection and just understanding that I wasn't going to sneak up on anybody my second year playing," he said. "Just understanding that I need to be more selective when it came to pitches that I would have an opportunity to hit.
"Something that pushed that too was understanding that there was going to be a little pressure. I'd be lying to you if I said there wasn't any coming off of my freshman season. It felt like I had to go out and do whatever I could to help the team win."
Beer hopes he can use his sophomore season as a learning experience to help him deal with the draft attention from fans and scouts throughout his junior year, which begins against William & Mary on Feb. 16.
"I feel like that going into this year versus my sophomore year, where I didn't really know how to handle myself, I'm more prepared with situations that are coming up," he said. "I'm more prepared with how I can handle scouts and the talk around me."
Find more 2018 MLB Draft profiles here.
READ: 2017 MLB Draft: Profiles on top prospects
READ: The3rdManIn.com's MLB Draft prospect history