Joey Bart develops into top catching prospect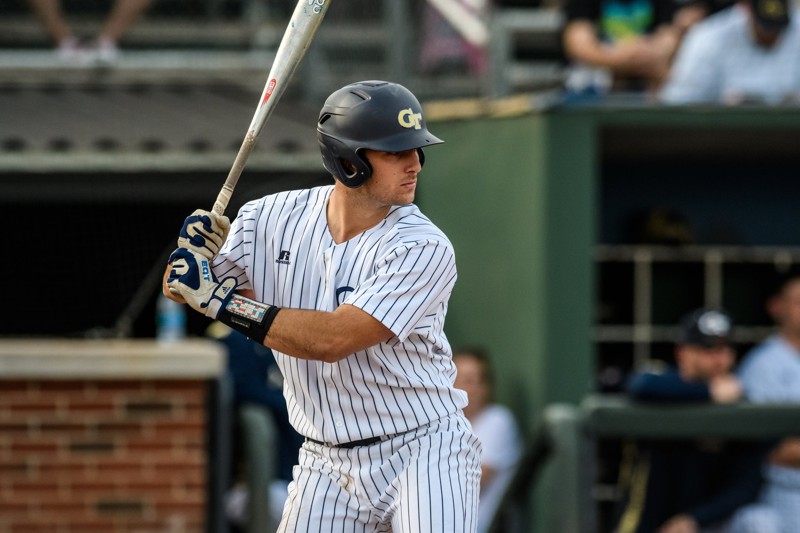 Joey Bart was a well-regarded prep catching prospect in the 2015 MLB Draft class. But, the Buford, Ga. native bypassed opportunities to go in the first five rounds to play collegiately at Georgia Tech.
He admits it was a decision that he wrestled with for some time before the draft. However, three years later, it appears his choice will pay off, as Bart is a potential first-round pick in 2018.
MLB.com ranks Bart as the 18th-best prospect and top catcher in the 2018 MLB Draft. If he goes in the first round, he'd follow in the footsteps of former Georgia Tech backstops Jason Varitek and Matt Wieters.
"It's very exciting with the upcoming draft and seeing what's going to happen," Bart said. "I had to make a difficult decision out of high school. It wasn't something that I knew I was coming to school. I was highly considering it. I know how it works and how crazy it is. That's definitely in my mind, but it's not something I'm worrying about."
The 6-foot-3, 225-pound catcher hit .299 with one home run and 31 RBIs in 157 at-bats as a freshman in 2016.
Bart responded by posting better numbers offensively as a sophomore in 2017, despite missing the last 11 games due to a hand injury. He hit .296 with 13 home runs and 43 RBIs in 186 at-bats.
"I was always a powerful kid my freshman year and even in high school, but I never showed it in the game," he said. "I was more of an inside-out hitter and singles kind of hitter.
"After my freshman season, I went to the Cape Cod League and stood up tall and was sick of not hitting the ball a long way. I started catching the ball in front of the plate and made one little adjustment. It helped from there and now I'm just trying to put it all together."
Although he's performed at the plate in his first two seasons, scouts would prefer to see more consistency. His strikeout numbers increased his sophomore season to 50, after only striking out 34 times his first season at Georgia Tech.
He spent the offseason working on his plate discipline, while continuing to improve his skills behind the plate.
Scouts questioned if Bart could stick at catcher when he started his career at Georgia Tech. But he's improved his receiving skills and has enough athleticism to play the position long-term.
His best defensive trait is his above-average arm. He's thrown out 40 percent of base stealers in his two seasons at Georgia Tech.
"My biggest strength is behind the plate, although many people would say my offensive side," he said. "I feel like there's no one really better than me behind the plate. I'm athletic, strong, vocal, can catch the ball, throw the ball, and I'm a competitor.
"All the attributes are there. I think I've played pretty well, but there's still a lot of room for improvement. That's what makes it exciting."
Find more 2018 MLB Draft profiles here.
READ: 2017 MLB Draft: Profiles on top prospects
READ: The3rdManIn.com's MLB Draft prospect history