Sean Murphy's ride to the top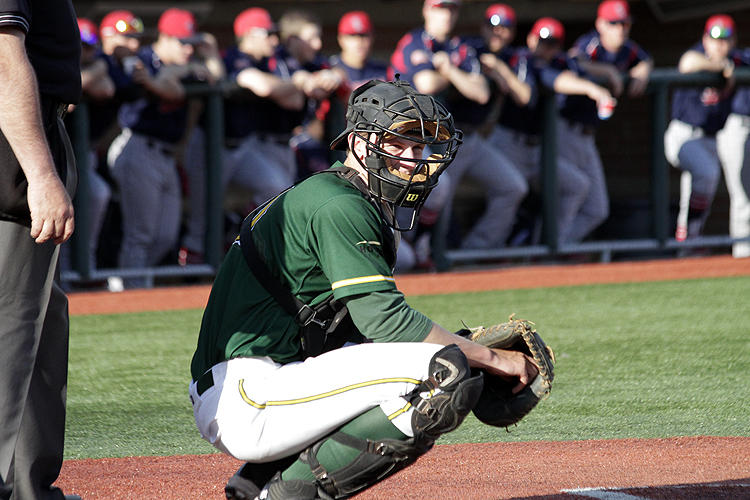 As an undersized catcher coming out of high school, Sean Murphy received only one offer to play baseball at the Division I level. Wright State offered Murphy the chance to play college baseball, but only as a preferred walk-on.
Murphy accepted the offer and has used the lack of attention from college coaches as motivation to succeed, he said.
In his freshman season at Wright State, Murphy made a name for himself, hitting .301 with four home runs, 35 RBIs and a team-high 10 stolen bases, on his way to earning Horizon League Freshman of the Year honors.
"I just let the game come to me," Murphy said. "Having fun and not putting too much pressure on my self to succeed. You can go in there and you just play the same game you have your entire life. The success will come."
Murphy returned for his sophomore season and won numerous accolades, while hitting .329 with four home runs and 36 RBIs.
He also participated in the prestigious Cape Cod League last summer, emerging as the top catcher on the Cape, after displaying strong defensive skills. He struggled at the plate hitting .226.
"It was an awesome experience," Murphy said of the Cape. "The competition was great. It gave me the opportunity to compare myself to some of the best players in the country. It was good as advertised."
Growing up, Murphy has relied on his father for advice. Murphy's father, Michael, is a former professional baseball player and made it to Triple-A in the Cleveland Indians organization, before retiring in 1988.
"He's helped me learn the game," Murphy said on his father's impact to his career. "He doesn't do a whole lot of working on the machines. But, he just tries to give me the best advice as far as what as I should be thinking."
Murphy will look to follow in his father's footsteps of playing pro ball this June, as he is regarded as one of the top catching prospects in the 2016 MLB First-Year Player Draft.
"I try to ignore it," Murphy said regarding the draft. "I'm blessed to be in the position I'm in. But, I don't want to let that be all that I think about."
Getting drafted and having an opportunity to play at the next level will be a blessing for Murphy, who is now 6-foot-3 and 207 pounds and proving people wrong, after many doubted him coming out of high school.
Murphy spent the offseason working on making himself a more complete player, especially on the offensive side, by trying to improve his plate discipline.
Murphy is strong defensively, earning high praise for his catch-and-throw ability and above average arm. He also has a chance to be a solid contributor at the plate if he can cut down on his strikeouts and hit for more consistent power.
He will be an early round pick in June's draft if he builds on his first two seasons at Wright State, which will be a rewarding experience for Murphy, after he put in many hours of hard work to be the player he is today.
"I've had a lot of people who have helped me along the way," Murphy said. "I have a great support system here at Wright State and at home. It will be great to look back and thank those people."
However, before the draft, Murphy is focused on helping Wright State win another Horizon League championship and a return to the NCAA Tournament.
"We want to improve on the NCAA Tournament appearance," Murphy said. "Take it one step further. I think we have the talent and the depth to do it. I think everyone is prepared to take that journey."
You can find more MLB Draft coverage here.