Russell eyes success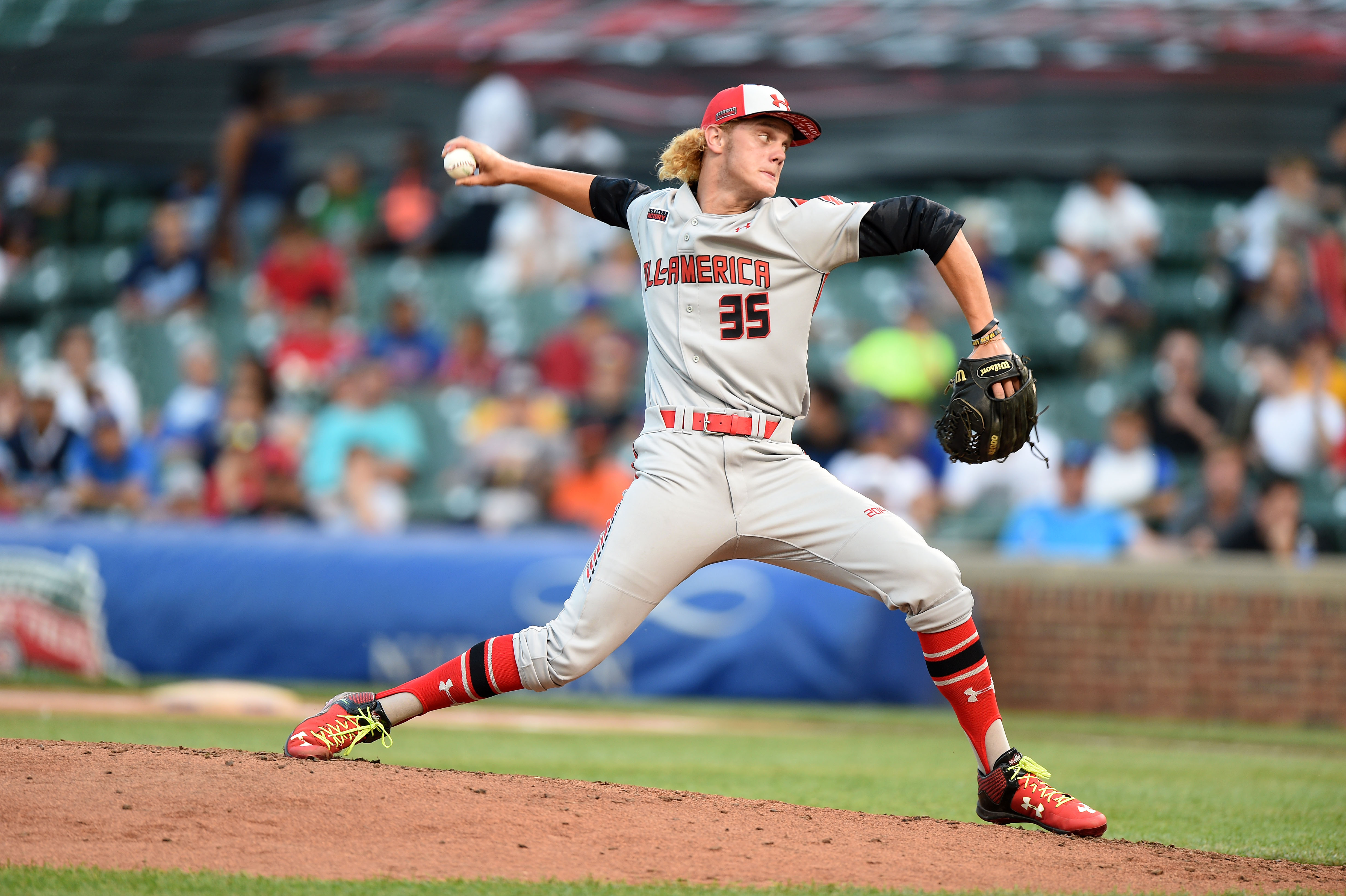 At a young age Ashe Russell developed a passion for baseball, all beginning when his parents signed him up for t-ball. His love for the game has kept him working hard, and so far it has paid off.
When he was just 15 years old the right-handed pitcher received his first college baseball offer from Notre Dame. The opportunity to play close to home at a prestigious university intrigued Russell.
"It was big news to me," Russell said in regards to receiving a scholarship offer from Notre Dame. "I didn't know anything about the recruiting process.
"My grandpa is a big education guy. He was the first one in my family to go to college, and he basically explained to me the academic opportunities there.
"They kind of persuaded me. The coaches were great. The pitching coach was awesome. It was a good fit."
However, his commitment to Notre Dame didn't last. After playing baseball in the south this past summer, and a lack of contact with the Notre Dame coaches, Russell decided to open his recruitment back up.
"I was playing this past summer and a bunch of kids were telling me 'Hey you should do this, hey you should do that,' and I never really considered it," Russell said. "But, Notre Dame and I just lost contact all summer and all last spring. I didn't really talk to them. My family and I sat down and discussed it, and I eventually opened up my recruitment."
When he reopened his recruitment, programs swarmed in, attempting to convince Russell to come play at their school. He said within the first day he received nine offers, and eventually ended up receiving up to 14 to 16 offers.
Most of the offers came from Atlantic Coast Conference (ACC) schools, but he said that he has always dreamed of playing in the Southeastern Conference (SEC).
He eventually whittled his list of offers down to South Carolina, Florida and Texas A&M, but said he really never considered Florida.
In the end he decided to accept Texas A&M's offer this past fall about a week after taking his official visit to College Station, Texas.
"Their hospitality, their humbleness, everything they talked to me about seemed perfect," Russell said on why he decided to become an Aggie.
He also developed a close relationship with fellow right-handed pitcher Beau Burrows, who was already committed to A&M, last summer when they played together.
Burrows told Russell all about A&M and even sent his information to the recruiting coordinator before he decommitted for the Irish.
Now as he enters his senior high school season, everyone will continue to have their eyes on Russell as he looks to build off of his outstanding junior year when he went 8-1 with a 0.88 earned run average, 74 strikeouts and just eight walks in 49 inning.
He spent this offseason getting stronger in the weight room, while also giving his throwing arm a few months of rest he said.
He recently started throwing bullpen sessions around a month ago, and stated he has been working on hitting the inside corner to saw batters off. He also changed his changeup grip in hopes of seeing better results.
"I would like to be more consistent with my changeup," Russell said. "Sometimes I will throw it and miss too high and people will hit it far. Sometimes I will throw it 50 feet and watch it bounce to the catcher. It works sometimes, but I just need to polish it up a little more."
Besides throwing a change up, the young hurler throws a four-seam fastball, two-seam fastball and slider. Russell's change up and fastballs all have run on them due to his low three-quarters arm slot.
His fastball sits in the low to mid 90s and has been clocked at occasion in the high 90s.
Russell's 78-82 mph slider is his outpitch, and when he has solid command it has outstanding movement.
MLB.com currently ranks Russell as the 10th best prospect available for June's Major League Baseball Draft, and if Russell is able to continue his high level of production while building off of the success he had last season, it could possibly be a special year for the talented senior.
However, he isn't worried about the additional attention he will receive this season with professional scouts likely in attendance at every one of his starts.
"After everything that has happened this past summer when I was getting some professional attention it has kind of become normal to it," Russell said. "There is no pressure anymore. I've gotten use to scouts."
Russell pitched in numerous showcase events this past summer, where pro scouts lined up to witness the best high school talent in the country play. This is also when he realized that being a professional baseball player was a realistic goal.
"This past year is when I realized that it was reality that I could have a full-time job as a Major League Baseball player," Russell said. "It has always been my dream and goal since I was a little kid. I remember telling my family that I want to get drafted out of high school. That is actually approaching and hopefully it works out for the best."
Russell will have an excellent shot at being selected early in the first round of the draft as long as he is able to continue his high level of play. But, if he doesn't decided going straight to pro ball out of high school is the best option for him, he will have an excellent opportunity at Texas A&M in the fall.
"I think pro ball would be great but I have the best of two worlds right now," Russell said. "Whenever the best opportunity presents itself my family, my advisor and I will sit down and discuss that together. If that happens to be pro ball it will be pro ball, and if I take off for Texas, I won't be mad about that either."