Rodgers, Packers offense not in rhythm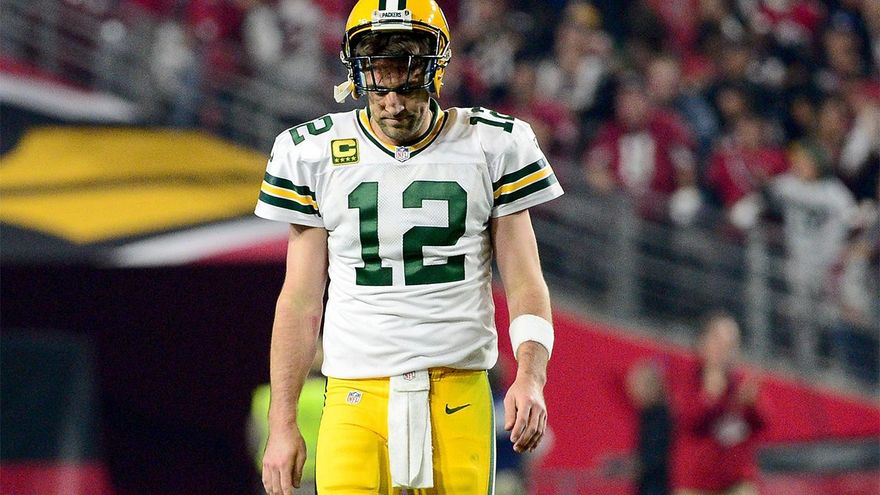 Down by three with 1:56 remaining in the game, the Green Bay Packers lined up for a third-and-14 play from their own 45-yard line against the Minnesota Vikings on the road Sunday evening.
In shotgun formation, quarterback Aaron Rodgers took a three-step drop before firing the ball to receiver Davante Adams. But instead of completing the pass for a first down, Vikings cornerback Trae Waynes stepped in front of Adams and snagged Rodgers' pass to seal the 17-14 victory for the Vikings.
This capped a disastrous performance for Rodgers, who finished the game with 213 passing yards, one touchdown, one interception and three fumbles, while completing 20 of 36 passes for a 70.7 passer rating.
The offense as a whole gained just 263 yards of total offense against the Vikings.
"We just didn't really have anything going for us," Packers guard T.J. Lang said.
Through two games, Rodgers joins Los Angeles Rams QB Case Kennum as the only other quarterback to not gain 300-plus yards of total offense in a game.
"We're not going to overreact," Rodgers said. "It's been two weeks. We haven't quite found our rhythm yet, but we had some guys working in who hadn't worked a lot together so we trust the process and believe we can get this thing turned around."
Rodgers hasn't thrown for more than 300 yards in 11 contests and has finished with a passer rating lower than 100 in 14 games, despite beginning the season as the NFL's all-time passer-rating leader (104.1).
Last season people gave the Packers offense a pass and blamed it on the loss of No. 1 receiver Jordy Nelson to a torn ACL. But even with Nelson back and catching two touchdowns in the first two weeks this year, Rodgers and the offense still haven't found a rhythm.
"Our rhythm in the passing game was not what we would have liked it to have been tonight," Green Bay head coach Mike McCarthy said. "That always starts with me — anything that goes on offense. We'll go back, and we'll look at it. We've got two weeks of live action to evaluate and move forward. We will improve."
Rodgers isn't worried about the offense's struggles and is confident his team will improve.
"I don't think we're that far off," Rodgers said. "It's getting (Nelson) back in the mix and Jared Cook back in the mix. There's some moving pieces right now."
A two-time league MVP, Rodgers hasn't performed up to those standards in recent memory. In 2015, Rodgers recorded the worst statistical season of his career, registering 3,821 passing yards, 31 touchdowns, eight interceptions and a 60.7 completion percentage.
Through two games in 2016, Rodgers is even worse, tallying 412 passing yards, three touchdowns, one interception and a 57.1 completion percentage.
The Packers offense can't get into a rhythm this season and a main reason is due to Rodgers' inability to consistently hit his receivers. Whether it's a mechanical issue or just bad luck, Rodgers is on pace to have another down year.
"Well, it's Week 2," Rodgers said. "There's always a lot of work to be done. I think we're close at times. We just need to figure out what that identity is, and that's created throughout the season.
"But we're trying some different things and had some success with some two-tight end stuff at times. We just didn't have enough success on third down and then turned the ball over too many times."